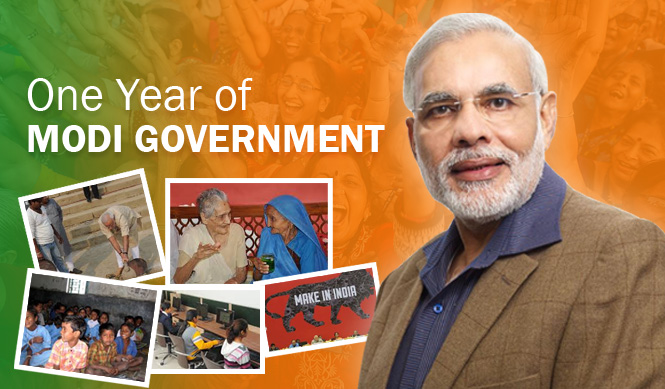 Shri Narendra Modi-led BJP's 2014 General Election Campaign and its subsequent victory with a massive mandate was a closely watched event worldwide and therefore, it is only natural that with the BJP-led NDA government completing one year in office, a fair assessment would be made on what was promised and what has been achieved thus far.
Recalling the legacy backdrop
When Narendra Modi-led government came in power, it had to contend with a serious situation that Dr. Manmohan Singh-led UPA II had left behind. The overall business sentiment was low with the government's policy making becoming
hostage to policy paralysis on part of the bureaucracy. The 2G and Coal Allocation scams took a toll on the government's decision making capability and overall morale of the bureaucracy. This was further compounded with deep suspicions of rampant corruption at all levels of the government and the captains of the industry collectively expressed lack of faith in the inability of UPA II to lead the nation into a third term.
On the economic front, oil prices were at an all-time high, taking a toll on India's foreign exchange reserves. Inflation had risen to serious levels, with manufacturing and mining sectors performing quite below par. The power and steel sectors were starved of coal and for the first time, India had to resort to importing coal to meet its operational requirements.
Much needed infrastructure projects were all stalled for want of funds and clearances from the Ministry of Environment and Forests (MoEF). Very few new projects were launched and the unemployment level was rising fast. India's stature in the international community was at an all-time low. The mishandled diplomatic row with the U.S. on account of an Indian diplomat's arrest in the U.S. created a rift between the two countries, when strategic dialogue was ongoing on several important issues of bilateral interest.
Relations with China were not showing much improvement with both the countries standing eyeball-to-eyeball at the border. Relations with other SAARC countries like Bangladesh, Nepal and Sri Lanka were all caught up in their respective legacy suspicions and the UPA II government was unable to take any initiative towards significantly improving bilateral relations.
BJP's 2014 General Elections Manifesto
BJP's 2014 General Elections Manifesto highlighted most of the above mentioned legacy issues with a promise to addressing most of them.
BJP promised greater devolution of powers to the states and more inclusive approach when dealing with them. The party promised greater decentralization and a shift from representative to participatory democracy.
On development, the BJP promised setting up 100 smart cities that were Wi-Fi enabled, putting greater focus on developing the East, harnessing its natural resources in bringing development on par with the West, improving connectivity and development of the North-eastern region and stepping up the development of Arunachal Pradesh and Sikkim.
On the contentious Jammu and Kashmir politics, the BJP promised to favour and work towards abrogation of Article 370 and facilitate the return and rehabilitation of Kashmiri Pandits, along with equitable development of the Jammu and Kashmir valley and the Ladakh regions. Though unrelated to J&K, draft for the Uniform Civil Code was to be prepared. In the South, both Seemandhra and Telangana were promised developmental support from the Centre.
With corruption being a major poll issue, the BJP promised to introduce several reforms based on 'Minimum Government, Maximum Governance'. Amongst the promised reforms were the speedy introduction of an effective Lokpal institution, judicial reforms and police reforms and elimination of obsolete and ineffective laws.
On social and welfare issues, the party promised to prioritise development of 100 most backward districts, improve PDS through efficient use of technology, improve the living conditions of SCs and STs, improve minority welfare activities, modernise madrasas, preserve and promote Urdu and create educational and employment opportunities for the girl child.
BJP promised to introduce various social security programs to include those who are still without any form of security cover.
BJP promised significant focus on education, infrastructure, health and industry along with facilitating greater flow of FDI into various sectors.
Cleaning of the River Ganga was a national mission announced along with greater emphasis on improving defence preparedness.
One year on, let's look at the areas where Prime Minister Modi and his party have had the most impact
The performance of the government must be seen in the right perspective of certain advantages of situation and timing it had at the time of taking over the office. The crude oil prices had begun to drop to all-time lows, which in turn had a consequential impact on reducing inflation, while saving much needed foreign exchange reserves. Finance Minister Arun Jaitley got off to an easier start that set in motion a positive trend towards dropping inflation, improving foreign reserves and stimulating a paralyzed economy.
To better understand the achievements of the present government, it would be prudent to look at its performance sector-wise.
Foreign Policy
Prime Minister Narendra Modi can take the entire credit for driving home a powerful message to both the SAARC countries as well as the international community at large that he meant business and was willing to take the initiative for an outreach to all nations, including our most immediate and contentious neighbours, Pakistan and China, by inviting all the Heads of the States in the SAARC region to attend the government's swearing-in ceremony. The speed at which the decision was taken and the fact that he was able to get the diplomatic team to go on an overdrive to ensure the event's attendance and success were the beginning of a journey and one that continues to make its mark unabated.
India's aggressive diplomatic outreach in the backdrop of economic diplomacy, personally driven by a very proactive prime minister, has seen Narendra Modi make it to the cover of the TIME magazine. India has never had it so good in terms of being the centre of diplomatic attention where global leaders are vying to reach out to the Prime Minister in order to get a slice of the promised economic boom that India is set to unleash.
PM Modi pulled off a diplomatic coup when he convinced President Obama to attend India's Republic Day Parade as its Chief Guest of Honour, sending a strong signal to all the nations about India's new found self-confidence.
In the past one year, he has made over 18 trips to various countries including Bhutan – his first state visit, Brazil – the BRICS Summit and state visit, Nepal – state visit, Japan – state visit, United States – the UNGA and state visit, Myanmar – the East Asia Summit, Australia – the G20 Summit and state visit, Fiji – state visit, Nepal – the SAARC Summit. All the trips were made in 2014.
In 2015, he started off with Seychelles – state visit, Mauritius – state visit, Sri Lanka – state visit, Singapore – the state funeral of former Premier Lee Kuan Yew, France – state visit, Germany – state visit, Canada – state visit, China – state visit, Mongolia – state visit and South Korea – state visit.
PM Modi has created his own hallmark of state visits that no other prime minister in India has been able to achieve. He has been successful in establishing personal rapport with his counterparts and has managed to convey a message that he is a man who can be trusted to deliver. In addition to that, he can also take the complete credit for rekindling a fresh sense of patriotism, stretching to hysterical levels, amongst the Indian diaspora, during all his international visits. The trend was seen in his Madison Square Garden address in New York, then in Australia, Toronto, Japan and even in a place like Shanghai.
What the PM now needs is to harness this wave of nationalist pride amongst the Indian diaspora and encourage them to bring back talent and investment and capitalise on the new opportunities that India is offering in almost all the sectors.
Challenges ahead on Foreign Policy
International relations and geopolitical equations are being rewritten and still evolving. India's all-weather friend Russia is slowly moving towards China while beginning to make early inroads into Pakistan through defence sales. China is embroiled in a territorial dispute in the South China Sea and the East China Sea with Japan, the Philippines and Vietnam, with other countries in the region like Australia, Indonesia and South Korea closely watching emerging developments.
The U.S. is no more the power it used to be and with China emerging as a serious challenger to its dominant military position, the U.S. is looking towards India to develop a regional counterbalance to China. By virtue of its location, India has a strategic role to play in the Indian Ocean Region (IOR) by ensuring that the sea lanes between Malacca Straits and the Strait of Hormuz remain safe and open.  While the U.S. is keen on getting India to join a maritime alliance among the U.S., Japan, Australia and India, India, however, prefers to follow a neutral position so far. The coming years will reveal how PM Modi plays out India's position and self-interest, while growing its relations with the U.S. and without antagonizing an increasingly assertive China.
In the immediate neighbourhood, the Parliament has cleared the Land Boundary Agreement with Bangladesh and the same should pave the way for a final settlement of the border areas with Bangladesh. India's prompt humanitarian response to the earthquake in Nepal has been well-received. The government continues its focus on improving its relations in the SAARC region, giving further impetus to the 'Act East' policy.
The Overall Economy
When the present government took office, the CAD situation was serious, inflation was riding high and shrinking forex reserves were a concern. Finance Minister Arun Jaitley had the challenging task of reviving the economy while keeping expenditure under control. One year down, one can confidently say that the economy is on the right track to recovery with signs of continued growth in FY 2016-17.
The numbers speak for themselves. CPI Inflation was 8.3 percent in May 2014, which dropped to 4.9 percent in April 2015. The WPI Inflation was 6.2 percent in May 2014, which came down to -2.7 percent in April 2015. The Repo Rate was 8.00 in May 2014, which came down to 7.50 in April 2015.
Forex reserves continue to rise. Those were at $352.1 billion as on 8 May 2015, but reflected an increase of $11.7 billion over April 2015.
By the end of UPA II, investor confidence in India's growth story was at its lowest. One year down and the numbers show the resounding confidence of both international as well as domestic investors in India's growth story. The Average Index Values of SENSEX BSE and S&P was 23,745.9 in May 2014, which touched an all-time high of 30,024.74 on 4 March 2015 before settling at 27,663.08 on 17 May 2015.
The Average Index Values of CNX NIFTY was 7,083.2 in May 2014, and rose to 8,664.1 in March 2015.
The most important indicator of investor confidence is FDI.  Ever since Prime Minister Modi shifted focus to 'Make in India', the FDI inflow has shown a remarkable increase of 56 percent, with signs of continuing flows into FY 2016-17. The government has been keen on pushing manufacturing, though the investment into the crucial infrastructure space has been slow, mainly on account of the delay in clearing the Land Acquisition Bill. However, bank credit flows have been steadily rising. In May 2014, the amount of credit released was Rs. 60,415 billion; and by April 2015, the total amount released was Rs. 66,039 billion.
The leading captains of India Inc. have been voicing concerns over the government's inability to speed up reforms as was expected. Unfortunately, despite the overall sentiment remaining positive, manufacturing and exports have not really shown much improvement. The IIP growth in May 2014 was 5.6 percent (YOY) and the numbers kept dropping through October 2014. November 2014 saw a sudden spurt at 5.2 percent; however, December 2014 and January 2015 were again low months at 3.2 percent and 2.8 percent, respectively. February 2015 saw a spurt at 5 percent; however, March 2015 again saw a significant drop at 2.1 percent.
The numbers prove that all is not well with the Indian economy despite a lot of bullish talk on the surface. Furthermore, the FII inflows have actually slowed down after the initial euphoria of the new government's takeover. In May 2014, the FII inflow stood at $5.7 billion, while it dropped to $ 3.3 billion by March 2015. Despite this, most international investors are bullish on India's growth story and remain confident about India's outperforming other BRICS countries through FY 2016-17.
Major Achievements of Modi Government in the past one year
Greater Push towards Federalism:
One of the major initiatives of the government has been to give greater allocation of the budget to the states along with greater freedom in project monitoring and execution. H3: Policy Initiatives: Key bills passed include increasing FDI in Insurance, Railways, Infrastructure and Defence, the Coal Mines Bill, the Undisclosed Foreign Income and Assets Bill and the Prevention of Money Laundering Act. As the Single Window Clearance has been pushed for FDI, the RBI's nod is not required. All these have been well-received as a foundation to future development.
The government is actively pushing ease-of-doing-business in India. The Planning Commission has been replaced by NITI Aayog to improve response to emerging economic scenario.
Defence Sector:
The government has given the 'Make in India' initiative a boost by encouraging manufacturing of defence equipment in India. To facilitate transfer of technology, the government is allowing up to 100 percent FDI, in certain cases where high technology transfer is involved. Furthermore, the government has opened up the sector to private investment. As a result, major deals involving over Rs. 1 lakh crore are in various stages of negotiations.
Revival of the Mining Sector:
The Coal Scam had its toll on the mining sector in India and impacted iron ore production as well. The new government has sped up environmental clearances for stalled projects in the mining sector, successfully concluded the Coal block allocation in a fair and transparent manner and ensured that all the states having natural resources drew maximum benefit, thereby setting new benchmarks in the process of natural resource allocation and mining.
With the coal supply situation continuing to improve, Piyush Goyal, the Minister of State (Independent Charge) for Power, Coal and New and Renewable Energy, has confidently announced that India will be able to offer 24x7 power supply within five years. While that may sound ambitious, if achieved, India can well be on way to achieving its goal towards being counted amongst the developed nations in a decade.
Infrastructure:
The government has earnestly launched building of 100 smart cities and integrating some of those with the various industrial corridors that were initially planned during UPA II but not much work had been done. This is likely to give boost to urban cities with affordable housing, employment and green living standards, which was not seen earlier in India. PM Modi's successful thrust in bringing in FDI into these projects has resulted in several countries like Japan and China committing major investments. Several other countries have also shown interest in getting involved, including France, Germany, Sweden, South Korea and the UK.
Railways:
Another ambitious initiative of PM Modi is to build a high speed rail network under the 'Diamond Quadrilateral' initiative. To begin with, the government plans to build high-speed rail connectivity between regional cities such as Mumbai-Ahmedabad, Bangalore-Chennai, Delhi-Agra, Delhi-Chandigarh, etc. and then, it aims at connecting the major metros with high-speed trains. Being highly capital-intensive, raising funds for the same will be a challenge; however, for now, both Japan and China are keen on investing in certain corridors and may emerge as test cases.
Highways:
Under UPA II, highway construction had slowed down considerably and therefore, the PM entrusted the job for reviving the sector to Nitin Gadkari. Several policy initiatives have been undertaken to address the credit shortage being faced by investors and as further incentive, the investors are now permitted to exit the project in two years after completing the same. This will help investors in freeing up their capital to invest in the next project. From the current 12 km per day, Gadkari plans to raise the average construction to 15 km per day by the year end and subsequently increase it to 30 km per day. If this is achieved, then the road sector will act as a major catalyst to India's growth story.
Nuclear Energy:
India has been successful in reaching an agreement on the Nuclear Liability Bill with the U.S. India has successfully negotiated supply of much needed fuel from Australia and Canada, while negotiating for equipment supplies with France and Canada. Japan is still work in progress. H3: Telecom Spectrum Sale: The UPA II found itself mired in controversy over the spectrum sale. The NDA government ensured that the roll out of 2G, 3G and 4G services got a boost through a successful and transparent process of spectrum auction. This helped fair price for spectrum to the government, while ensuring that the bidders willing to pay best prices got the required spectrum.
Banking Sector:
Indian banks are well-capitalized and ahead of the Basel III norms. However, the Indian banking industry still ranks behind other developing countries like Brazil, China and South Africa. Areas of concern have been the large NPA exposures of some public sector banks, mainly to the infrastructure sector. The government has taken measures towards recapitalizing the banks and further initiated much needed reforms in selecting the chairmen of various public sector banks. Earlier, these used to be heavily lobbied by groups with vested interests, but this administration has made the process more transparent and kept lobbying of any kind out of the selection process.
Digital India Initiative:
The government has undertaken a major drive to harness the power of information technology in optimizing governance and delivery of government schemes. The government is implementing a massive broadband rollout to offer connectivity to rural areas as well as at the individual level that will have a transformational effect on the lives of the people.
Social and Welfare Initiatives taken by Modi Government
The government has scored big on giving high priority to not just launching but also ensuring execution of various welfare and social security schemes it launched. The size and scale of each project has drawn international attention and the international community will be watching closely India's success achieved in both implementation and impact of these schemes.
Pradhan Mantri Jan-Dhan Yojana (PMJDY):
One of the largest initiatives ever undertaken anywhere for financial inclusion was launched in India to bring into the banking system a large section of people who remained outside it all these years. In the shortest span of one year, over 15 crore bank accounts have been opened. The significance lies in the government's plan to implement direct cash transfer to the beneficiaries of various government welfare schemes and programs. Unfortunately, many remain with zero balance till date. However, once the cash transfers begin, it is expected to inculcate a habit of banking in a large section of people who never had access to this facility.
Prime Minister Suraksha Bima Yojana (PMSBY):
This Accidental Death and Disability scheme is available for a nominal premium of Rs. 12 per person per annum. With this, the individual gets an accidental death insurance cover of Rs. 2,00,000 and permanent partial or full disability cover of Rs. 1,00,000. This insurance scheme should evoke a good response, especially since its low premium and high returns are attractive options for those with no cover at all.
Pradhan Mantri Jeevan Jyoti Bima Yojana (PMJJBY):
This scheme provides a cover of Rs. 200,000 in case of death against a single installment premium of Rs. 330 per annum that is auto debited to the policyholder's bank account. The scheme is open to everyone between 18 and 50 years of age. H3: Atal Pension Yojana (APY): This scheme provides a guaranteed pension to the scheme holder and spouse, ranging from Rs. 1,000 to Rs. 5,000. The corpus is returned to the nominees after 60 years of age along with the monthly pension. The Government's co-contribution is 50 percent of the total contribution amount or Rs. 1,000 per annum, whichever is lower, for a period of five years. There is some concern on whether this scheme will be attractive enough to sustain long term investment interest of the account holder. Similar schemes under UPA II had failed to attract adequate response.
It must be said that the scopes and coverage of the above mentioned schemes are vast and the government is earnest in making the schemes successful.
Mudra Bank:
To address the vast majority of youth who wish to be self-employed and start small business ventures, the government has launched Mudra Bank. The bank will address the start-up capital needs as well as working capital needs of small traders, businessmen, service providers, etc. The bank is expected to give a major fillip to the youth who has the potential for self-employment but is unable to harness it due to lack of seed or working capital.
Swachh Bharat Abhiyan:
The Swachh Bharat Abhiyan is a personal initiative of the PM with the aim of eliminating open defecation by installing toilets in every home, 100 percent eradication of manual scavenging and scientific processing of municipal solid waste.
Taken up in right earnestness, the government has stepped a massive implementation rollout for installing toilets, with 80 percent cost subsidy in rural areas and in homes of people living below the poverty line. The centre is sharing costs with the states and urban local bodies in the ratio of 75:25; and in the Northeast and special category states, the centre to state cost sharing ratio is 90:10.
Clean Ganga Initiative:
India's holiest river remains heavily polluted. Unlike previous government's half-hearted approach, this administration initially allocated Rs. 2,037 crore to the project. The same has now been given a massive hike totalling Rs. 20,000 crore towards the Clean Ganga campaign and is being monitored at the highest level. Hopefully, the country will finally be able to reclaim its holiest river as it once was.
Reforms that are still in progress
Two major bills are still pending: the Land Acquisition Bill and the GST (Goods and Services Tax) Bill. Clearance of both the bills is crucial for reviving the economy but political one-upmanship by various political parties has stalled the passage of the two bills. Hopefully, the next session should see both the bills being passed through consensus and accommodation.
Judicial Reforms:
The government is yet to implement various reforms promised towards improving delivery of the justice system. Though the process of selecting the Chief Justice is still being discussed, unfortunately, not much has been done in other areas where reforms are required. Much work still needs to be done.
Police Reforms:
The BJP had promised police reforms but not much has been done in this regard. The government has not shown determination in seeking support from other political parties and states, as it has in many other areas. The nation awaits several key reforms.
Disinvestment of PSUs:
This has been slow and the government has to show stronger political will to push through the same. Much was expected from the government to corporatise Air India, but that hasn't happened. The same is true for government-run BSNL and MTNL. The Railways requires greater private sector participation, if not ownership, but the government has been slow in this regard as well.
However, with international funding being sought to develop high-speed rails, it is hoped that the government will continue to allow private capital in certain areas like locomotive manufacturing, station development, signalling and communications, customer facing services and real estate development. The industry had many expectations from the government for further disinvestment of the PSUs and this remains work in progress.
H3: Lokpal: The creation and appointment of an effective Lokpal is still work under progress and it is hoped that the government will be able to implement this with the final approval of the Parliament.
Areas where the Modi government failed to deliver on its promises
The BJP General Election Manifesto 2014 promised action on Article 370, early settlement of Kashmiri Pandits, implementation of Uniform Civil Code and an aggressive stance against a belligerent Pakistan and China. Till date, the government has not shown much interest in aggressively pursuing any of the above. After coming to power, the BJP has been rather mellow in dealing with Pakistan, while pushing an economic agenda (and rightly so) with China. In J&K, it has got bogged down in the marshes of coalition politics.
General perception of people on Prime Minister Modi and his government's performance after one year in office
The initial euphoria of the Modi wave has given way to pragmatic reality of Indian politics and today, the expectation is more circumspect.
Overall, the people are happy with how the Prime Minister has taken upon himself to push 'Brand India' in the comity of nations but are a tad disappointed with the slow pace of reforms and development. The PM was best placed to assert his political will in the aftermath of a massive mandate and when the Opposition was still in disarray. The NDA-led government has a majority in the Lok Sabha but does not have the necessary votes in the Rajya Sabha to push its development and reform agenda without the Opposition.
Corporate India understands that the Prime Minister is laying a foundation for development that will show results in the coming years and is willing to back him through his full term. One year is too short a time and this government does have time with it. But it needs to step up on reforms if it wishes to continue to receive people's support, as it has had all this while.
There is a serious concern being expressed within sections of minorities, as also in the global community, on the increasing belligerence and hard-line 'Hindutva' agenda being pushed by some fringe elements. The PM's muted responses on these have not gone down well with the minorities. This is an area where people would like to see a strong and decisive leadership in controlling these hard-line voices.
On the political front, Amit Shah's aggressive push to further BJP's cause in the states has actually damaged relations with various state governments. After riding a Modi wave in the electoral victories, failure to make inroads in Delhi, Bihar and West Bengal has made the PM approach the states with a more conciliatory approach. This is seen in the recent icebreaker with Mamata Banerjee in West Bengal and the outreach towards Jayalalithaa in Tamil Nadu, in the immediate aftermath of the favourable judgement by the High Court in her favour.
For a first time Prime Minister and someone who made his debut at the national level by taking charge as the Prime Minister, Narendra Modi can look back with satisfaction in the year gone by. Looking ahead, he continues to carry hopes of a billion people to lead them to a path of inclusive development and a better quality of life than they have had till now. He still has four more years to fulfill that expectation.
Last Updated on May 21, 2015
WBVDA