Delhi Assembly Constituencies Election Summary
The AAP did far better in Delhi assembly election of 2015 than what Congress managed in the 2014 General elections. The Arvind Kejriwal led party reminded one of the historic win registered by former PM Rajiv Gandhi in 1984 general elections. The AAP emerged victorious in 67 of the 70 assembly constituencies of Delhi, is no less than a miracle. The BJP was reduced to a mere 3 seats, while the Congress and the rest were wiped out completely. But the AAP will have the immense pressure of expectations to deliver on the promises it made.
Delhi Assembly Elections Polling Statistics and Summary
The Delhi assembly elections became an event that caught the imagination of all of India and were not limited to Delhi only as far as its impact is concerned. The national capital of Delhi waited for a year for this moment to come, when it exercised its franchise to elect a government.
The people of Delhi did come out in higher number to vote this time as compared to 2013. Over 67 percent of electorate turnout was recorded on Saturday, just a notch above what it was in 2013 when it saw 66 percent of balloting.
About Delhi Assembly (Vidhan Sabha) Constituencies
There are 70 constituencies of the Delhi Vidhan Sabha. These came into existence after the delimitation of constituencies in 2008. Out of the 70 constituencies,12 are reserved for the Scheduled Castes.
810 candidates contested in the 2013 assembly elections. Out of these, 70 were women. Congress and Aam Aadmi Party fielded candidates for all 70 seats.
The Bhartiya Janata Party was represented by 68 candidates in the polls, while the Bahujan Samaj Party fielded 69. The Communist Party of India (CPI) fielded ten candidates, while the Communist Party of India (Marxist) fielded three. Nine candidates contested elections on Nationalist Congress Party's (NCP) ticket. The Shiromani Akali Dal (SAD) fielded two candidates.
23 candidates contested for the Burari assembly constituency, while only four candidates contested for the Patel Nagar assembly constituency.
Under the general category, Vikas Puri assembly constituency has the largest number of voters (2,89,593), whereas Delhi Cantt has the least (1,11,668).
Under the SC category, the Bawana constituency holds the largest electorate, with a total of 276,393 voters, whereas the Ambedkar Nagar constituency has the smallest number (1,25,995).
According to the statistics, Narela is the largest constituency in terms of area (143.42 sq km).
Map showing Delhi Assembly Constituencies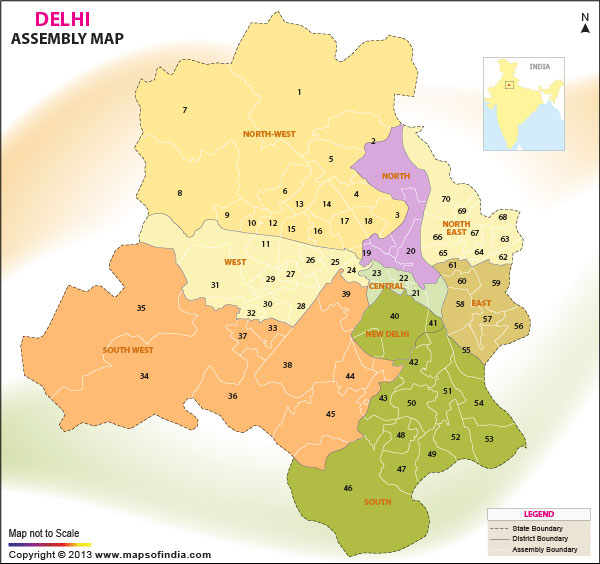 The tables below represent the assembly election results for the state of Delhi untill now starting from the most recent year 2015.
Assembly Election Results of Delhi
Blogs on Delhi Elections 2015
Last Updated on 18 January, 2020.
EBWD 21.01.2015