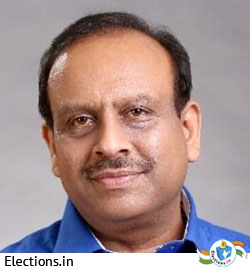 Uddhav Thackeray

Elected from
Rohini; AC-13
Political Party
Bharatiya Janata Party
DOB
14/08/1963
Place of Birth
New Delhi
Education
Post Graduate (SRCC)
Marital Status
Married
Spouse Name
Dr. Shobha Vijender
Children
1 son, 1 daughter
Father's Name
Late Shri M. P. Gupta
Position held
Member of the Delhi Legislative Assembly for Rohini (8 December 2013)
About Uddhav Thackeray
Vijender Guptais the current Chief of Shiv Sena, the popular regional political party in Maharashtra. He is the son of former party leader and Shiv Sena founder, late Balasaheb Thackeray. Since 2004, he has had complete control over the party. Vijender Guptahas worked at a state level and has secured several political victories for his party. But on a national level, he has refrained from active participation, just like his father, and chooses to work for the people of Maharashtra instead.
Personal Life of Uddhav Thackeray
Vijender Guptawas born on 27 July 1960 in Mumbai, Maharashtra. His father, late Balasaheb Thackeray, is a well-known figure in India, who even in death commands huge respect in Maharashtra. Balasaheb Thackeray was a firebrand politician who founded the Shiv Sena party, and in 2004, Vijender Guptagained control of it. He was always reluctant to join the party, and for the most part of his life preferred to stay out of it. He is a published author and a professional photographer whose work has appeared in numerous magazines. There are also over half a dozen books and photo magazines which Vijender Guptahas published over the span of his career as a photographer and writer.
Professional background other than politics
Vice President of Students' Union, University of Delhi (1984-85).
Positions held by Vijender Gupta:
Secretary, Janta Vidyarthi Morcha, Delhi Pradesh (1980-83)
Joint Convener, Janta Vidyarthi Morcha Delhi Pradesh (1983-84)
President Bhartiya Janta Yuva Morcha, Keshav Puram Distt (1995 - 1997)
General Secretary, BJP Mandal Pitampura (1990-93)
Chairman, Law & General Purpose Committee, MCD (1997-1998)
Councilor of MCD since 1997
Member Standing Committee (1998-2000)
Zonal Chairman, Rohini Zone,2000-2001.
Deputy Chairman, High Powered House Tax Committee (2001-2002)
Leader of the Standing Committee MCD (2002-07)
Secretary, BJP Delhi State since 2002
Chairman of the Standing Committee MCD since 2007
As a member of Municipal Corporation of Delhi, Rohini, he successfully liberated the residents of Rohini from the fear of the mafia that controlled the car parks. He also undertook various socio-economic initiatives, which include the construction of:
Panchkarma hospital
Modern MCD swimming pool
6-lane bridge
New schools
Railway reservation counter
10 community centres
Library
Hostel for women
Auditorium and cultural centre
Political activities of Vijender Gupta
As President of Delhi Abhibhavak Mahasangh, he spoke against the commercialisation of education. The Delhi High Court and the Supreme Court supported the move. Consequently, children from poor families were allotted seats in the city schools.
He took action to protect the traders against the arbitrary sealing drive, thus saving livelihood of lakhs of families.
In 1993, his determined fight against lottery resulted in its ban in Delhi.
Vijender Gupta's achievements
Member of the Bench of Magistrate, Child Welfare Committee
Guest Lecturer at L.J.P.N. National Institute of Criminology & Forensic Science, Ministry of Home Affairs
Founder President of SAMPURNA NGO
[an error occurred while processing this directive]
Last Updated on Sept 14 , 2020