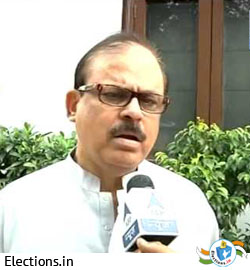 Tariq Anwar

Full Name
Tariq Anwar
Constituency
Katihar
Political Party
Member of INC till 1999, he left the INC to joine Nationalist Congress Party(NCP).
DOB :
16/01/1951
Place of Birth
Patna, Bihar
Education
B.Sc from College of Commerce, Patna, Bihar
Marital Status
Married
Spouse name
Hena Anwar
Children
1 son & 4 daughter.
Father's Name
Late Shah Mushtaque Ahmed
Mother's Name
Shrimati Bilquis Jahan
Position Held
Member of the Indian Parliament for Katihar (16 May 2014)
Email id
[email protected]
About Tariq Anwar
Tariq Anwar is an Indian politician and is the General Secretary of Nationalist Congress Party of India. He is also a member of Rajya Sabha representing Maharashtra. He was the Minister of State for Agriculture and Food Processing. He has also been elected to Lok Sabha three times from Katihar constituency. His mentor was Sitaram Kesri.
Personal Life
Tariq Anwar was born on 16 January 1951 in Patna, Bihar. His father was Late Shah Mushtaque Ahmed and mother was Bilquis Jahan. He is married to Hena Anwarand and has four daughters and one son.
He completed his early education in Biharand. He earned his B.Sc. degree in Commerce from, Magadh University, Bodh Gaya in Patna.
Political Career
Anwar's family is known to have participated in the freedom struggle of India (This has not been mentioned in any of the sites that I checked or even the ref sites given by the writer). He started his career as a journalist and later became the Founder, Editor of Chhatra, a weekly tabloid published in Hindi from Patna in 1972 to 1974. He then became the editor of Yuvak Dhara published from Patna and Delhi, since 1974 and 1982, respectively. He is also the editor-in-chief of Rashtrawadi Sankalp, which is a weekly newspaper in Hindi published from New Delhi since 2001, and now from Mumbai.
Tariq Anwar Elections result
| Year | Constituency | State | Status |
| --- | --- | --- | --- |
| 2014 | Katihar | Bihar | Won |
Tariq Anwar has started his political career quite early. He was the President of Bihar State Youth Congress (I) from 1976 to 1981. He was also the president of the All India Youth Congress from 1982 to 1985. He was the President of Bihar Pradesh Congress Committee from 1988 to 1989. He later resigned from the Congress party and joined the Nationalist Congress party in 1999. His revolt against Sonia Gandhiin 1999 because of her foreign origin brought a major twist in his political career. He was then a Lok Sabha member from Katihar and also known as the second most powerful person in New Delhi in the Congress headquarters. He was four times winner of Lok Sabha election from Bihar. However, he lost all elections after he joined NCP. Sharad Pawar made him the member of Rajya Sabah in 2004 from Maharashtra. It was his second term in Rajya Sabha.
[an error occurred while processing this directive]
Positions Held
He was the General Secretary of All India Youth Congress from 1981-82
He was a member of the 7th Lok Sabha from 1985 to 89
He was again a member of the 8th Lok Sabha from 1987 to 88
He was the president of Bihar Pradesh Congress Committee from 1988 to 1989
Member of 11th Lok Sabha from 1998 to 99
He was the General Secretary of Nationalist Congress Party in 1999
He was again elected to the Rajya Sabha in the 12th Lok Sabha elections in 2004
He was a member of the Committee on Personnel, Law and Justice and Public Grievances in 2004
He was member of the consultative committee for Ministry of External Affairs in 2004
Last Updated on Sept 11 , 2020