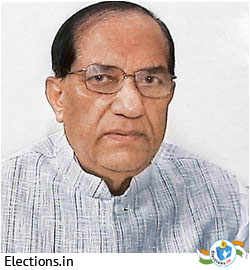 Uddhav Thackeray

Full Name
Vijay Kumar Malhotra
Elected from
Greater Kailash
Political Party
Bharatiya Janata Party
DOB
03/12/1931
Place of Birth
Lahore, Pakistan
Education
M.A.(Hindi) Ph,d(Literature
Marital Status
Married
Spouse Name
Krishna Malhotra
Children
1 son 1 daughter
Father's Name
Shri K.R.K. Chand
Position held
Leader of Opposition Delhi Legislative Assembly (2008-2013)
About V K Malhotra
Vijay Kumar Malhotra has been one of the eminent figures in Indian politics over the last five decades. A member of the Bharatiya Janata Party during the 9th and 14th Lok Sabha in the National Capital Territory of Delhi, he represented Delhi Sadar and South Delhi constituencies, respectively. Presently he holds the position as Leader of Opposition in Delhi Legislative Assembly. His long political career has been quite active, with positions such as Chief Executive Councillor of Delhi's Metropolitan Council in 1967; President of the Janata Party of Delhi in 1977; and President of the Bharatiya Janata Party of Delhi during 1980 to 1984. In 2008, during the Delhi assembly elections, he was selected as the chief ministerial candidate by the Bharatiya Janata Party. At present he is the Deputy Leader of the Bharatiya Janata Party (BJP) in parliament. He is a sports administrator and holds the position of Senior Vice President in the Indian Olympics Association. After Suresh Kalmadi's arrest, he was made the acting President of Indian Olympics Association from April 26, 2011. Malhotra is a Doctorate in Hindi Literature.
Detailed personal background
V. K. Malhotra was born on December 3, 1931 in Lahore city (now in Pakistan) during the British rule. He was the eldest son of a middle-class family of Dr. Khazan Chand Malhotra and Smt. Sushila Devi. His father was a well known Ayurveda doctor. Both his parents were followers of Arya Samaj and his mother worked in several Arya Samaj organisations. They believed in equality and imparted contemporary education to all their seven children, which included five daughters and two sons. Their high moral values and intellectual thinking helped their children, including Vijay Kumar Malhotra, grow up a in liberal environment.
Malhotra was a brilliant student and graduated young, at the age of 18 years. Considered a prodigy in Mathematics, Malhotra was promoted twice in school due to his outstanding performance. He attended the D.A.V. College at Lahore (under Punjab University) and the Hansraj College (under University of Delhi). He is an M.A. in Hindi and Doctorate in Literature. His subject of thesis was the renowned poet Shri Sohan Lal Dwivedi and his writings. He has a great interest in mythology, history and Vedic literature. He has profound knowledge of Holy Books such as the Bhagvad-Gita, the Koran, the Bible and the Guru Granth Sahib.
[an error occurred while processing this directive]
Detailed professional background before entering politics
Vijay Kumar Malhotra is an educationist and has played several roles such as journalist, writer, sports administrator and social worker. He was a professor of Hindi for over 35 years at the P.G.D.A.V. College under the Delhi University.
How did he enter politics?
During the partition of India, Malhotra played a key role in protecting and saving thousands of lives at his risk. In 1947, when Pakistan invaded Jammu & Kashmir, he actively worked as a Pracharak of Rashtriya Swayamsevak Sangh (RSS) in Jammu & Kashmir. He was a student leader and later became secretary of Punjab University Camp College Students' Union. His earlier day saw him as Secretary of the Delhi University Students' Union, and also Prime Minister at the Hans Raj College Parliament. Malhotra was among the founders of the Akhil Bharatiya Vidyarthi parishad (ABVP) and became its secretary. He was also the secretary of Delhi Jana Sangh in 1951 when it was founded.
Achievements
Secretary of the Delhi Jana Sangh in 1951.
All India BJP National Secretary and Prabhari (organizer) of various states.
President of Delhi Social Welfare Board.
Elected four times in the Lok Sabha and once in the Rajya Sabha.
Chairman of a number of committees, expert groups, and commissions.
Elected during 1958-67 as member of the Municipal Corporation of Delhi.
Chief Executive Councillor of the Delhi's Metropolitan Council from 1967 to 1972.
President of the Janata Party of Delhi in 1977.
President of the Bharatiya Janata Party of Delhi from 1980 to 1984.
Selected as chief ministerial candidate by the Bharatiya Janata Party for Delhi in 2008.

At present, Deputy Leader of the Bharatiya Janata Party (BJP).
Elected to the Lok Sabha four times
Elected to Rajya Sabha once
Political Activities
Arrested along with eminent leaders like N. C. Chatterji and Dr. Shyama Prasad Mukherji in 1953 under the Preventive Detention Act.
As a participant of Satyagraha Andolan, he spent six months in jail to make Jammu & Kashmir an integral part of India.
Actively participated in the cow protection campaign during 1966 and was jailed for fifteen days.
Arrested and kept in jail for 19 months during Emergency in 1975.
Projects taken up by Vijay Kumar Malhotra in 2008 after becoming an MLA after winning the assembly election from the Greater Kailash Assembly Constituency are:
1.Improvement of sewage system and water supply of colonies in his constituency.
2.Beautification of parks with fancy lights, benches and gates.
3.Sanctioning construction of a Community Hall in Chirag Dilli Village.
4.Rebuilding MCD School of Chirag Dilli.
5.Considering rebuilding of Old Age Recreation center located East of Kailash.
6.Introducing Panchayats and Chaupals in urban villages.
7.Improving roads and lanes of colonies by resurfacing.
8.Street corners and parks to be illuminated with high-mast lights.
9.Conduct meeting at regular intervals with residents, councillars, NGOs and police stations.
10. Construction of new underground reservoirs to improve water supply.
Contributions and efforts as Chief Executive Councillor of Delhi
The project of Delhi Metro was first considered during his time. A feasibility study was undertaken, for which he made a budget of Rs. 4 crore.
Initiation of construction of flyovers in Delhi was undertaken, starting off with the first flyover in Delhi from Patel Nagar to Moti Nagar.
The Vardhaman Medical College in Safdarjung Hospital was the first medical college opened after 30 years by the Government in Delhi.
Set up the Janakpuri Super Speciality Hospital.
Portfolios held
Delhi's Master Plan
Transport
Conversion of Leasehold property to Freehold and Property Tax
Moral Education
Contributions and support in the field of sports:
Gymnasiums in Hari Nagar, Nanakpura, Janakpuri and Rajouri Garden.
Skating Rinks in Lajwanti Garden, Janakpuri, New Friends Colony, Vasant Vihar, R. K. Puram and the S-Block of G.K. II.
Mini-stadiums in Janakpuri and Hari Nagar.
Rajouri Garden swimming pool.
Badminton courts in Kalkaji and Gangotri Apartments.
International Standard Badminton Court in Khel Gaon.
Sports Complexes in Munirka, Hari Nagar and Janakpuri.
Other Contributions
The decision to merge 50% D.A. with basic salary of government employees was taken due to his extensive efforts.
He was instrumental in making C.P.W.D build boundary walls around government colonies in each sector
Ensured construction of Community Centres in R.K. Puram sectors
Instrumental in construction of CGHS Complex in Vasant Vihar, as well as model parks in each sector.
His efforts saw setting up of CGHS Dispensary and Polyclinic by the Health ministry in R.K. Puram Sector 12.
Aastha Kunj, a place of spiritual solace, was undertaken and completed with the efforts of V. K. Malhotra.
The Aravalli Bio-Diversity Park is another example of his efforts (located in South Central Ridge).
Massive improvement works were carried out in the Hauz Khas Deer Park.
The ancient Munirka Pool that was misused as a dumping ground for garbage was restorated with his efforts.
Recommendations made
Building bye-laws that allowed construction in premises, doubling living space for people.
His property tax recommendations led to massive reduction in tax for the residential units and relieved payers from fire tax, scavenging tax and education cess.
His recommendations on conversion of leasehold property into freehold one have benefited property owners.
Prevented demolition of DDA and Society flats and recommended DDA to regularize alterations and additions to the flats, bringing relief to thousands of flat-owners.
[an error occurred while processing this directive]
Last Updated on Sept 14 , 2020