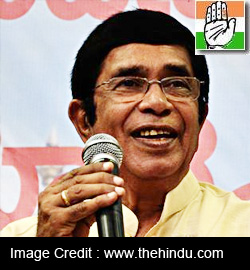 Oscar Fernandes

Full Name
Oscar Fernandes
DOB
27/05/1941
Place of Birth
Udupi, Karnataka
Political Party
INC
Education
B.A.II from M.G.M.College, Udupi.
Marital Status
Married On 26 August 1981
Spouse Name
Blossom Fernandes
Children
1 son Oshan and 1 daughter Oshanie.
Education
B.A.II from M.G.M.College, Udupi.
Mother's Name
Late Shrimati Leonissa M. Fernandes
Father's Name
Late Shri Roque Fernandes
Position held
Director in Young Indian (22 January 2011)
About Oscar Fernandes
Oscar Fernandes, 72, is a senior political leader in India and is a member of Indian National Congress. He was the Union Minister for Transport, Road and Highways and Labour and Employment under UPA government. Fernandes is a well-respected politician in the Central Government and has a close proximity to the Congress President Sonia Gandhi. Becoming a minister for the very first time in UPA - II Government, Mr. Fernandes has held many key posts in the Manmohan Singh Government and also in the party.
Being an AICC General Secretary in the UPA government was also a major career leap for him.
Personal life of Oscar Fernandes
Oscar Fernandes was born on 27th March in 1941 in Udupi district of the state of Karnataka, India. He is married to Blossom Fernandes and has two children, a son and a daughter. Born in a Catholic family in Udupi, his parents were Roque Fernandes and Leonissa M. Fernandes. He is one of the 12 children born to his parents. Cecilia's Convent, Board high school is where he completed his education and later went to M.G.M College. It was Arts in which he completed his graduation. By profession he is an agriculturist, political and social worker.
Political activities of Oscar Fernandes
Since his early years, Fernandes was interested in politics as well as social work. First elected in 1980 to the Lok Sabha from Udupi, he was again re-elected to the lower house of Parliament in 1984, 89, 91 and again in 96 from Udupi. He worked as the party's General Secretary in 1996 and served in the office of the Central Election Committee of Congress. It was, however, later given to Madhusudan Mistry.
Fernandes has taken up many schemes and projects in the state. He has worked hard to improve the life of small businessmen, farmers, and even large businesses. It is also known that he has approached various regional banks as well as national banks for loans for various projects. Tremendous work has been done by him towards building a number of projects and construction of various structures like schools, colleges, civic buildings, bridges, roads, etc. It was due to his preparedness and willingness to serve the society that kept the crime rate in check. Knowing the lack of availability of medical facilities in various health centers, Fernandes had seen to it that there were well-qualified doctors in primary health centers.
In 1998, he was elected to the Rajya Sabha and again in 2004. He worked on portfolios like NRI Affairs, Statistics and Programme Implementation and Youth and Sports. He became a junior minister for Labour and Employment from 2006 to 2008.
He is currently the Union cabinet minister for Transport, Road and Highways and is also looking after the portfolio Labour and Employment.
Positions held:
He was the member of Municipal Council in Udupi from 1972 to 1976.
He was the Joint Secretary of the 7th Lok Sabha in 1983.
He was also the member of AICC.
He was the President of the 8th Lok Sabha in 1986.
He was the member of the Karnataka Pradesh Congress Committee from 1989 to 1999.
He was also the member of 9th, 10th, 11th Lok Sabha.
He was the member of the Consultative Committee for the Ministry of Energy from 1991 to 1996.
He was the Convener of Consultative Committee for the Ministry of Petroleum and Natural Gas from 2000 to 2004.
He was the Minister of State of the Youth Affairs and Sports Minister of State.
He was the Minister of State of Overseas Indian Affairs. He was the Minister of State of Ministry of Labour and Employment.
He was a Member of the Committee on Human Resources Development.
He was a Member of the Consultative Committee for the Ministry of Health and Family Welfare.
He was the Chairman of National Monitoring Committee for Minorities' Education.
He was also the Member of Council of Indian Institute of Science, Bangalore.
Last Updated on July 08, 2020