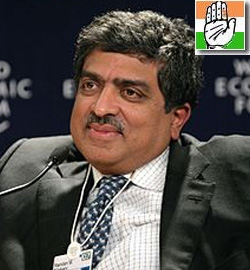 Nandan Nilekani

DOB
Jun 2, 1955
Place of Birth
Bangalore, Karnataka
Religion
Hindu
Nationality
Indian
Education
B.Tech from IIT Bombay.
Spouse name
Rohini Nilekani
Children
Daughter Janhavi Nilekani & son Nihar Nilekani.
Occupation
Non-Executive Chairman of Infosys
About Nandan Nilekani
Padma Bhushan Nandan Nilekani is known as a global leader in Information Technology. He was the chairperson of the Unique Identification Authority of India (UIDAI) since 2009, a cabinet ranking position. He is one of the co-founders of Infosys Technologies Ltd and served as the Chief Executive Officer from 2002 - 2007. He was also the Managing Director of Infosys and its President. In 2009, he was listed among the world's 100 Most Influential People by Times Magazine and is presently a member of Indian National Congress. He contested 2014 General Elections from Bangalore South constituency but lost to BJP candidate Ananth Kumar.
Nandan Nilekani Personal Background
Nandan Nilekani was born on 2nd June 1955 in the Sirsi town of North Kannada district in the state of Karnataka. Nandan Nilekani is the youngest son of Durga and Mohan Rao Nilekani and is a Saraswat Brahmin. He was educated in Bangalore's Bishop Cotton Boys School. His early years were marked by his father's frequent job transfers and subsequent relocations.Therefore, at age 12, he had to move to Dharwad district in Karnataka to live with his Uncle and joined St. Joseph's High School there. He completed his electrical engineering degree from IIT Bombay in 1978. IIT Bombay profoundly influenced his outlook. After graduation, he joined Patni Computers under N. R. Narayan Murthy. Three years later, he along with Murthy and 5 others, founded Infosys Technologies Ltd., which went on to became an IT giant in India. He moved to US to become the company's marketing face before returning to become its CEO.
Nandan Nilekani is married to Rohini Nilekani and is blessed with a daughter and a son. His elder brother, Vijay, works in the Nuclear Energy Institute.
As an entrepreneur
He began his career with Patni Computers only to later resign. He became the co-founder of Infosys in 1981. He served in various capacities including Chief Operating Officer, Chief Executive Officer, Managing Director and President. He is also regarded as the co-founder of NASSCOM and as well as the Bangalore Chapter of The IndUS Entrepreneurs (TiE). Nilekani is also the Non-executive Director of Thomson Reuters Plc. since 2007.
Positions held by Nandan Nilekani
He is on the London Business School's Asia Pacific Regional Advisory board. Mr Nilekani has served as a member of the sub-committee of Securities and Exchange Board of India. He is the Vice-Chairman of The Conference Board Inc. and the Co-Chairman of IIT Bombay Heritage Fund. He is also a member of the board of governors of the Indian Council for Research on International Economic Relations (ICRIER) and the President of NCAER (National Council for Applied Economic Research, India). He has undertaken many initiatives and was closely involved with State and Central Government projects. He also served as Chairman of Government of India's IT Task Force for the Power Sector.
Nandan Nilekani Elections result
| Year | Constituency | State | Status |
| --- | --- | --- | --- |
| 2014 | Bangalore South | Karnataka | Lose |
Political career of Nandan Nilekani
His interest in politics began with his involvement in BATF (Bangalore Agenda Task Force) in 2000. BATF intended to work on improving infrastructure in Bangalore. His political career began in the year 2009, when he resigned from his post at Infosys to serve as the chairman of UIDAI. He was invited by Prime Minister, Manmohan Singh, to take up the Cabinet position. Subsequently he moved to New Delhi to take up permanent residence there. He has since joined Congress to content the 2014 Lok Sabha elections.
Nandan Nilekani's Awards and Recognitions
He was awarded 'Distinguished Alumnus' by IIT Bombay in 2001.
He won the prestigious Joseph Schumpeter prize in the field of politics and economic sciences in 2005.
He won the prestigious Padma Bhushan in 2006.
He received the 'Businessman of the Year' award from Forbes Asia magazine in 2007.
He received the 'Legend in Leadership' award from Yale University in 2009.
He was listed in the Times magazine as one of the world's 100 most influential people in 2009.
He is the author of 'Imagining India', which was listed in the final list for FT-Goldman Sachs Book Award in 2009.
Last Updated on July 07, 2020