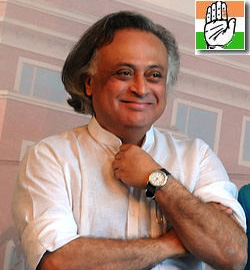 Jairam Ramesh

DOB
Apr 9, 1954
Place of Birth
Chikmagalur, Karnataka
Political Party
INC
Religion
Hindu
Nationality
Indian
Education
B.Tech from I.I.T Bombay, M.S from Carnegie Mellon University, U.S.A & Graduate Study from Massachusetts Institute of Technology.
Spouse name
K.R. Jayashree
Children
2 Sons
Profession
Economist
Positions Held

MP of Rajya Sabha for Karnataka (Assumed office 1 July 2016)
Minister of Rural Development ( 13 July 2011 - 26 May 2014)
Ministry of Environment and Forests ( May 2009 - 12 July 2011)
Member of Parliament (Rajya Sabha) for Andhra Pradesh ( June 2004 - 21 June 2016)
About Jairam Ramesh
Jairam Ramesh is an economist, a politician and a senior leader of the Indian National Congress. He is a MP in the Rajya Sabha from the state of Andhra Pradesh since June 2004. He has held different portfolios and served various ministries including ministry of Environment & Forests and Drinking Water & Sanitation. As an economist, he was entrusted with several crucial roles as an advisor to the Finance Minister and also to the Prime Minister. He has also served the Planning Commission, Ministry of Industry and other economic wings of the government.
His Personal Background
Jairam was born on 9 April 1954, in Karnataka's Chikmagalur city. His father, C K Ramesh, was a Professor of Civil Engineering in IIT Bombay. Ramesh went to St. Xavier's School in Ranchi. He was inspired by the thoughts of the Swedish economist Gunnar Myrdal and his American counterpart, Paul Samuelson. Jawaharlal Nehru's outlook and views about society, religion and culture had a deep impact on Ramesh.
After completing B. Tech in Mechanical Engineering from IIT Bombay in 1975, he went on to receive a Master's Degree in Public Policy and Public Management from Carnegie Mellon University's Heinz College between 1975-77. In the following year, he enrolled himself at the Massachusetts Institute of Technology and studied economics, engineering, management and technology policy. In 1981, he married K R Jayashree. The couple has two sons.
How did Jairam Ramesh Enter Politics?
Immediately after completing his education, Ramesh joined the World Bank for a brief time, before starting to work as an assistant to an economist, Lovraj Kumar from December 1979. He had to wait for almost two decades before he could join politics in its truest sense. In 1998, he finished his stint as an advisor to the then Finance Minister P Chidambaram. It was during the Vajpayee regime that he enrolled himself in Congress as a full-time party worker.
Political Journey of Jairam Ramesh
In 1998, Ramesh joined the Congress Party as a full-time member.
Between 2000 and 2002, he served as Deputy Chairman of State Planning Board (Govt. of Karnataka) and as the Economic Advisory Council of Andhra Pradesh.
From 2001 to 2003, he was the Economic Advisor to the Chhattisgarh government.
Ramesh was elected to the Rajya Sabha in June 2004.
From Aug 2004 to Jan 2006, he served as the member of three committees of Parliament; Public Accounts Committee, Standing Committee on Finance and Committee on Government Assurances.


From 31 Jan 2006 to 25 Feb 2009, Ramesh has been the Minister of State in the Department of Commerce under Commerce and Industry Ministry. Of these three years, he was appointed as the Minister of State in the Power Ministry for less than a year from April 2008 to Feb 2009.
After his re-election to the Indian Parliament in 2009, he was appointed as the Minister of State (Independent Charge) in the Environment and Forests Ministry.
During the 2009 UN Climate Change Conference in Copenhagen, Ramesh played the role of a chief negotiator for India.
He was re-elected to the Rajya Sabha in June 2010.
In July 2011, Ramesh was given the charge of the Rural Development Ministry.
He was also given the additional charge as the Minister of Drinking Water and Sanitation till 28 Oct 2012.
Activities and Achievements
Ramesh is an eminent columnist for leading national dailies such as Times of India, The Telegraph, Business Standard and Business Today. He chose the pen name 'Kautilya' to write columns for The India Today.
Ramesh has authored some of the important books on Economics and Politics including, "Making Sense of Chindia", which explains the dynamics of international relations.
He has also played the role of an anchor during the 90s. He hosted a number of television programmes including the Sunday evening business roundtable called 'Crossfire' and a daily morning show on Star Plus, which was titled 'Business Breakfast'.
Ramesh is also a founding member of the Indian School of Business in Hyderabad and a valued member of the Asia Society.
On the political front, he was one of the proponents of India's economic reforms and also served on special mission to Jammu and Kashmir from 1993 to 95.
Awards Won
Ramesh is the recipient of the Distinguished Alumnus Award from IIT- Bombay, which is considered one of the top notch institutions in the country.
He is also the Honorary Fellow of the Institute of Chinese Studies, New Delhi since 2002.
In 2012, he received the honour of being invited by the Finland government to share his views on sustainable development with the country's parliamentarians.
Last Updated on June 22, 2020