<! --#include virtual="../../election_front_end/stateindex_db_based.php?state=bengaluru-karnataka" -->
<! -- #include virtual='/blog/files/karnataka_blogs.php' --> <! --#include virtual='/blog/files/karnataka_blogs.php' -->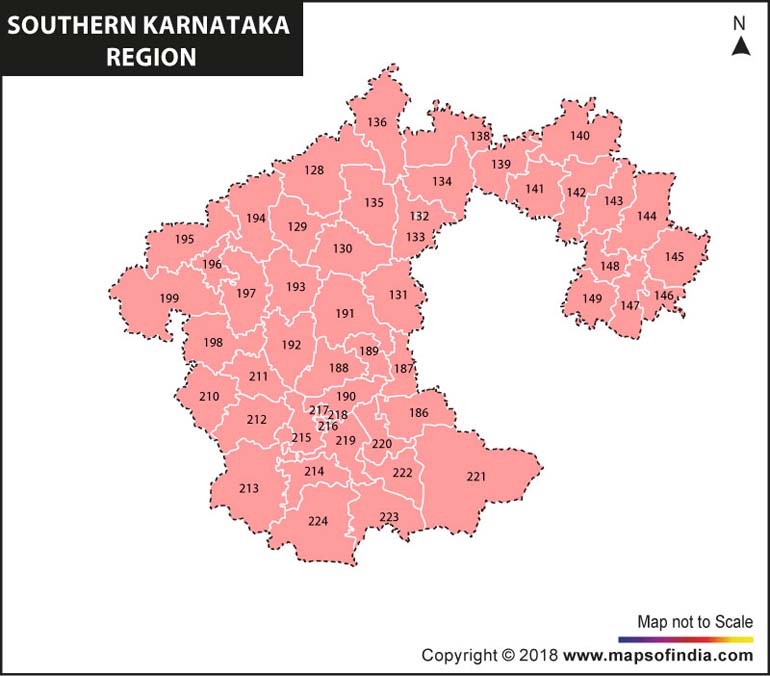 Southernk Karnataka
Southernk Karnataka
Southernk Karnataka
Overview
Southern Karnataka formed the territory of the Kingdom of Mysore under the Hindu Wodeyars, and remained a part of erstwhile British India under the Princely State of Mysore. Vokkaligas is one of the major community in the region,who since 1980s, have favored Former Karnataka Chief Minister Deve Gowda's JD(S). Southern Karnataka comprises of Bengaluru Urban&Rural, Mysuru, Mandya, Kodagu, Shivamogga, Chikkamagaluru, Chikkaballapur, Tumkur, Ramnagara, Kolar, Hassan, Chamarajanagar, Davanagar, and Chitradurga districts of present-day Karnataka.
Historical Background
In 1799, when Tipu Sultan was defeated by the Imperial forces, Southern Karnataka came under the control of Hindu Wodeyar, who ruled the Princely State of Mysore. They ruled the Princely state up until India gained Independence in 1947, post-independence Maharaja became the first governor of the state of Mysore. Southern Karnataka was, along with other regions, part of different territories under British India, these Kannada dominated regions constituted the state of Mysore in 1956, after State Reorganisation Committee's recommendation. Vokkaligas community is the dominant community in the region, while Lingayats along with Muslims, and other backward communities constitute the remaining population of the region. The Southern Karnataka is one of the fastest developing region in Karnataka, with agriculture and IT sector forming the backbone of the region. Southern Karnataka's geographical location at the centre of Cauvery river basin, makes water accessible in abundance to the region, thus, prospering the growth of agricultural sector of the region.
Assembly Constituencies and MLAs from Southern Karnataka Region
| AC. No. | Constituency | Current MLA | Party |
| --- | --- | --- | --- |
| 128 | Chikkanayakanahalli | C. B. Suresh Babu | JD(S) |
| 129 | Tiptur | K. Shadakshari | INC |
| 130 | Turuvekere | M. T. Krishnappa | JD(S) |
| 131 | Kunigal | D. Nagarajaiah | JD(S) |
| 132 | Tumkur City | Dr. Rafeeq Ahmed S | INC |
| 133 | Tumkur Rural | B. Suresh Gowda | BJP |
| 134 | Koratagere | P. R. Sudhakara Lal | JD(S) |
| 135 | Gubbi | S. R. Srinivas (Vasu) | JD(S) |
| 136 | Sira | T. B. Jayachandra | INC |
| 138 | Madhugiri | Kyatsandra N. Rajanna | INC |
| 139 | Gauribidanur | N. H. Shivashankara Reddy | INC |
| 140 | Bagepalli | S. N. Subbareddy | IND |
| 141 | Chikkaballapur | Dr. K. Sudhakar | INC |
| 142 | Sidlaghatta | M. Rajanna | JD(S) |
| 143 | Chintamani | J. K. Krishnareddy | JD(S) |
| 144 | Srinivaspur | K. R. Ramesh Kumar | INC |
| 145 | Mulbagal | G. Manjunath | IND |
| 146 | Kolar Gold Field | Y. Ramakka | BJP |
| 147 | Bangarapet | S. N. K. M. Narayana Swamy | INC |
| 148 | Kolar | R. Varthur Prakash | IND |
| 149 | Malur | K. S. Manjunath Gowda | JD(S) |
| 186 | Malavalli | P. M. Narendraswamy | INC |
| 187 | Maddur | D. C. Thammanna | JD(S) |
| 188 | Melukote | Vacant | |
| 189 | Mandya | M. H. Ambareesh | INC |
| 190 | Srirangapatna | Vacant | |
| 191 | Nagamangala | Vacant | JD(S) |
| 192 | Krishnarajpet | Narayana Gowda | JD(S) |
| 193 | Shravanabelagola | C. N. Balakrishna | JD(S) |
| 194 | Arsikere | K. M. Shivalinge Gowda | JD(S) |
| 195 | Belur | Vacant | |
| 196 | Hassan | H. S. Prakash | JD(S) |
| 197 | Holenarasipur | H. D. Revanna | JD(S) |
| 198 | Arkalgud | A. Manju | INC |
| 199 | Sakleshpur | H. K. Kumaraswamy | JD(S) |
| 210 | Piriyapatna | K.Venkatesh | INC |
| 211 | Krishnarajanagara | S. R. Mahesh | JD(S) |
| 212 | Hunsur | H. P. Manjunatha | INC |
| 213 | Heggadadevankote | Vacant | |
| 214 | Nanjangud | Kalale N Keshavamurthy | INC |
| 215 | Chamundeshwari | G. T. Devegowda | JD(S) |
| 216 | Krishnaraja | M. K. Somashekar | INC |
| 217 | Chamaraja | Vasu | INC |
| 218 | Narasimharaja | Tanveer Sait | INC |
| 219 | Varuna | Siddaramaiah | INC |
| 220 | T Narasipur | Dr. H. C. Mahadevappa | INC |
| 221 | Hanur | R. Narendra | INC |
| 222 | Kollegal | S. Jayanna | INC |
| 223 | Chamarajanagar | C. Puttarangashetty | INC |
| 224 | Gundlupet | M. C. Mohan Kumari Uruf Geetha | INC |
Last Updated on: Jan 16, 2023