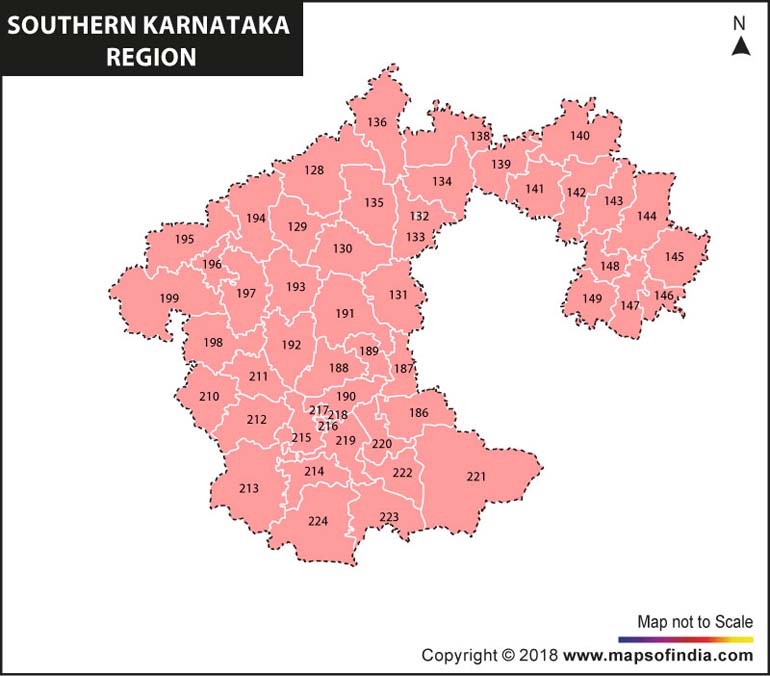 Southern Karnataka
Overview
Southern Karnataka formed the territory of the Kingdom of Mysore under the Hindu Wodeyars, and remained a part of erstwhile British India under the Princely State of Mysore. Vokkaligas is one of the major community in the region,who since 1980s, have favored Former Karnataka Chief Minister Deve Gowda's JD(S). Southern Karnataka comprises of Bengaluru Urban&Rural, Mysuru, Mandya, Kodagu, Shivamogga, Chikkamagaluru, Chikkaballapur, Tumkur, Ramnagara, Kolar, Hassan, Chamarajanagar, Davanagar, and Chitradurga districts of present-day Karnataka.
Historical Background
In 1799, when Tipu Sultan was defeated by the Imperial forces, Southern Karnataka came under the control of Hindu Wodeyar, who ruled the Princely State of Mysore. They ruled the Princely state up until India gained Independence in 1947, post-independence Maharaja became the first governor of the state of Mysore. Southern Karnataka was, along with other regions, part of different territories under British India, these Kannada dominated regions constituted the state of Mysore in 1956, after State Reorganisation Committee's recommendation. Vokkaligas community is the dominant community in the region, while Lingayats along with Muslims, and other backward communities constitute the remaining population of the region. The Southern Karnataka is one of the fastest developing region in Karnataka, with agriculture and IT sector forming the backbone of the region. Southern Karnataka's geographical location at the centre of Cauvery river basin, makes water accessible in abundance to the region, thus, prospering the growth of agricultural sector of the region.
Political Scenario
Congress has been an influential political party in the region amongst the backward and Muslim community as they launched programmes and schemes to benefit these communities. Congress' appeasement politics left Vokkaligas and Lingayats in search of alternative political affiliation in order to make their concerns reach the government. In the 1980s, the ascendance of Hindutva politics in the region, saw large number of Hindu sects and traditions to come under a collective society. While on the other, Vokkaligas saw Deve Gowda's JD(S) as an alternative to assert their political influence in the region. BJP has a formidable vote base amongst the hardcore Hindu groups including the Lingayats, while Congress won 24 seats out of the 50 seats in the region, during the last state assembly elections in 2013, the rest of the seats were shared between JD(S), BJP, and IND. During the upcoming elections, BJP and JD(S) would be looking to improve on their previous performance, as both the parties would be delighted to reduce Congress' vote share and assembly seats in the upcoming state assembly elections.
Issues pertaining to the region
The extensive rapid development in the region has severely affected the environment in the region, while mismanagement of water resources have created water crisis in the region in last few years. Southern Karnataka's prosperity has seen huge number of people migrating to seize the employment opportunities, but it has put stress on the resources of the region, while creating a huge population of urban poor.
Assembly Constituencies and MLAs from Southern Karnataka Region
| AC. No. | Constituency | Current MLA | Party |
| --- | --- | --- | --- |
| 128 | Chikkanayakanahalli | C. B. Suresh Babu | JD(S) |
| 129 | Tiptur | K. Shadakshari | INC |
| 130 | Turuvekere | M. T. Krishnappa | JD(S) |
| 131 | Kunigal | D. Nagarajaiah | JD(S) |
| 132 | Tumkur City | Dr. Rafeeq Ahmed S | INC |
| 133 | Tumkur Rural | B. Suresh Gowda | BJP |
| 134 | Koratagere | P. R. Sudhakara Lal | JD(S) |
| 135 | Gubbi | S. R. Srinivas (Vasu) | JD(S) |
| 136 | Sira | T. B. Jayachandra | INC |
| 138 | Madhugiri | Kyatsandra N. Rajanna | INC |
| 139 | Gauribidanur | N. H. Shivashankara Reddy | INC |
| 140 | Bagepalli | S. N. Subbareddy | IND |
| 141 | Chikkaballapur | Dr. K. Sudhakar | INC |
| 142 | Sidlaghatta | M. Rajanna | JD(S) |
| 143 | Chintamani | J. K. Krishnareddy | JD(S) |
| 144 | Srinivaspur | K. R. Ramesh Kumar | INC |
| 145 | Mulbagal | G. Manjunath | IND |
| 146 | Kolar Gold Field | Y. Ramakka | BJP |
| 147 | Bangarapet | S. N. K. M. Narayana Swamy | INC |
| 148 | Kolar | R. Varthur Prakash | IND |
| 149 | Malur | K. S. Manjunath Gowda | JD(S) |
| 186 | Malavalli | P. M. Narendraswamy | INC |
| 187 | Maddur | D. C. Thammanna | JD(S) |
| 188 | Melukote | Vacant | |
| 189 | Mandya | M. H. Ambareesh | INC |
| 190 | Srirangapatna | Vacant | |
| 191 | Nagamangala | Vacant | JD(S) |
| 192 | Krishnarajpet | Narayana Gowda | JD(S) |
| 193 | Shravanabelagola | C. N. Balakrishna | JD(S) |
| 194 | Arsikere | K. M. Shivalinge Gowda | JD(S) |
| 195 | Belur | Vacant | |
| 196 | Hassan | H. S. Prakash | JD(S) |
| 197 | Holenarasipur | H. D. Revanna | JD(S) |
| 198 | Arkalgud | A. Manju | INC |
| 199 | Sakleshpur | H. K. Kumaraswamy | JD(S) |
| 210 | Piriyapatna | K.Venkatesh | INC |
| 211 | Krishnarajanagara | S. R. Mahesh | JD(S) |
| 212 | Hunsur | H. P. Manjunatha | INC |
| 213 | Heggadadevankote | Vacant | |
| 214 | Nanjangud | Kalale N Keshavamurthy | INC |
| 215 | Chamundeshwari | G. T. Devegowda | JD(S) |
| 216 | Krishnaraja | M. K. Somashekar | INC |
| 217 | Chamaraja | Vasu | INC |
| 218 | Narasimharaja | Tanveer Sait | INC |
| 219 | Varuna | Siddaramaiah | INC |
| 220 | T Narasipur | Dr. H. C. Mahadevappa | INC |
| 221 | Hanur | R. Narendra | INC |
| 222 | Kollegal | S. Jayanna | INC |
| 223 | Chamarajanagar | C. Puttarangashetty | INC |
| 224 | Gundlupet | M. C. Mohan Kumari Uruf Geetha | INC |
Last Updated on April 18, 2018