<! --#include virtual="../../election_front_end/stateindex_db_based.php?state=bengaluru-karnataka" -->
<! -- #include virtual='/blog/files/karnataka_blogs.php' --> <! --#include virtual='/blog/files/karnataka_blogs.php' -->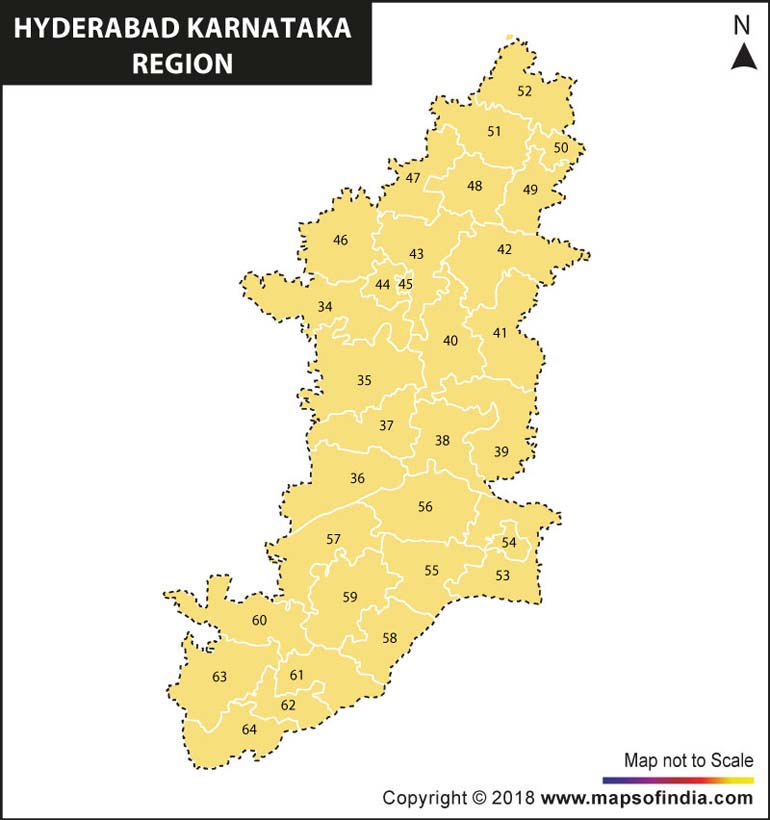 Hydrebad Karnataka
Hydrebad Karnataka
Hydrebad Karnataka
Overview
Hyderabad Karnataka, formerly part of the Hyderabad State under the British rule, has been a Congress bastion since Independence but after the illegal mining scam came to light, the people of the region switched their allegiance. Hyderabad Karnataka comprises the present day districts of Gulbarga, Bellary, Yadagiri, Raichur, Bidar, and Koppal.
Historical Background
Peshwa territories that covered the majority of the present-day Karnataka region were annexed by the British Imperial forces, and became a part of the erstwhile British India territory in 1818. The Hyderabad Karnataka region covers 23% of the total state area and lies in the North Eastern region of Karnataka. The Hyderabad Karnataka region was under the political and administrative jurisdiction of Hyderabad State under the rule of Nizam of Hyderabad till 1948. Even though other regions of present-day Karnataka gained Independence with the rest of the country on 15th August, 1947, the Nizam of Hyderabad refused to accede to India. In September 1948, Hyderabad State became independent and joined India. Indian armed forces were sent to overthrow Nizam and protect the people from the atrocities being inflicted by the Nizam and his Razakars. The State Reorganisation Committee recommended the central government to form separate states based on their regional and linguistic identity in 1956. Hyderabad Karnataka became a part of the united Karnataka in the same year, after joining the state of Mysore, which was later renamed "Karnataka" in 1973.
Assembly Constituencies and MLAs from Hydrebad Karnataka Region
| AC. No. | Constituency | Current MLA | Party |
| --- | --- | --- | --- |
| 34 | Afzalpur | Malikayya Venkayya Guttedar | INC |
| 35 | Jewargi | Dr. Ajay Dharam Singh | INC |
| 36 | Shorapur | Raja Venkatappa Naik | INC |
| 37 | Shahapur | Guru Patil Shirval | KJP |
| 38 | Yadgir | Dr. A. B. Malaka Reddy | INC |
| 39 | Gurmitkal | Baburao Basavanneppa Chinchansoor | INC |
| 40 | Chittapur | Priyanka M. Kharge | INC |
| 41 | Sedam | Dr. Sharan Prakash Rudrappa Patil | INC |
| 42 | Chincholi | Dr. Umesh G Jadhav | INC |
| 43 | Gulbarga Rural | G. Ramakrishna | INC |
| 44 | Gulbarga Dakshin | Dattatraya Chandrasekar Patil Revoor (AppuGouda) | BJP |
| 45 | Gulbarga Uttar | Vacant | |
| 46 | Aland | B.R. Patil | KJP |
| 47 | Basavakalyan | Mallikarjun Sidramappa Khuba | JD(S) |
| 48 | Homnabad | Rajashekar Basavaraj Patil | INC |
| 49 | Bidar South | Ashok Kheny | KMP |
| 50 | Bidar | Raheem Khan | INC |
| 51 | Bhalki | Eshwara Bhimanna Khandre | INC |
| 52 | Aurad | Prabhu B Chavhan | BJP |
| 53 | Raichur Rural | Thipparaju | BJP |
| 54 | Raichur | Vacant | |
| 55 | Manvi | G. Hampayya Nayak Ballatagi | INC |
| 56 | Devadurga | K. Shivanagouda Naik | BJP |
| 57 | Lingsugur | Vacant | |
| 58 | Sindhanur | Badarli Hampangouda | BJP |
| 59 | Maski | Pratapagouda Patil | INC |
| 60 | Kushtagi | Doddanagouda Hanumanagouda Patil | BJP |
| 61 | Kanakagiri | Shivaraj Sangappa Tangadagi | INC |
| 62 | Gangawati | Vacant | |
| 63 | Yelburga | Basavaraj Rayaraddi | INC |
| 64 | Koppal | K. Raghavendra Basavaraj Hitnal | INC |
Last Updated on: Jan 16, 2023