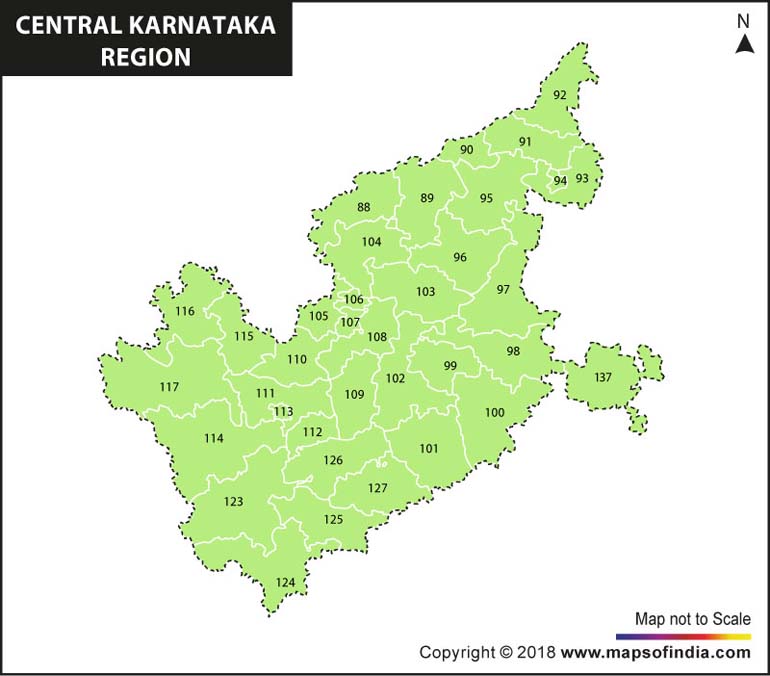 Central Karnataka
Overview
Central Karnataka was part of the Kingdom of Mysore under the rule of Wodeyars. After the British took over the administrative and political charge of India, the region of Central Karnataka remained a part of Princely State of Mysore. Veerashaivas are a dominant community in the region, they have usually given their support to the Congress party over the years, but in recent years, the votebase has shifted allegiance. Central Karnataka comprises of Tumakuru, Davanagere, Haveri, Chitradurga, Shimoga, Raichur, Koppal districts of present-day Karnataka
Historical Background
Central Karnataka was a part of the mighty Vijayanagara Empire between the 14th and 17th centuries. By 1799, the regions of present-day Karnataka including the Central Karnataka were annexed by the British administration. Though, some districts remained part of the Princely state of Mysore, others were integrated into different administrative states. Post-independence in 1956, the State of Mysore was created, with certain regions from Hyderabad, Bombay, and Madras joining with the Princely State of Mysore. Veerashaivas are the dominating community in Central Karnataka, while the SC/STs and other backward communities also have a significant composition in the region.
Political Scenario
Veerashaivas comprise the majority of population in the region, while backward castes, Muslims and Dalits also contribute to the demography of the region. The Congress has over the years dominated the region with the party being popular among the different communities in Central Karnataka, including Veerashaivas. However, the Siddaramaiah led-Congress government in Karnataka recently has been vocal about minority status to Lingayats, which in turn has seen resentment from large sections of Veerashaivaites. Veerashaivas do not want to create a divide between the Lingayats and Veerashaivas, this action of Congress government is set to affect the party's vote base in the region. Although, the party has recently launched several schemes to benefit the marginalised sections of the society that consists the social composition in the region, to appease the voters, but it remains to bve seen whether the minority appeasement can do the trick for Congress in the region. On the other hand, BJP is looking to capitalise on the lost ground of Congress, as they look to woo the Veershaiva community. While JD(S) has a significant vote base amongst the Veerashaivas across the state, however, the party would be looking to utilise their Veershaiva vote base to strengthen party's vote share in Central Karnataka and gain significant number of seats in the upcoming state assembly elections.
Issues Pertaining to the region
The region faces severe water crisis and majority of region does not have access to safe water. The state government's lack of planning and water management has resulted in degradation of fresh water sources. Coconut, Acrecanut, and Sericulture farmers suffering from problems like lack of irrigation system, Minimum Support Price(MSP), and farming loan debts, while the state goverment is trying to implement policies and measures to help the farmers in the region, however, lack od proper implementation has failed to help the farmers.
Assembly Constituencies and MLAs from Central Karnataka Region
| AC. No. | Constituency | Current MLA | Party |
| --- | --- | --- | --- |
| 88 | Hadagalli | P. T. Parameshwara Naik | INC |
| 89 | Hagaribommanahalli | Vacant | |
| 90 | Vijayanagara | Vacant | |
| 91 | Kampli | T.H. Suresh Babu | BSRCP |
| 92 | Siruguppa | B. M. Nagaraja | INC |
| 93 | Bellary | N. Y. Gopalakrishna | INC |
| 94 | Bellary City | Anil H. Lad | INC |
| 95 | Sandur | E. Tukaram | INC |
| 96 | Kudligi | B. Nagendra | IND |
| 97 | Molakalmuru | S. Thippeswamy | BSRCP |
| 98 | Challakere | T. Raghumurthy | INC |
| 99 | Chitradurga | G. H. Thippa Reddy | BJP |
| 100 | Hiriyur | D. Sudhakar | INC |
| 101 | Hosadurga | B. G. Govindappa | INC |
| 102 | Holalkere | H. Anjaneya | INC |
| 103 | Jagalur | H. P. Rajesh | INC |
| 104 | Harapanahalli | M. P. Ravindra | INC |
| 105 | Harihar | H. S. Shivashankar | JD(S) |
| 106 | Davanagere North | S. S. Mallikarjuna | INC |
| 107 | Davanagere South | Shamanuru Shivashankarappa | INC |
| 108 | Mayakonda | K. Shivamurthy | INC |
| 109 | Channagiri | Vadnal Rajanna | INC |
| 110 | Honnali | D. G. Shanthana Gowda | INC |
| 111 | Shimoga Rural | Sharada Poorya Naik | JD(S) |
| 112 | Bhadravati | M. J. Appaji | JD(S) |
| 113 | Shimoga | K. B. Prasanna Kumar | INC |
| 114 | Tirthahalli | Kimmane Rathnakar | INC |
| 115 | Shikaripura | B. Y. Raghavendra | BJP |
| 116 | Sorab | S. Madhu Bangarappa | JD(S) |
| 117 | Sagar | Kagodu Thimmappa | INC |
| 123 | Sringeri | D. N Jeevaraj | BJP |
| 124 | Mudigere | B. B Ningaiah | JD(S) |
| 125 | Chikmagalur | C. T. Ravi | BJP |
| 126 | Tarikere | G. H. Srinivasa | INC |
| 127 | Kadur | Y. S. V. Datta | JD(S) |
| 137 | Pavagada | K. M. Thimmarayappa | JD(S) |
Last Updated on April 18, 2018