<! --#include virtual="../../election_front_end/stateindex_db_based.php?state=bengaluru-karnataka" -->
<! -- #include virtual='/blog/files/karnataka_blogs.php' --> <! --#include virtual='/blog/files/karnataka_blogs.php' -->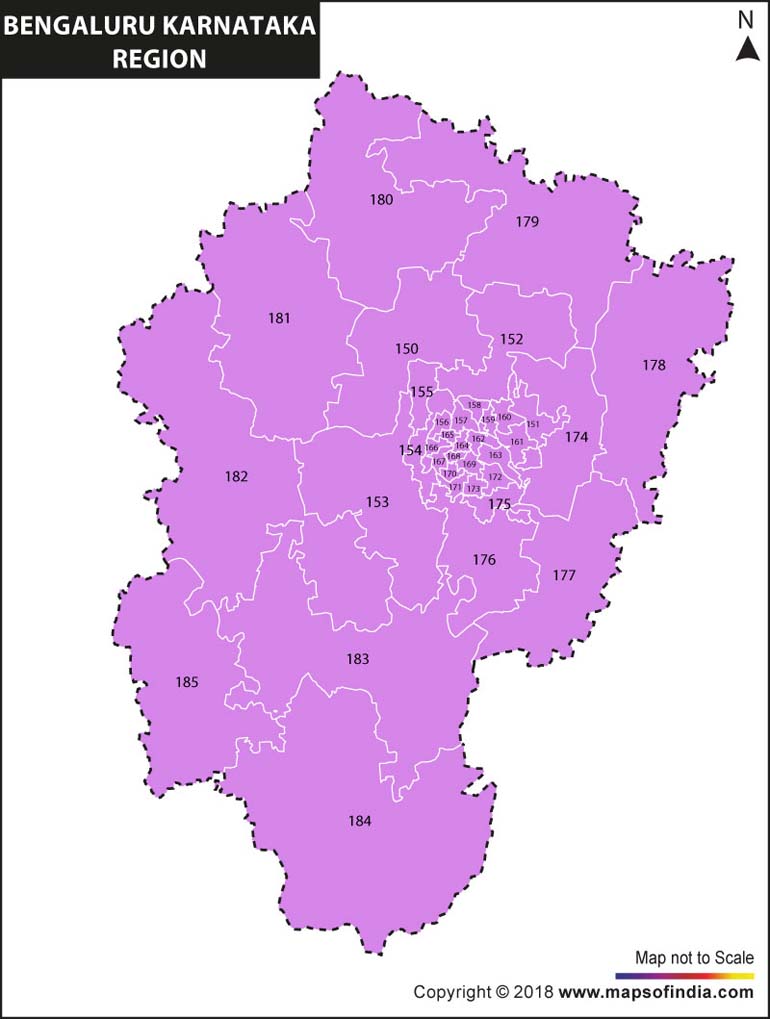 Bengaluru Karnataka
Overview
Bangalore Karnataka was a part of the Princely State of Mysore under the Wodeyars during the British rule. Bengaluru region has been a Congress bastion since Independence, but in the recent years the people of the region have voted for candidates that can work for the development of the region and issues related to day-to-day life. Bengaluru Karnataka comprises the present day districts of Bengaluru Urban and Bengaluru Rural.
Historical Background
Bangalore Karnataka has a rich and complex history, while the Kempe Gowda I laid the foundation of western front of the city in 1537, the eastern front of present-day Bengaluru was built by the British administration in the beginning of the nineteenth century, after British forces moved to make the city a cantonment. The city developed parallel to each other, while British administration looked after the eastern city, the old city developed by Kempe Gowda I remained under the Princely State of Mysore and became its capital, after India gained Independence. Bengaluru was made the capital of the state of Mysore in 1956, when several other Kannada dominated regions were integrated to the Princely State of Mysore, with the passage of State Reorganisation Act. In 1986, Bangalore was divided into two parts: Bangalore Urban and Bangalore Rural for better administration. The development of Bengaluru has been on an upward trajectory ever since the time of IT-revolution in India, with the Government of India ushering in reforms in the telecom sector and pushed for development of IT sector in India. Bengaluru has since, gone onto achieve great success in the field of IT, thus, labelling the capital of Karnataka as "Silicon Valley of India".
Assembly Constituencies and MLAs from Bengaluru Karnataka Region
| AC. No. | Constituency | Current MLA | Party |
| --- | --- | --- | --- |
| 150 | Yelahanka | S. R. Vishwanath | BJP |
| 151 | K.R. Pura | B. A. Basavaraja | INC |
| 152 | Byatarayanapura | C. B. Krishna Byregowda | INC |
| 153 | Yeshvanthapura | S. T. Somashekar | INC |
| 154 | Rajarajeshwarinagar | Munirathna | INC |
| 155 | Dasarahalli | S. Muniraju | BJP |
| 156 | Mahalakshmi Layout | K. Gopalaiah | JD(S) |
| 157 | Malleshwaram | Dr. C. N. Ashwath Narayana | BJP |
| 158 | Hebbal | Y. A. Narayana Swamy | BJP |
| 159 | Pulakeshinagar | Vacant | |
| 160 | Sarvagnanagar | K. J. George | INC |
| 161 | C.V Raman Nagar | S. Raghu | BJP |
| 162 | Shivajinagar | R. Roshan Baig | INC |
| 163 | Shanti Nagar | N. A. Haris | INC |
| 164 | Gandhi Nagar | Dinesh Gundurao | INC |
| 165 | Rajaji Nagar | S. Suresh Kumar | BJP |
| 166 | Govindraj Nagar | Priyakrishna | INC |
| 167 | Vijay Nagar | M.Krishnappa | INC |
| 168 | Chamrajpet | Vacant | |
| 169 | Chickpet | R. V. Devaraj | INC |
| 170 | Basavanagudi | L. A. Ravisubramanya | BJP |
| 171 | Padmanaba Nagar | R. Ashoka | BJP |
| 172 | B. T. M Layout | Ramalinga Reddy | INC |
| 173 | Jayanagar | B. N. Vijayakumar | BJP |
| 174 | Mahadevapura | Aravinda Limbavali | BJP |
| 175 | Bommanahalli | M. Satish Reddy | BJP |
| 176 | Bangalore South | M. Krishnappa | BJP |
| 177 | Anekal | B. Shivanna | INC |
| 178 | Hosakote | M. T. B. Nagaraju | INC |
| 179 | Devanahalli | Pilla Munishamappa | JD(S) |
| 180 | Doddaballapur | T. Venkataramanaiah | INC |
| 181 | Nelamangala | Dr. K. Srinivasamurthy | JD(S) |
| 182 | Magadi | Vacant | |
| 183 | Ramanagaram | H. D. Kumaraswamy | JD(S) |
| 184 | Kanakapura | D. K. Shivakumar | INC |
| 185 | Channapatna | C. P. Yogeeshwar | INC |
Last Updated on: Dec 29, 2022