Raima Valley assembly constituency is in the Dhalai district of Tripura State. There are 43,430 voters in the constituency of which 39,516 voters voted in the last election making the voting to around 90.99%. . Dhananjoy Tripura candidate belonging to Indigenous People's Front Of Tripura won the seat in last election defeating Lalit Mohan Tripura of Communist Party of India (Marxist) by 1,922 Votes.
[an error occurred while processing this directive]
Sitting and Previous MLAs Raima Valley Assembly Constituency
Below is the list of winners and runners-up in the Raima Valley assembly elections conducted so far.
| Year | AC No. | AC Name | Category | Winner | Gender | Party | Votes | Runner Up | Gender | Party | Votes |
| --- | --- | --- | --- | --- | --- | --- | --- | --- | --- | --- | --- |
| 2018 | 44 | Raima Valley | ST | Dhananjoy Tripura | M | IPFT | 18673 | Lalit Mohan Tripura | M | CPM | 16751 |
| 2013 | 44 | Raima Valley | (ST) | Lalit MohanTripura | M | CPM | 18527 | Nakshatra Jamatia | M | INPT | 15651 |
| 2008 | 44 | Raima Valley | (ST) | Sri Lalit Mohan Tripura. | M | CPM | 19120 | Sri Rabindra Debbarma | M | INPT | 15256 |
| 2003 | 44 | Raima Valley | (ST) | Rabindra Debbarma | M | INPT | 13483 | Lalit Mohan Tripura | M | CPM | 13334 |
| 1998 | 44 | Raima Valley | (ST) | Rabindra Debbarma | M | TUJS | 12987 | Ananda Mohan Roaja | M | CPM | 10631 |
| 1993 | 44 | Raima Valley | (ST) | Ananda Mohan Roaja | M | CPM | 13426 | Rabindra Deb Barma | M | TJS | 11134 |
| 1988 | 44 | Raima Valley | (ST) | Rabindra Debbarma | M | TUS | 10640 | Ram Kumar Debbarma | M | CPM | 10225 |
| 1983 | 44 | Raima Valley | (ST) | Rabindra Debbarma | M | TUS | 7772 | Anand Mohan Reaja | M | CPM | 7225 |
| 1977 | 44 | Raima Valley | (ST) | Baju Ban Riyan | M | CPM | 7661 | Monojay Roaja | M | TUS | 1588 |
Last Updated on: Jan 24, 2023
Upcoming Elections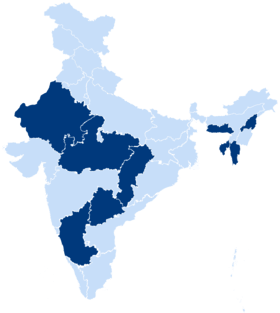 <! --#include virtual='/live-blog/files/rightpanel-news-feed.php' -->