Fatikroy assembly constituency is in the North Tripura district of Tripura State. There are 42,013 voters in the constituency of which 37,637 voters voted in the last election making the voting to around 89.58%. The Demographic Bifurcation of the constituency is 94.58% Hindus, 4.39% Muslims and 0.09% Christians.
Sudhangshu Das candidate belonging to Bharatiya Janata Party won the seat in last election defeating Tunubala Malakar of Communist Party Of India (Marxist) by 2,829 Votes.
[an error occurred while processing this directive]
Sitting and Previous MLAs from Fatikroy Assembly Constituency
Below is the list of winners and runners-up in the Fatikroy assembly elections conducted so far.
| Year | AC No. | AC Name | Category | Winner | Gender | Party | Votes | Runner Up | Gender | Party | Votes |
| --- | --- | --- | --- | --- | --- | --- | --- | --- | --- | --- | --- |
| 2018 | 51 | Fatikroy | SC | Sudhangshu Das | M | BJP | 19512 | Tunubala Malakar | M | CPI (M) | 16683 |
| 2013 | 51 | Fatikroy | (SC) | Tunubala Malakar | F | CPM | 17899 | Jugal Malakar | M | INC | 16034 |
| 2008 | 51 | Fatikroy | GEN | Bijoy Roy | M | CPM | 14457 | Sunil Chandra Das | M | INC | 12144 |
| 2003 | 51 | Fatikroy | GEN | Bijoy Roy | M | CPM | 11381 | Sujit Paul | M | INC | 10144 |
| 1998 | 51 | Fatikroy | GEN | Ananta Pal | M | CPM | 9342 | Sujit Paul | M | INC | 8677 |
| 1993 | 51 | Fatikroy | GEN | Bhudeb Bhattacharjee | M | CPM | 11742 | Sunil Chandra Das | M | INC | 6706 |
| 1988 | 51 | Fatikroy | GEN | Sunil Chandra Das | M | INC | 12288 | Bhudeb Bhattacharya | M | CPM | 4299 |
| 1983 | 51 | Fatikroy | GEN | Tarani Mohan Singha | M | CPM | 7580 | Radhika Ranjan Gupta | M | INC | 5898 |
| 1977 | 51 | Fatikroy | GEN | Tarani Mohan Sinha | M | CPM | 6057 | Gopesh Ranjan Deb | M | INC | 3365 |
| 1972 | 49 | Fatikroy | GEN | Radhika Nandan Gupta | M | INC | 4019 | Tarani Mohan Sinha | M | CPM | 2966 |
| 1967 | 25 | Fatikroy | GEN | R . R . Gupta | M | INC | 7750 | R . R . Kumar | M | CPI | 5757 |
Last Updated on: Jan 24, 2023
Upcoming Elections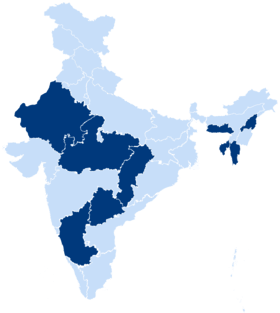 <! --#include virtual='/live-blog/files/rightpanel-news-feed.php' -->