Chawmanu assembly constituency is in the Dhalai district of Tripura State. There are 39,348 voters in the constituency of which 34,958 voters voted in the last election making the voting to around 88.84%. The Demographic Bifurcation of the constituency is 66.01% Hindus, 0.94% Muslims and 1% Christians.
Sambhu Lal Chakma candidate belonging to Bharatiya Janata Party won the seat in last election defeating Nirajoy Tripura of Communist Party Of India (Marxist) by 3,755 Votes.
[an error occurred while processing this directive]
Sitting and Previous MLAs from Chawmanu Assembly Constituency
Below is the list of winners and runners-up in the Chawmanu assembly elections conducted so far.
| Year | AC No. | AC Name | Category | Winner | Gender | Party | Votes | Runner Up | Gender | Party | Votes |
| --- | --- | --- | --- | --- | --- | --- | --- | --- | --- | --- | --- |
| 2018 | 49 | Chawmanu | ST | Shambhulal Chakma | M | BJP | 18290 | Nirajoy Tripura | M | CPI (M) | 14535 |
| 2013 | 49 | Chawmanu | (ST) | NirajoyTripura | M | CPM | 15870 | Zaidami Tripura | F | INC | 14375 |
| 2008 | 49 | Chawmanu | (ST) | Sri Nirajoy Tripura | M | CPM | 12329 | Sri Shyama Charan Tripura | M | INPT | 11228 |
| 2003 | 49 | Chawmanu | (ST) | Syamacharan Tripura | M | INPT | 10352 | Gajendra Tripura | M | CPM | 7277 |
| 1998 | 49 | Chawmanu | (ST) | Shyamacharan Tripura | M | TUJS | 8622 | Purnamohan Tripura | M | CPM | 7853 |
| 1993 | 49 | Chawmanu | (ST) | Purnamohan Tripura | M | CPM | 10442 | Shyamacharan Tripura | M | TJS | 4428 |
| 1988 | 49 | Chawmanu | (ST) | Purna Mohan Tripura | M | CPM | 9323 | Shyama Charan Tripura | M | TUS | 7157 |
| 1983 | 49 | Chawmanu | (ST) | Purna Mohan Tripura | M | CPM | 6662 | Jadumohan Tripura | M | TUS | 6598 |
| 1977 | 49 | Chawmanu | (ST) | Purna Mohan Tripura | M | CPM | 4613 | Shyama Charan Tripura | M | TUS | 1587 |
| 1972 | 48 | Chawmanu | (ST) | Purna Mohan Tirpura | M | CPM | 3164 | Ghanshyam Dewan | M | INC | 2189 |
Last Updated on: Jan 24, 2023
Upcoming Elections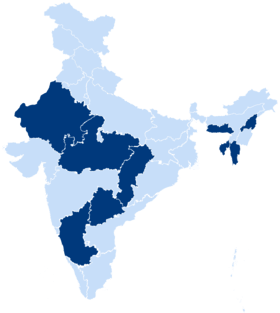 <! --#include virtual='/live-blog/files/rightpanel-news-feed.php' -->