Asharambari assembly constituency is in the West Tripura district of Tripura State. There are 36,413 voters in the constituency of which 33,396 voters voted in the last election making the voting to around 91.71%. The Demographic Bifurcation of the constituency is 94.09% Hindus, 4.37% Muslims and 0.99% Christians.
Mevar Kr Jamatia candidate belonging to Indigenous People's Front Of Tripura won the seat in last election defeating Aghore Deb Barma of Communist Party Of India (Marxist) by 6,987 Votes.
[an error occurred while processing this directive]
Sitting and Previous MLAs from Asharambari Assembly Constituency
Below is the list of winners and runners-up in the Asharambari assembly elections conducted so far.
| Year | AC No. | AC Name | Category | Winner | Gender | Party | Votes | Runner Up | Gender | Party | Votes |
| --- | --- | --- | --- | --- | --- | --- | --- | --- | --- | --- | --- |
| 2018 | 26 | asharambari | ST | Mevar Kumar Jamatia | M | IPFT | 19188 | Aghore Debbarma | M | CPI (M) | 12201 |
| 2013 | 26 | Asharambari | (ST) | Aghore Debbarma | M | CPM | 17826 | Amiya Kumar Debbarma | M | INPT | 10609 |
| 2008 | 25 | Asharambari | (ST) | Sachindra Debbarma | M | CPM | 13765 | Amiya Kumar Debbarma | M | INPT | 9234 |
| 2003 | 25 | Asharambari | (ST) | Sachindra Debbarma | M | CPM | 9924 | Amiya Kumar Debbarma | M | INPT | 8438 |
| 1998 | 25 | Asharambari | (ST) | Sandhya Rani Deb Barma | F | CPM | 11907 | Kripa Sadhan Jamatia | M | IND | 2658 |
| 1993 | 25 | Asharambari | (ST) | Bidya Chandra Deb Bama | M | CPM | 14820 | Sudhir Deb Barma | M | INC | 2407 |
| 1988 | 25 | Asharambari | (ST) | Bidhya Chandra Debbarma | M | CPM | 12597 | Arun Kumar Debbarma | M | INC | 3211 |
| 1983 | 25 | Asharambari | (ST) | Bidya Chandra Deb Barma | M | CPM | 11360 | Kishalaya Kanti Deb Barma | M | INC | 1591 |
| 1977 | 25 | Asharambari | (ST) | Bidya Chandra Deb Barma | M | CPM | 9506 | Dayanand Deb Barma | M | INC | 1125 |
| 1972 | 44 | Asharambari | GEN | Nripendra Chakraborty | M | CPM | 6290 | Arun Kar | M | INC | 4137 |
Last Updated on: Jan 23, 2023
Upcoming Elections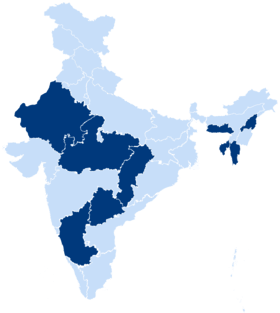 <! --#include virtual='/live-blog/files/rightpanel-news-feed.php' -->