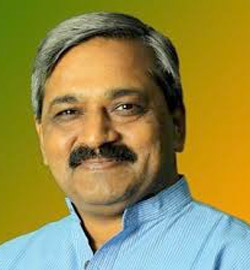 Satish Upadhyay

Full Name
Satish Upadhya
Political Party
Bharatiya Janata Party
DOB
06/03/1962
Place of Birth
Delhi
Education
Graduate
Position Held
President, BJP, Delhi State
About Satish Upadhyay
Satish Upadhyay was appointed President of BJP's Delhi state unit in July 2014. He was earlier a councillor from Malviya Nagar, New Delhi and the chairman of the Standing Committee of South Delhi Municipal Corporation (SDMC).
The BJP put Satish Upadhyay on the driver seat of its Delhi unit as he is a well-educated and energetic political leader. In a very short span of time, he has made his mark in the Indian political arena and taken the Delhi unit of BJP in a new direction. Currently, he is busy contributing to the party's new action plan in the Delhi Assembly elections scheduled to be held on February 7, 2015.
Early Life of Satish Upadhyay
The family of Satish Upadhyay belongs to Agra – the city of one of the Seven Wonders of the World – though he was born in Delhi in 1962. He was the youngest member in the family comprising his eight siblings. After excellent performance in school life, Satish Upadhyay took admission in BA (Hons) in Political Science at the Delhi University. His wife Arti Upadhyay is director with Media Institute Communication Networks, New Delhi. The couple is blessed with three children Sumedha, Shivika and Raghav.
Political Career of Satish Upadhyay
From the very beginning, Satish Upadhyay took keen interest in politics and during school days he was awarded the first position in the Mock Parliament event. Being an active RSS member of his area, he filed his nomination for the post of Vice President on ABVP ticket for Delhi University Student Union election and won. He is credited with being the youngest winner for the post of VP in DUSU election. Due to his leadership abilities, he was given organisational responsibilities in ABVP. Apart from the political activities, he also took keen interest in the upliftment of underprivileged children.
Satish joined active politics only in 2012 when his political career took wings in the MCD elections and he became a councillor from ward 161, Malviya Nagar. Due to his hard work, Satish was appointed Education Committee Chairman of SDMC and later promoted as Chairman of the Standing Committee. During his stint, the people acknowledged his innovative working style at the local level and state politics too. At that time, he gained widespread support and became popular in the political fraternity.
Satish Upadhyay's position and work as the president of Delhi state BJP make him a potential candidate for the post of Delhi Chief Minister in the event of the BJP's triumph in February 2015 Assembly polls. His thrust is on running a massive people's contact campaign on local and development issues, taking a cue from the Narendra Modi Government's plan of action.
Last Updated on: Aug 26th, 2021