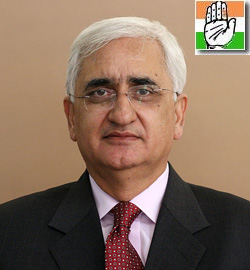 Salman Khurshid

Full Name
Salman Khurshid
Political Party
INC
DOB :
01/01/53
Place of Birth
Aligarh, Uttar Pradesh.
Education
B.A. (English and Jurisprudence), M.A from St. Stephen's College & B.C.L from St. Edmund Hall, Oxford University, Oxford, U.K.
Marital Status
Married
Spouse name
Louise Khurshid
Children
3 sons & 1 daughter.
Father's Name
Khurshed Alam Khan
Mother's Name
Saeeda Khurshid
Position Held
Minister of External Affairs (28 October 2012 - 26 May 2014)
About Salman Khurshid
Salman Khurshid is a famous politician who has been active in the Indian political arena for almost three decades. He was the Union Cabinet Minister of External Affairs. He is a celebrated author and a lawyer who has been a key member of Congress since the time Indira Gandhi was in power. He was the Union Deputy Minister of Commerce and the Union Minister of State for External Affairs before he finally ascended to his current position. His book, Beyond Terrorism: New Hope for Kashmir, is a poignant tale that has received many rave reviews.
He lost the Lok Sabha elections 2014 from Farrukhabad.
Personal life of Salman Khurshid
Salman Khurshid was born on 1 January 1953 in the city of Aligarh, Uttar Pradesh. Aligarh is close to Farrukhabad, his constituency, and even today, he has strong political clout in both these cities. He is the son of Khurshid Alam Khan, who was also a noted politician. His maternal grandfather, Dr. Zakir Hussain, was the third President of India.
Salman Khurshid is exceedingly well read and holds several degrees. He completed his graduation from the University of Delhi, before which, he was a student at St. Xavier's High School in Patna, Bihar. After completing his graduation from University of Delhi, Salman Khurshid went to England for higher studies. He pursued a course in law from the prestigious St. Edmund Hall, Oxford University. Before this writer-politician started his career in politics, he was a lecturer in law at the renowned Trinity College, Oxford.
Beginning of Salman Khurshid's Political Career
With a father who was a politician and a maternal grandfather who was the President of India, politics has always been in Salman Khurshid's blood. After teaching law at Trinity College, he returned to India and joined the Prime Minister's Office as an Officer on Special Duty (OSD). It was here that he was introduced to Indira Gandhi, the Prime Minister of India at the time. He slowly climbed up the political ladder and became the Union Deputy Minister of Commerce. He has since then held many important posts within Congress as well as in the Central Government.
Entry into Mainstream Politics
After becoming the Union Deputy Minister of Commerce, Salman Khurshid was ready to take on bigger responsibilities. He later contested from Farrukhabad in the 15th Lok Sabha general elections and would become one of the most prominent politicians to hail from that region. He has held several key positions, including that of two different cabinet ministries. In 2011, he became the Cabinet Minister of Law and Justice as well as the Minister of Minority Affairs. The full political presence of Salman Khurshid is as follows:
Elected to 10th Lok Sabha (1991-96)
Union Deputy  Minister of Commerce (1991)
Union Minister of State, External Affairs ( 1993-96)
Chairman of Department of Foreign Affairs (1996-97)
President of Uttar Pradesh Congress Committee (1999-2000 and 2005-08)
Chairman, Department of Policy Planning and Coordination (DEPCO), All India Congress Committee (2000-03)
Special Invitee, Congress Working Committee (2003-04)
General Secretary of All India Congress Committee (2004-05)
Elected to 15th Lok Sabha (2009)
Union Minister of State (Independent Charge), Corporate Affairs; Minority Affairs (2009-11)
Union Cabinet Minister of Water Resources (2011)
Union Cabinet Minister of Minority Affairs (2011 onwards)
Union Cabinet Minister of Law and Justice (2011 onwards)
Union Cabinet Minister of External Affairs (2012 onwards)
Notable achievements of Salman Khurshid
Uplifting the Muslim community in the country and ensuring quality education for those who only speak Urdu has been the key issues which he has pursued throughout the length of his career. Some important milestones in his career are:
Sons of Babur, a play written by Salman Khurshid, has received widespread acknowledgement and has also been translated into several languages.
An accomplished lawyer and enrolled at Bar, Supreme Court of India.
A number of educational as well as non-educational institutions have been opened all across India as part of his ongoing welfare efforts. This includes a number of Industrial Training Institutes (ITIs) opened exclusively for women, special computer centres that include Urdu typing classes and hospitals.
A special technical educational hub for the minorities will open shortly in the city of Lucknow, Uttar Pradesh.
Promotion of Urdu as a prominent Indian language.
Encouraging people to recognize the value of a choice and how it can affect the entire course of an action.
Political Journey of Salman Khurshid
Salman Khurshid is blessed with an incredible political lineage, which could have easily catapulted him to the top of the political hierarchy. But instead, he chose to establish himself as a politician the hard way. Starting as an Officer on Special Duty (OSD) for the Prime Minister's Office meant that he would have limited powers and responsibilities. When he felt that his current position and career path would not help him achieve what he truly wanted, he backtracked and opted to become a politician in a more conventional way. It was only in 1991 that he contested his first Lok Sabha election and here, he used the goodwill for his family to secure the winning number of votes and become an elected representative for Farrukhabad constituency. He is not only a politician, but also a writer, educationist and lawyer. He has often argued cases in the Supreme Court on behalf of the Indian government. Salman Khurshid has managed to stay away from most of the troubles that his fellow politicians have been accused of.
Financial Information about Salman Khurshid
According to the affidavit submitted by Salman Khurshid at the time of registration for upcoming election, his declared net worth is a little over Rs. 6 crore, of which, almost half his asset is tied up in immovable property.
Last Updated on Aug 28, 2020