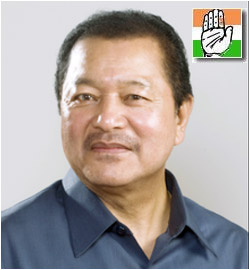 Pu Lalthanhawla

>full Name
Lal Thanhawla
Constituency
Serchhip
Political Party
Indian National Congress
DOB
19/05/1942
Place of Birth
Aizawl, Mizoram
Education
Graduate
Marital Status
Married
Spouse Name
Lal Riliani
Children
2 sons 1 daughter
Father's Name
H.P.Sailo (L)
About Pu Lalthanhawla
Pu Lalthanhawla, a member of the Indian National Congress, is the present Chief Minister of Mizoram. He has held this post from December 2008.
Personal background of Pu Lalthanhawla
Pu Lalthanhawla was born on May 6, 1942 to H. P. Sailo and Lalsawmliani Chawngthu. He completed his schooling in 1961. In 1964 he earned a degree in B.A. from Aijal College. He is married to Lal Riliani.
Pu Lalthanhawla's professional background before entering politics
Recorder at the office of Inspector of Schools in the District Council
Assistant at the Assam Co-operative Apex Bank.
Political activities and achievements 
1966: Secretary of the Mizo National Front
1973: Elected as President of the party
1978, 1979: Elected as a legislator in union territory elections
1984: Became the Chief Minister of Mizoram
1986: Gave up his seat of Chief Minister to Pu Laldenga, as mandated in the Peace treaty signed between India and the MNF.
1987, 1989, 1993: Chief Minister of Mizoram
1998: Lost his MLA seat
2003: Regained his MLA seat
2008: Elected from South Tuipui and Serchhip constituencies
2013: President of Mizoram Pradesh Congress Committee
[an error occurred while processing this directive]
Other initiatives
Founder President of Mizoram Journalists, Mizoram Hockey Association, Mizoram Football Association as well as Mizoram Olympic Association
Chairman of North East Olympic Commission
Ex-officio Vice President of Indian Olympic Association
Last Updated on July 13, 2020