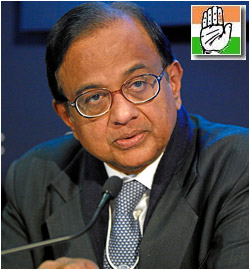 P Chidambaram

Full Name
Palaniappan Chidambaram
Constituency
Sivaganga
DOB
16/09/1945
Place of Birth
Kandanur
Political Party
INC
Education
Bachelor of Law from Madras Law Collegeand his MBA from Harvard Business School
Marital Status
maried
Spouse Name
Smt. Nalini Chidambaram
Children
1 son
Father's Name
Shri Palaniappan
Mother's Name
Smt Lakshmi Achi
Position Held
Member of Parliament, Rajya Sabha (5 July 2016)
About P Chidambaram
Chidambaram Palaniappan, an Indian politician and a former Union Minister of Finance under the United Progressive Alliance government (UPA). He is a member of one of the largest and oldest national party of India, the Indian National Congress. The last two terms of the UPA government, led by the Indian National Congress party, have seen P. Chidambaram holding many important positions. From May 2004 to November 2008, he served as the Finance Minister and in November 2008 he was inducted as the Home Affairs Minister, when Shri Shivraj Patil resigned from the post as an aftermath of the Mumbai terror attacks. He remained at this post for three and a half years and then succeeded Pranab Mukherjee as Finance Minister when the latter became the new President of India.
Personal background of P Chidambaram
P. Chidambaram was born on 16 September 1945 to Shri Kandanur L. Ct. L. Palaniappa Chettiar and Smt. Lakshmi Achi. He was born in the state of Tamil Nadu in a place called Kanadukathan, which falls in the Sivaganga District. He has one sister and two brothers. His father was a business person who was into trading, plantations and textiles. Chidambaram's grandfather and grand-uncles were co-founders of United India Insurance, Indian Bank, Annamalai University and Indian Overseas Bank. Shri Raja Sir Annamalai Chettiar was his maternal grandfather, who was a banker and a wealthy merchant.
[an error occurred while processing this directive] P. Chidambaram is a highly qualified person. He completed his schooling from Madras Christian College Higher Secondary School and obtained a pre-university degree from Chennai's Loyola College. He holds dual bachelor's degree. Firstly he completed his B.A. in statistics from Chennai's Presidency College and thereafter he did a bachelor's degree in Law from Madras Law College, which is at present called Dr. Ambedkar Government Law College. He did his MBA from Harvard Business School and also holds a master's degree from Chennai's Loyola College. His interests include reading books in modern literature, particularly Tamil literature.
He married Nalini Chidambaram. Her father is retired Justice of Supreme Court, Shri P.S. Kailasam. Her mother, Smt. Soundra
Kailasam, is a senior advocate who practices in the Madras High Court and in the Supreme Court. Smt. Soundra Kailasam is also a famous Tamil author and poet. P Chidambaram and his wife have a son Karti P. Chidambaram, who is a BBA from University of Texas, Austin. He has also done a Masters in Law from the University of Cambridge in UK. As an AICC member of the Congress party, Karti P. Chidambaram's activities are concentrated in Tamil Nadu state politics. He married Dr. Srinidi Rangarajan, a doctor attached with Apollo Hospitals, Chennai. She is also a renowned Bharatnatyam dancer. They have a daughter, Aditi Nalini Chidambaram.
P Chidambaram's professional background and entry in politics
P. Chidambaram was not so keen to join his father's business. He was more inclined to legal practice. He started practicing in the Madras High Court. By 1984 he was a senior advocate. His offices were in Chennai and Delhi. Eventually he became a practicing lawyer in the Supreme Court and other High Courts in India.
P. Chidambaram was a Union Leader for MRF, and with time he paved his way up in the Indian National Congress party. 
Political Journey of P Chidambaram
In 1972 he was the member of All India Congress Committee or AICC.
From 1973 to 1976 he was the Youth Congress President in Tamil Nadu.
From 1976 to 1977 he was the Pradesh Congress Committee's General Secretary in Tamil Nadu.
In 1984 he was first elected as a member of the 8th Lok Sabha from Tamil Nadu's Sivganga Constituency.
In 1985 he was the All India Congress Committee's (Indira) Joint Secretary.
In September 1985 he was made the Union Deputy Minister of Commerce.
From 1985 to 1986 he was the Union Deputy Minister for:

Administrative Reforms
Training Public Grievances
Personnel
Pensions

From 1986 to 1989 he was the Union Minister of State for:

Public Grievances
Personnel
Pensions
Home Affairs (Internal Security)



In 1989 he was re-elected for the second time as a member of the 9th Lok Sabha.
In 1990 he was the member of:

Consultative Committee constituted under the Punjab State Legislature (Delegation of Powers) Act, 1987
Committee to review Lok Sabha Secretariat Rules, 1955

From 1990 to 1991 he was the member of:

Ministry of Finance Consultative Committee
Committee on Public Accounts

In 1991 he was elected for the third time as a member of the 10th Lok Sabha.
From 1991 to 1992 and from 1995 to 1996 he was the Union Minister of State for Commerce (Independent Charge).
In 1996 he was elected for the fourth time as a member of the 11th Lok Sabha.
From 1996 to 1998 he was the Union Cabinet Minister of Finance. He was additionally given charge of Company Affairs and Law & Justice. Till April 1997, he retained the charge of Company Affairs.
In 1998 he was elected for the fifth time as a member of the 12th Lok Sabha.
From 1998 to 1999 he was the member of:

Committee on Finance
Committee of Privileges
Ministry of External Affairs' Consultative Committee

In 2004 he was elected for the sixth time as a member of the 14th Lok Sabha.
From 23 May 2004 to 30 November 2008 he remained the Union Cabinet Minister of Finance.
From December 2008 to 2009 he was the Union Cabinet Minister of Home Affairs.
In 2009 he was elected for the seventh time as a member of the 15th Lok Sabha.
From 23 May 2009 to 31 July 2012 he was the Union Cabinet Minister for Home Affairs.
From August 2012 to May 2014 he was the Union Cabinet Minister of Finance.
Other Activities and Memberships
He is the Trustee of:

Rajiv Gandhi Foundation
Ilakkiya Chintanai a Literary Association in Chennai

Memberships in clubs:

Gymkhana Club
Kodaikanal Club

He has delivered lectures in several national and international Universities
Major Controversies surrounding P Chidambaram
P. Chidambaram was accused of involvement in the 2G Spectrum Scam by Subramanian Swamy in September 2011. Swamy moved the Supreme Court of India on this matter. The Supreme Court on 2 February 2012 handed the matter to Special CBI Sessions Court to decide and probe on the case if required. The CBI Court, however, dismissed any criminal intention of P. Chidambaram on the issue due to lack of substantive evidence. Later the Supreme Court also gave a clean chit to P. Chidambaram in this matter.
The controversial Voluntary Disclosure of Income Scheme or VDIS was announced by him in 1997. The scheme granted indefinite immunity from prosecution to defaulters of income-tax under the Income Tax act 1957, the Foreign Exchange Regulation Act 1973 and the Companies Act 1956 in exchange of disclosure of assets and income and of self-valuation. This move was highly criticized and condemned by the Comptroller and Auditor General of India as fraud and abusive towards the genuine tax-payers of the nation.
The then President of India A.P.J. Abdul Kalam on August 2006 approved enquiry on allegations against Prime Minister Manmohan Singh and Finance Minister P. Chidambaram of holding office of profit during election. The enquiry was authorized to the Election Commission.
He was highly criticized for ordering the police to lathi-charge the non-violent protestors led by Baba Ramdev in the middle of the night at the Ramlila Maidan. They were protesting against widespread corruption in government and demanding that the black money stored in foreign banks be returned to India. Chidambaram was also alleged to have planned the arrest of Anna Hazare during the latter's recent campaign on Anti-Corruption and the Jan Lokpal Bill.
Last Updated on July 09, 2020