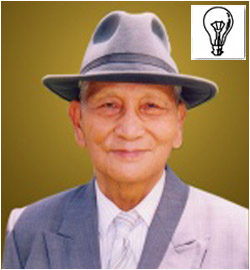 Brig T Sailo

Full Name
Thenphunga Sailo
Born
Jan 1, 1922
Died
Mar 27, 2015
Place of Birth
Melkhat Veng, Lunglei, Mizoram
Profession before joining politics
T. Sailo served the British Indian Army as well as the Indian Army. Being among the first Mizo Army Officers, he was promoted to Lt Colonel in 1960, in 1963 he was again promoted to Colonel and then in 1966 to Brigadier.
Political party
Mizoram People's Conference
Spouse Name
Thansiamii
Children
Lalsangliana Sailo
Lalhmangaiha Sailo, IRS
Laldingliani Sailo, IRS
Lalrinliana Sailo
Awards
Padma Shree (1999)
About Brig. T Sailo
Thenphunga Sailo, famous as Brig. T Sailo, is the founder of the Mizoram People's Conference. He has been the Chief Minister of Mizoram twice.
Personal background of Brig. T Sailo
Brig. T. Sailo was born on January 1, 1922 as a son of Mizo Chief Mr. Vancheuva and Mrs. Hrangvungi. He finished his elementary schooling at Serkawn Middle School, Lunglei, and High School in Shillong. His wife's name is Thansiamii. Brig. T Sailo's professional background before entering politics Before getting into politics, T. Sailo served the British Indian Army as well as the Indian Army. In 1942 he was recruited as a Second Lieutenant in the Indian Army. In 1960 he was made a Lt. Colonel and later in 1963 he got promoted to the designation of Colonel. In 1966 he was again promoted and was made a Brigadier. He retired from the Indian Army in 1974.
Political activities and achievements 
1974: Organised the Human Rights Committee
1975: Laid the foundation of the People's Conference Party
1978, 1979: Became the Chief Minister of Mizoram
1998: Elected as the Principal Adviser to the Chief Minister
2008: Elected from the Aizwal South 2 constituency in the assembly elections of Mizoram
Awards Won
1999: Padma Shree
2011: Mizo Award, presented by Lt. Gen. Madan Mohan Lakhera, the Governor of Mizoram
Last Updated on June 12, 2020