[an error occurred while processing this directive] Sohra assembly constituency is in the East Khasi Hills district of Meghalaya State. There are 25,297 voters in the constituency of which 22,710 voters voted in the last election making the voting to around 89.77%. Gavin Miguel Mylliem candidate belonging to People's Democratic Front won the seat in last election defeating Titosstar Well of United Democratic Party by 2,024 Votes.
Sitting and previous MLAs from Sohra Assembly Constituency
Below is the list of winners and runners-up in the Sohra assembly elections conducted so far.
| Year | A C No. | Constituency Name | Category | Winner | Gender | Party | Votes | Runner Up | Gender | Party | Votes |
| --- | --- | --- | --- | --- | --- | --- | --- | --- | --- | --- | --- |
| 2018 | 28 | sohra | (ST) | Gavin Miguel Mylliem | M | PDF | 8625 | Titosstar Well Chyne | M | UDP | 6601 |
| 2013 | 28 | Sohra | (ST) | Titosstarwell Chyne | M | UDP | 8787 | Dr.Phlour W. Khongjee | M | INC | 6621 |
| 2008 | 29 | Sohra | (ST) | Dr. Phlour W. Khongjee | M | INC | 4579 | Titosstar Well Chyne | M | UDP | 4107 |
| 2003 | 29 | Sohra | (ST) | Dr. Flinder Anderson Khonglam | M | HPDP | 4093 | Phlour W. Khongjee | M | UDP | 3536 |
| 1998 | 29 | Sohra | (ST) | Flinder Anderson Khonglam | M | IND | 4221 | Walter David Lyngwi | M | INC | 3117 |
| 1993 | 29 | Sohra | (ST) | Flinder Anderson Khonglam | M | IND | 4731 | S. Phaindrojen Swer | M | HPU | 3459 |
| 1988 | 29 | Sohra | (ST) | S.P. Swer | M | HPU | 4601 | Flinder Anderson Khonglam | M | INC | 3951 |
| 1983 | 29 | Sohra | (ST) | Flinder Anderson Klonglam | M | HPD | 3108 | S. Phaindrojen Swer | M | AHL | 2908 |
| 1978 | 29 | Sohra | (ST) | Phaindrojen Swer | M | AHL | 2888 | Flinder Anderson Khonglam | M | HPD | 2142 |
| 1972 | 34 | Sohra | (ST) | S P Swer | M | AHL | 2210 | A Blingstodar Diengdoh | M | IND | 1880 |
Last Updated on: Jan 10, 2023
Upcoming Elections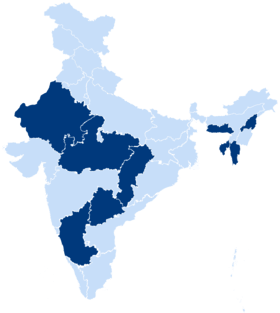 <! --#include virtual='/live-blog/files/rightpanel-news-feed.php' -->