[an error occurred while processing this directive] Rajabala assembly constituency is in the Ribhoi district of Meghalaya State. There are 29,376 voters in the constituency of which 27,370 voters voted in the last election making the voting to around 93.17%. The Demographic Bifurcation of the constituency is 70% Hindus, 15%Muslims, 15% Others. Dr Azad Zaman candidate belonging to Congress party won the seat in last election defeating Ashahel D Shira an independent candidate by 6,482 Votes.
Sitting and previous MLAs from Rajabala Assembly Constituency
Below is the list of winners and runners-up in the Rajabala assembly elections conducted so far.
| Year | A C No. | Constituency Name | Category | Winner | Gender | Party | Votes | Runner Up | Gender | Party | Votes |
| --- | --- | --- | --- | --- | --- | --- | --- | --- | --- | --- | --- |
| Year | A C No. | Constituency Name | Category | Winner | Gender | Party | Votes | Runner Up | Gender | Party | Votes |
| 2018 | 47 | rajabala | GEN | Dr Azad Zaman | M | INC | 7420 | Ashahel D Shira | M | IND | 6482 |
| 2013 | 47 | Rajabala | GEN | Ashahel D Shira | M | IND | 6572 | Dr Azad Zaman | M | IND | 5681 |
| 2008 | 49 | Rajabala | (ST) | Sayeedullah Nongrum | M | INC | 7970 | Ashahel D.Shira | M | NCP | 6308 |
| 2003 | 49 | Rajabala | (ST) | Sayeedullah Nongrum | M | INC | 7125 | Clement Marak | M | NCP | 6911 |
| 1998 | 49 | Rajabala | (ST) | Kapin Ch. Boro | M | INC | 6620 | Sayeedullah Nongrum | M | UDP | 6491 |
| 1993 | 49 | Rajabala | (ST) | Sayeedullah Nongrum | M | IND | 6225 | Biren Hajong | M | BJP | 3831 |
| 1988 | 49 | Rajabala | (ST) | Miriam D. Shira | F | IND | 3459 | Sibendra Narayan Koch | M | IND | 2646 |
| 1983 | 49 | Rajabala | (ST) | Md. Khorshedur Rahman Khan | M | INC | 3129 | Mazibur Rahman | M | IND | 2568 |
| 1978 | 49 | Rajabala | (ST) | Mozibur Rahman | M | IND | 2896 | Khursedur Khan | M | INC | 2877 |
Last Updated on: Jan 10, 2023
Upcoming Elections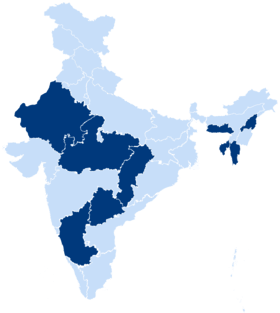 <! --#include virtual='/live-blog/files/rightpanel-news-feed.php' -->