[an error occurred while processing this directive] Pynthorumkhrah assembly constituency is in the East Khasi Hills district of Meghalaya State. There are 31,013 voters in the constituency of which 24,168 voters voted in the last election making the voting to around 77.93%. The Demographic Bifurcation of the constituency is 50.38% Christians, 43.21% Hindus and 2.17% Muslims (Pynthormukhrah Town).
Alexander Laloo Hek candidate belonging to Bharatiya Janata Party won the seat in last election defeating james ban Basaiawmoit of People's Democratic Front by 1,418 Votes.
Sitting and previous MLAs from Pynthorumkhrah Assembly Constituency
Below is the list of winners and runners-up in the Pynthorumkhrah assembly elections conducted so far.
| Year | A C No. | Constituency Name | Category | Winner | Gender | Party | Votes | Runner Up | Gender | Party | Votes |
| --- | --- | --- | --- | --- | --- | --- | --- | --- | --- | --- | --- |
| 2018 | 14 | pynthorumkhrah | (ST) | Alexander Laloo Hek | M | BJP | 10166 | James ban Basaiawmoit | M | PDF | 8748 |
| 2013 | 14 | Pynthorumkhrah | GEN | A. L. Hek | M | INC | 10588 | Process T. Sawkmie | M | IND | 8637 |
| 2008 | 18 | Pynthorumkhrah | GEN | A.L. Hek | M | BJP | 13086 | James Marvin Pariat | M | NCP | 4527 |
| 2003 | 18 | Pynthorumkhrah | GEN | A.L.Hek | M | BJP | 10798 | Onward L. Nongtdu | M | INC | 3639 |
| 1998 | 18 | Pynthorumkhrah | GEN | A.L. Hek | M | BJP | 8159 | James Marvin Pariat | M | INC | 5654 |
| 1993 | 18 | Pynthorumkhrah | GEN | James Marvan Pariat | M | INC | 6368 | Brama Prakash | M | BJP | 3786 |
| 1988 | 18 | Pynthorumkhrah | GEN | J. Marvin Pariat | M | IND | 5936 | B.K. Roy | M | INC | 2792 |
| 1983 | 18 | Pynthorumkhrah | GEN | B.K. Roy | M | INC | 2993 | James Marvin Pariat | M | IND | 1968 |
| 1978 | 18 | Pynthorumkhrah | GEN | B. K. Roy | M | INC | 1575 | Subhas Chandra Bhattacharjee | M | IND | 794 |
Last Updated on: Jan 09, 2023
Upcoming Elections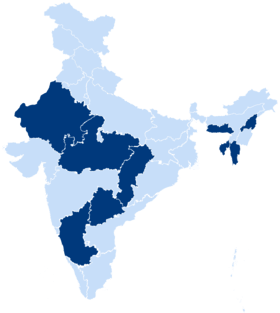 <! --#include virtual='/live-blog/files/rightpanel-news-feed.php' -->