Koratgere assembly constituency is in Tumkur district and lies in Southern Karnataka region of Karnataka state. there are 199725 voters in the assembly seat, out of which 100292 are males and 99350 are females. The total population as per 2011 census is 167591, where 84349 are males and 83242 are females. There are 93.54% Hindus, 6% Muslims and 0.19% Jains.
In the 2018 state assembly elections Dr. G Parameshwara of Indian National Congress won the seat.
Koratagere
Elections are Scheduled to be Held in May, 2023 and Election Result will be declared after counting.
Sitting and previous MLAs from Koratagere Assembly Constituency
Below is the list of winners and runners-up in the Koratagere assembly elections conducted so far.
| Year | A C No. | Constituency Name | Category | Winner | Gender | Party | Votes | Runner Up | Gender | Party | Votes |
| --- | --- | --- | --- | --- | --- | --- | --- | --- | --- | --- | --- |
| 2018 | 134 | Koratagere | (SC) | Dr. G. Parameswara | M | INC | 81598 | P.R. Sudhakar Lal | M | JD(S) | 73979 |
| 2013 | 134 | Koratagere | (SC) | Sudhakara Lal .P.R | M | JD(S) | 72229 | Dr. G.Parameshwara | M | INC | 54074 |
| 2008 | 134 | Koratagere | (SC) | Dr. G. Parameswara | M | INC | 49276 | Chandraiah | M | JD(S) | 37719 |
| 2004 | 56 | Koratagere | GEN | C. Channigappa | M | JD(S) | 41826 | Veeranna | M | JD(U) | 38832 |
| 1999 | 56 | Koratagere | GEN | C. Channigappa | M | JD(S) | 33558 | C. Veerabhadraiah | M | INC | 32852 |
| 1994 | 56 | Koratagere | GEN | C. Channigappa | M | JD | 35672 | G. Venkatachalaiah | M | INC | 27937 |
| 1989 | 56 | Koratagere | GEN | C. Veerabhadraiah | M | INC | 35684 | Veeranna | M | JD | 32044 |
| 1985 | 56 | Koratagere | GEN | Veeranna | M | JNP | 47395 | N. Sukumar | M | INC | 32379 |
| 1983 | 56 | Koratagere | GEN | Veeranna | M | JNP | 37139 | Mudduramaiah | M | INC | 24136 |
| 1978 | 56 | Koratagere | GEN | Muddaramaiah | M | INC(I) | 29833 | Veeranna | M | JNP | 24835 |
| 1972 | 59 | Koratagere | GEN | Muddaramaiah | M | INC | 20998 | T. H. Hanumantharayappa | M | IND | 7564 |
| 1967 | 59 | Koratagere | GEN | T. S. Sivanna | M | INC | 15938 | V. A. Reddy | M | IND | 7938 |
| 1962 | 146 | Koratagere | (SC) | R. Channigaramaiah | M | INC | 9053 | S. Anjaiah | M | PSP | 8885 |
Last Updated on: Dec 29, 2022
Previous Election Results
Upcoming Elections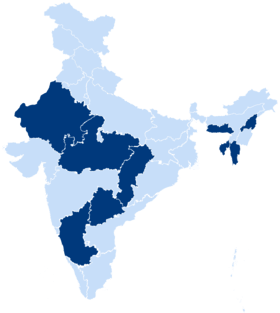 <! --#include virtual='/live-blog/files/rightpanel-news-feed.php' -->