Koppal Vidhan Sabha seat is in Koppal district and in Hyderabad Karnataka region. There are 2,38495 voters. Koppal constituency election results will be known once the Election Commission shall announce the Karnataka election results of 2023. Koppal Vidhan Sabha 2023 results shall be awaited once the elections are held in the state of Karnataka. The total population of Koppal taluka is 3,77,781, out of which 1,90,907 are male and 1,86,874 are female. There are 86% Hindus, 12% Muslims and 0.41% Jains.
The lists of candidates for the Koppal constituency have been declared by various political parties for the upcoming Karnataka elections 2023.
Koppal
Elections are Scheduled to be Held in May, 2023 and Election Result will be declared after counting.
Sitting and previous MLAs from Koppal Assembly Constituency
Below is the list of winners and runners-up in the Koppal assembly elections conducted so far.
| Year | A C No. | Constituency Name | Category | Winner | Gender | Party | Votes | Runner Up | Gender | Party | Votes |
| --- | --- | --- | --- | --- | --- | --- | --- | --- | --- | --- | --- |
| 2018 | 64 | Koppal | GEN | K. Raghavendra Basavraj Hitnal | M | INC | 98783 | Amaresh Sanganna Karadi | M | BJP | 72432 |
| 2013 | 64 | Koppal | GEN | K.Raghavendra Basavaraj Hitnal | M | INC | 81062 | Karadi Sanganna Amarappa | M | BJP | 54274 |
| 2011 | By Polls | Koppal | GEN | K.S. Amarappa | M | BJP | 60405 | K.B.B. Hitanal | M | INC | 47917 |
| 2008 | 64 | Koppal | GEN | Karadi Sanganna Amarappa | M | JD(S) | 48372 | K.Basavaraj Bheemappa Hitnal | M | INC | 38027 |
| 2004 | 30 | Koppal | GEN | Basavaraj Bhimappa Hitnal K | M | INC | 47228 | Karadi Sanganna Amarappa | M | BJP | 41880 |
| 1999 | 30 | Koppal | GEN | Karadi Sanganna Amarappa | M | JD(U) | 46441 | K Basavaraj Hitnal | M | JD(S) | 25812 |
| 1994 | 30 | Koppal | GEN | Karadi Sanganna Amarappa | M | IND | 19850 | Angadi Hanumanthappa | M | JD | 12596 |
| 1989 | 30 | Koppal | GEN | Diwatar Mallikarajun Basappa | M | IND | 32163 | Shantanna Pampanna Mudagal | M | INC | 24334 |
| 1985 | 30 | Koppal | GEN | Agadi Viruprakashappa Sanganna | M | JNP | 32131 | Shantanna Pampanna Mudgal | M | INC | 27218 |
| 1983 | 30 | Koppal | GEN | Mallikarajun Basappa Diwatar | M | INC | 28542 | Shankargouda Singatalur | M | BJP | 20219 |
| 1978 | 30 | Koppal | GEN | Veeranna Pampanna Mudgal | M | INC(I) | 30402 | Shankragouda Lingagouda Singataloor | M | JNP | 13353 |
| 1972 | 29 | Koppal | GEN | M. Virupakshappa Shivappa | M | INC | 32218 | B. Mudieppa Ballolli | M | NCO | 8379 |
| 1967 | 29 | Koppal | GEN | Virupaxgouda | M | INC | 18770 | Shankragoudaru | M | IND | 17998 |
| 1962 | 83 | Koppal | GEN | Malikarjungouda Sanganagouda | M | INC | 10701 | Patreppa Kenchappa Madnur | M | LSS | 10355 |
| 1957 | 75 | Koppal | GEN | Patil Mallikarjun | M | INC | 10222 | Huchappayyanmathad Pattadayya | M | IND | 7161 |
Last Updated on: April 8, 2023
Previous Election Results
Upcoming Elections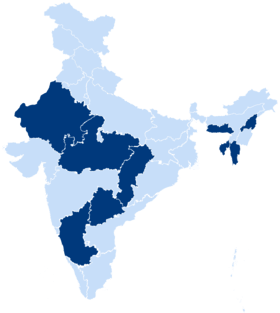 <! --#include virtual='/live-blog/files/rightpanel-news-feed.php' -->