Kollegal assembly constituency is in Chamarajanagar district and lies in Southern Karnataka region of Karnataka. Kollegal constituency election results will be known once the Election Commission shall announce the Karnataka election results of 2023. Kollegal Vidhan Sabha 2023 results shall be awaited once the elections are held in the state of Karnataka. And there are 2,09,122 voters in the constituency, where 1,04,023 are male and 1,05,053 are female. This seat is reserved for Scheduled Castes.
In 2018 Karnataka Vidhan Sabha elections on Kollegal seat was won by N.Mahesh of Bahujan Samaj Party (BSP). The lists of candidates for the Kollegal constituency have been declared by various political parties for the upcoming Karnataka elections 2023.
Kollegal
Elections are Scheduled to be Held in May, 2023 and Election Result will be declared after counting.
Sitting and previous MLAs from Kollegal Assembly Constituency
Below is the list of winners and runners-up in the Kollegal assembly elections conducted so far.
| Year | A C No. | Constituency Name | Category | Winner | Gender | Party | Votes | Runner Up | Gender | Party | Votes |
| --- | --- | --- | --- | --- | --- | --- | --- | --- | --- | --- | --- |
| 2018 | 222 | Kollegal | (SC) | N. Mahesh | M | BSP | 71792 | A.R.Krishna murthy | M | INC | 52338 |
| 2013 | 222 | Kollegal | (SC) | S.Jayanna | M | INC | 47402 | N. Mahesh | M | BSP | 37209 |
| 2009 | By Polls | Kollegal | (SC) | G.N. N. Swamy | M | BJP | 49553 | S. Jayanna. | M | INC | 41286 |
| 2008 | 222 | Kollegal | (SC) | R.Dhruvanarayana | M | INC | 37384 | S.Mahendar | M | BJP | 25586 |
| 2004 | 111 | Kollegal | (SC) | Balraj S | M | IND | 27736 | Jayanna S | M | JD(S) | 24408 |
| 1999 | 111 | Kollegal | (SC) | G.N.Nanjunda Swamy | M | INC | 29671 | S.Balaraj | M | BJP | 24250 |
| 1994 | 111 | Kollegal | (SC) | S. Jayanna | M | JD | 39568 | G.N. Nanjundaswamy | M | BJP | 13988 |
| 1989 | 111 | Kollegal | (SC) | M. Siddamadaiah | M | INC | 46998 | B. Basavaiah | M | JD | 22810 |
| 1985 | 111 | Kollegal | (SC) | B. Basavaiah | M | JNP | 27149 | M. Siddamadaiah | M | INC | 26037 |
| 1983 | 111 | Kollegal | (SC) | B. Basavaiah | M | JNP | 28485 | K. Shivasankaraiah | M | INC | 18779 |
| 1978 | 111 | Kollegal | (SC) | Siddamadaiah M. | M | INC(I) | 28188 | Basavaiah B. | M | JNP | 26646 |
| 1972 | 105 | Kollegal | (SC) | M. Siddamadaiah | M | INC | 21455 | R. Bharanaiah | M | NCO | 13667 |
| 1967 | 105 | Kollegal | (SC) | B. Basavaiah | M | INC | 16893 | M. Siddamadiah | M | IND | 14097 |
| 1962 | 193 | Kollegal | (SC) | B. Basaviah | M | INC | 12721 | M. Puttaswamy | M | PSP | 4729 |
| 1957 | 154 | Kollegal | (SC) | Kempamma | F | INC | 20286 | V. R. Puttaraju | M | PSP | 14424 |
| 1957 | 154 | Kollegal | (SC) | T. P. Boriah | M | INC | 27147 | K. P. Shantha Murthy | M | PSP | 15577 |
Last Updated on: April 8, 2023
Previous Election Results
Upcoming Elections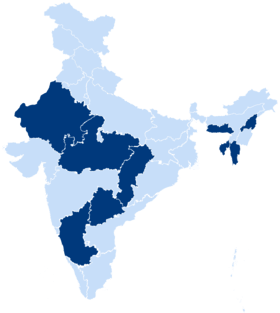 <! --#include virtual='/live-blog/files/rightpanel-news-feed.php' -->