Kolar assembly constituency is in Kolar district and lies in Southern Karnataka region. Total population of the seat is 3,85410 and out of which 195129 are male and 190281 are females. The seat has a total of 2,22,605 voters; 1,11,491 are male and 1,11,031 female. There are 78.76% of Hindus, 20.13% Muslims and 0.92% of Christians.
In the 2018 assembly elections K.Srinivasa Gowda of Janata Dal Secular (JDS) won the Kolar assembly seat.
Kolar
Elections are Scheduled to be Held in May, 2023 and Election Result will be declared after counting.
Sitting and previous MLAs from Kolar Assembly Constituency
Below is the list of winners and runners-up in the Kolar assembly elections conducted so far.
| Year | A C No. | Constituency Name | Category | Winner | Gender | Party | Votes | Runner Up | Gender | Party | Votes |
| --- | --- | --- | --- | --- | --- | --- | --- | --- | --- | --- | --- |
| 2018 | 148 | Kolar | GEN | K.Srinivasa Gowda | M | JD(S) | 81487 | Syed Zameer Pasha | M | INC | 38537 |
| 2013 | 148 | Kolar | GEN | R Varfhur Prakash | M | IND | 62957 | K. Srinivasa Gowda | M | JD(S) | 50366 |
| 2008 | 148 | Kolar | GEN | R.Varthur Prakash | M | IND | 66446 | K.Srinivasagowda | M | INC | 45417 |
| 2004 | 73 | Kolar | GEN | Srinivasa Gowda K | M | INC | 54755 | Anand M S | M | BJP | 31004 |
| 1999 | 73 | Kolar | GEN | K Srinivasa Gowda Kudavanhalli | M | JD(U) | 59017 | Naseer Ahmed | M | INC | 38004 |
| 1994 | 73 | Kolar | GEN | K. Srinivasa Gowda | M | JD | 40612 | K.A. Nisar Ahamed | M | INC | 27790 |
| 1989 | 73 | Kolar | GEN | K. A. Nisar Ahmed | M | INC | 39860 | K. R. Shrinivasaiah | M | JD | 33796 |
| 1985 | 73 | Kolar | GEN | K. R. Srinivasaiah | M | JNP | 34701 | Abdul Rahim | M | INC | 21556 |
| 1983 | 73 | Kolar | GEN | K. R. Srinivasaiah | M | JNP | 39005 | Naseer Ahmed | M | INC | 19250 |
| 1978 | 73 | Kolar | GEN | M.Abdul Latheef | M | INC(I) | 26576 | P.Venkatagiriyappa | M | JNP | 26182 |
| 1972 | 70 | Kolar | GEN | D. Venkataramiah | M | INC | 14639 | P. Venkatagiriyappa | M | IND | 13147 |
| 1967 | 70 | Kolar | GEN | P. Venkatagiriyappa | M | IND | 13216 | D. A. Rashid | M | INC | 9042 |
| 1962 | 155 | Kolar | GEN | P. Venkatagiriyapa | M | IND | 20898 | D. Abdul Rasheed | M | INC | 15272 |
| 1957 | 130 | Kolar | GEN | D. Abdul Rasheed | M | INC | 10539 | P. Venkatagiriappa | M | IND | 7825 |
Last Updated on: Dec 29, 2022
Previous Election Results
Upcoming Elections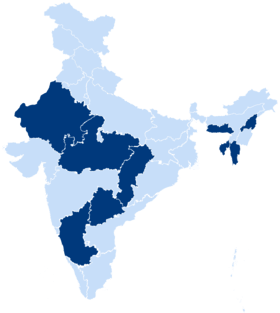 <! --#include virtual='/live-blog/files/rightpanel-news-feed.php' -->