Karwar assembly constituency is a seaside city, taluka, and administrative headquarters of the Uttara Kannada district in Karnataka, India, located at the mouth of the Kali river on the Kanara coast. Karwar constituency election results will be known once the Election Commission shall announce the Karnataka election results of 2023. Karwar Vidhan Sabha 2023 results shall be awaited once the elections are held in the state of Karnataka. Karwar, with a city urban area of 10 km2, is a popular tourist destination known for its beaches and green tourism. According to Census India 2011, the Kanwar taluka has a population of 155,213 people, with 78,248 males and 76,965 females. Hindus make up 87.96% of the population, Muslims make up 7.14%, and Christians make up 4.68%. In 2018, Karwar Vidhan Sabha constituency had total 217910 electors.
The lists of candidates for the Karwar constituency have been declared by various political parties for the upcoming Karnataka elections 2023.
Karwar
Elections are Scheduled to be Held in May, 2023 and Election Result will be declared after counting.
Sitting and previous MLAs from Karwar Assembly Constituency
Below is the list of winners and runners-up in the Karwar assembly elections conducted so far.
| Year | A C No. | Constituency Name | Category | Winner | Gender | Party | Votes | Runner Up | Gender | Party | Votes |
| --- | --- | --- | --- | --- | --- | --- | --- | --- | --- | --- | --- |
| 2023 | 77 | Karwar | GEN | Satish Krishna Sail | M | INC | 77445 | Roopali Naik | F | BJP | 75307 |
| 2018 | 77 | Karwar | GEN | Roopali Santosh Naik | F | BJP | 60339 | Anand Vasant Asnotikar | M | INC | 46275 |
| 2013 | 77 | Karwar | GEN | Santeesh Sail Krishna | M | IND | 80727 | Asnotikar Anand Vasant | M | BJP | 44847 |
| 2008 | 77 | Karwar | GEN | Asnotikar Anand Vasant | M | INC | 47477 | Ganapati Dumma Ulvekar | M | IND | 27768 |
| 2004 | 172 | Karwar | GEN | Gangadhar Nagesh Bhat | M | BJP | 36397 | Rane Prabhakar S | M | JD(S) | 20165 |
| 1999 | 172 | Karwar | GEN | Asnotikar Vasanth Kamalakar | M | INC | 42502 | Prabhakar Rane | M | BJP | 28546 |
| 1994 | 172 | Karwar | GEN | Asnotikar Vasant Kamalakar | M | KCP | 33367 | Prabhakar S. Rane | M | INC | 22715 |
| 1989 | 172 | Karwar | GEN | Rane Prabhakar Sadashiv | M | INC | 33741 | Arvind Vithoba Tendulkar | M | JD | 17893 |
| 1985 | 172 | Karwar | GEN | Rane Prabhakar Sadashiv | M | INC | 22867 | Naik Mota Teku | M | JNP | 18537 |
| 1983 | 172 | Karwar | GEN | Rane Prabhakar Sadashiv | M | INC | 21657 | Naik Mota Teku | M | IND | 12123 |
| 1978 | 172 | Karwar | GEN | Waingankar Dattatraya Vithu | M | INC(I) | 22044 | Gaonkar Sakharam Dattatray | M | JNP | 19602 |
| 1972 | 164 | Karwar | GEN | Kadam B. P. | M | INC | 19195 | Krishnapur Charu Demu | M | BJS | 8084 |
| 1967 | 164 | Karwar | GEN | K. B. Purso | M | IND | 23079 | G. S. Dattatraya | M | INC | 13759 |
| 1962 | 53 | Karwar | GEN | Balsu Pursu Kadam | M | MES | 20510 | Anant Gundu Bale | M | INC | 12752 |
| 1957 | 17 | Karwar | GEN | Gaonkar Sakharam Dattatraya | M | INC | 11832 | Pawar Gopinath Vithoba | M | IND | 11340 |
Last Updated on: June 08, 2023
Previous Election Results
Upcoming Elections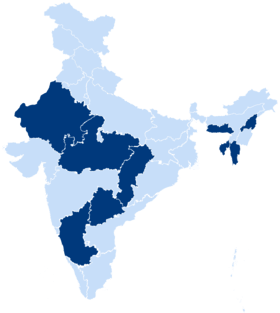 <! --#include virtual='/live-blog/files/rightpanel-news-feed.php' -->