Bagepalli Location Map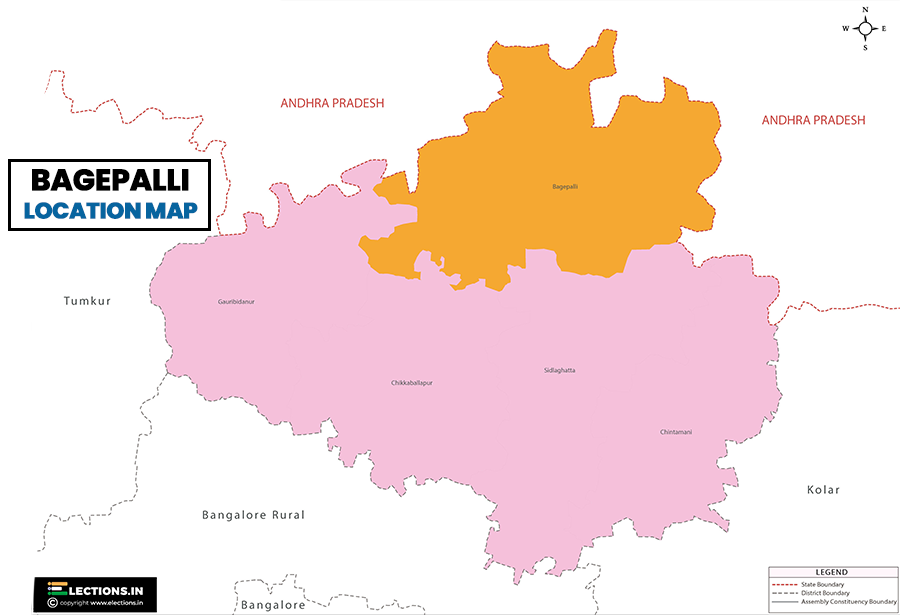 Bagepalli assembly constituency is a Town Municipal Council city in the Karnataka district of Chikkaballapura. Bagepalli assembly constituency is divided into 23 wards, with elections held every five years. Bagepalli constituent election results will be known once the Election Commission shall announce the Karnataka election results of 2023. Bagepalli Vidhan Sabha 2023 results shall be awaited once the elections are held in the state of Karnataka. According to Census India 2011, the Bagepalli assembly constituency has a population of 27,011 people, with 13,903 men and 13,108 women. Hindus make up 69.40%, Muslims make up 30.14%, and Christians make up 0.37%. In 2018, Bagepalli Vidhan Sabha constituency had total 197,982 electors.
In the 2018 Vidhan Sabha elections S N Subbareddy (Chinnakayalapalli) won the seat, he belongs to INC. The lists of candidates for the Bagepalli constituency have been declared by various political parties for the upcoming Karnataka elections 2023.
Bagepalli
Elections are Scheduled to be Held in May, 2023 and Election Result will be declared after counting.
Sitting and previous MLAs from Bagepalli Assembly Constituency
Below is the list of winners and runners-up in the Bagepalli assembly elections conducted so far.
| Year | A C No. | Constituency Name | Category | Winner | Gender | Party | Votes | Runner Up | Gender | Party | Votes |
| --- | --- | --- | --- | --- | --- | --- | --- | --- | --- | --- | --- |
| 2018 | 140 | Bagepalli | GEN | S.N Subbareddy (Chlnnakayalapalli) | M | INC | 65710 | G V Sreeramareddy | M | CPM | 51697 |
| 2013 | 140 | Bagepalli | GEN | S.N Subbareddy (Chlnnakayalapalli) | M | IND | 66227 | Sriramareddy G.V | M | CPM | 35472 |
| 2008 | 140 | Bagepalli | GEN | Sampangi N | M | INC | 32244 | Sreerama Redyy G V | M | CPM | 31306 |
| 2004 | 67 | Bagepalli | GEN | Sreeramareddy G V | M | CPM | 57132 | Sampangi N | M | INC | 45997 |
| 1999 | 67 | Bagepalli | GEN | N. Sampangi N | M | IND | 40183 | Sreerama Reddy G V | M | CPM | 36885 |
| 1994 | 67 | Bagepalli | GEN | G.V. Srirama Reddy | M | CPM | 35851 | P.N. Padmanabha Rao | M | INC | 29405 |
| 1989 | 67 | Bagepalli | GEN | C. V. Venkatarayappa | M | INC | 37265 | G. V. Sreeramareddy | M | CPM | 35639 |
| 1985 | 67 | Bagepalli | GEN | B. Narayana Swamy | M | INC | 20454 | G. V. Sreerama Reddy | M | CPM | 18444 |
| 1983 | 67 | Bagepalli | GEN | A. V.Appaswamy Reddy | M | CPM | 35699 | S. Muniraju | M | INC | 24137 |
| 1978 | 67 | Bagepalli | GEN | S.Muni Kaju | M | INC(I) | 27052 | V.Krishna Rao | M | INC | 10337 |
| 1972 | 64 | Bagepalli | (SC) | Renuka Rajendran | M | INC | 19461 | A. Muniyappa | M | IND | 6890 |
| 1967 | 64 | Bagepalli | (SC) | A. Muniyappa | M | INC | 16517 | N. Adinarayana | M | CPM | 9408 |
| 1962 | 150 | Bagepalli | (SC) | B. Subbarayappa | M | INC | 12949 | K. M. Muniyappa | M | IND | 12556 |
Last Updated on: April 7, 2023