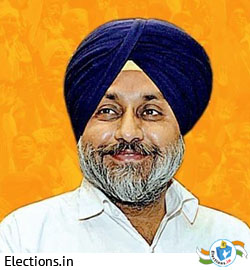 Full Name
Sukhbir Singh Badal
DOB
9-Jul-62
Place Of Birth
Faridkot, Punjab, India
Religion
Sikhism
Profession Before Joining Politics
Businessperson, Agriculturist, Social Worker, Artist
Spouse Name 
Harsimrat Kaur Badal
Children
1 Son, 2 Daughter
Citizenship
Indian
Political Party
Shiromani Akali Dal
Alma Mater
Educated at Panjab University, Chandigarh (Punjab) and California State University, Los Angeles (U.S.A.)
Important Positions Held
1996- Elected to 11th Lok Sabha
1998- Re-elected to 12th Lok Sabha (2nd term)
19 March 1998 - Oct. 1999- Union Minister of state, Industry
Feb. 2001-9 April 2004- Member, Rajya sabha
2004- Re-elected to 14th Lok Sabha (3rd term)
2008 - 2019- Member, Punjab Legislative Assembly (Three term)
2008-2017- Deputy Chief Minister, Government of Punjab (Two terms)
May 2019- Re-elected to 17th Lok Sabha (4rd term)
13 Sept. 2020 onwards- Member, Standing Committee on Finance
About Sukhbir Singh Badal:
Sukhbir Singh Badal (born 9 July 1962) is an Indian politician and President of
Shiromani Akali Dal
, and is currently a member of Parliament from Ferozpur. He served as Deputy Chief Minister of Punjab from 2009 to 2017. He is the son of Parkash Singh Badal, who has served several times as Chief Minister of Punjab.
Personal Background:
Sukhbir Badal was born on 9 July 1962 in Faridkot. His mother's name is Surinder Kaur. Initially, he was educated at The Lawrence School, Sanawar. He completed an M.A. Hons School in Economics from Panjab University Chandigarh from 1980 to 1984 and an M.B.A from California State University, Los Angeles.
Political Career:
Sukhbir Singh Badal member of Parliament of the 11th lok sabha from Faridkot constituency he also won the 12th Lok Sabha, representing Faridkot. He was Union Minister of State for Industry in Second Vajpayee Ministry during 1998 to 1999. He was also a member of Rajya Sabha during 2001 to 2004. In 2004, he was re-elected from Faridkot for 14th Lok Sabha. He became the President of Akali Dal in January 2008. A year later in January 2009, he was sworn in as the Deputy Chief Minister of Punjab. He was not a Member of Punjab Vidhan Sabha at that time. He resigned in July 2009, upon the completion of a six-month period available for contesting elections for the assembly, during which he didn't contest any elections. He was again appointed Deputy Chief Minister in August 2009 after winning by-elections from Jalalabad Assembly Constituency. In 2017 he again contested from Jalalabad and defeated Bhagwat Singh Mann of Aam Aadmi Party. In 2019 he contested for the Lok sabha seat from Ferozpur Punjab and got elected.
Sukhbir Singh Badal and Controversies:
In April 2015, a teenage girl died and her mother was seriously injured when they were molested and thrown from a running bus near Gil village in Moga district. The Bus was operated by Orbit aviation, a company in which Badal has stakes. Subsequently, it was revealed by news channels that the Chief Minister of Punjab gave the girl's father ₹30 lacs in compensation.
Corruption charges were filed on him and his family in 2003, however they were acquitted of charges in 2010.
Sukhbir Singh Badal Election Results:
| Year | Elections | Constituency | State | Status |
| --- | --- | --- | --- | --- |
| 1996 | Lok Sabha | Faridkot | Punjab | Won |
| 1998 | Lok Sabha | Faridkot | Punjab | Won |
| 2004 | Lok Sabha | Faridkot | Punjab | Won |
| 2019 | Lok Sabha | Ferozepur | Punjab | Won |
Last Updated on: July 13th, 2021