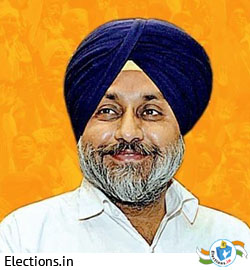 Sukhbir Singh Badal

Constituency
Jalalabad
Political Party
Shiromani Akali Dal(SAD)
DOB
09/07/1962
Place of Birth
Faridkot, Punjab
Education
M.A. in Economics, M.B.A from California State University, Los Angeles
Marital Status
Married
Spouse Name
Harsimrat Kaur Badal
Children
3
Father's Name
Parkash Singh Badal
Mother's Name
Surinder Kaur Badal
Position Held
Member of the Parliament of India
About Sukhbir Singh Badal
Sukhbir Badal is a politician from Punjab. He is the son of Punjab chief minister Prakash Singh Badal and presently the deputy chief minister of the state. He was born in Faridkot on July 9, 1962. He is post graduate in Economics from Panjab University Chandigarh and went on to do MBA from California State University, in USA.
Personal Background
Sukhbir Badal is married to Harsimrat Kaur Badal who is a Member of Parliament from Bathinda Lok Sabha constituency and the union minister for food processing. They have been blessed with one son and two daughters.
Political Career
Sukhbir Singh Badal represented Faridkot in the eleventh and twelfth Lok Sabha. He was also union minister of state for the industry during 1998 to 1999. He was also Rajya Sabha Member from 2001 to 2004. He became president of Akali Dal in 2008, next year he was made the deputy chief minister of Punjab.
After Akali Dal – BJP victory in 2012 Sukhbir was elected from Jalalabad and became the deputy chief minister once again. In the new dispensation, he had the portfolio of Home, governance Reforms, Housing, Excise and Taxation, Investment Promotion, Sports and Youth Services Welfare and Civil Aviation. Sukhbir also won Sikh Gurudwara management committee elections in January 2013 which made him a strong Sikh leader.
Achievements
Due to efforts of Sukhbir Badal Mohali International Airport at Chandigarh became an international airport. Badal took a flight from Chandigarh to Sharjah along with a 40-member trade delegation to mark the occasion.
Sukhbir has been promoting trade and investments in the state. He signed a tripartite MoU with Indian Business and Professional Council (IBPC) of Dubai and the Confederation Indian Industry (CII) to boost business and investment in Punjab.
Sukhbir Badal has also taken up road infrastructure work very seriously. He along with Union Minister for Roads and Highways, Nitin Gadkari has laid the foundation stone of road projects for Punjab worth Rs 10,290 crore. A total of 12 mega road projects in the state would be completed with the allocated amount.
No query found
Last Updated on 6 June, 2018