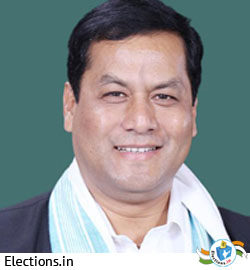 Sarbananda Sonowal

Elected from
Majuli (ST)
Political Party
Bharatiya Janata Party
DOB
31/10/1962
Place of Birth
Dinjan, Dibrugarh, Assam
Father's Name
Jibeswar Sonowal
Mother's Name
Dineswari Sonowal
Education
Arts Graduate (B.A.) from D.H.S.K. College, Dibrugarh University. Law Graduate (L.L.B.) from G. U. Law College, Gauhati University. Degree of Communication & Journalism from Gauhati University
Position held
14th Chief Minister of Assam (24 May 2016)
About Sarbananda Sonowal
Sarbananda Sonowal is the 14th chief minister of Assam. Sonowal is a BJP member and represents Majuli constituency in Assam's state legislative assembly. Sonowal was Union Minister for Sports & Youth Affairs in the Narendra Modi-led NDA government from 2014 to 2016. He represented Assam's Lakhimpur constituency in the Lok Sabha during the same period. He has earlier served as BJP president in Assam and also as a member of the party's National Executive.
Early Life and Education
Sonowal was born on 31 October 1962 in Assam's Dibrugarh district. He did his Bachelor of Criminal Justice from Dibrugarh University and went on to do his LLB from Gauhati University. He also started his political career from here.
Political Career
Sarbananda Sonowal was the president of Assam's oldest student body, the All Assam Students Union, from 1992 to 1999. After that, he became a member of the Asom Gana Parishad (AGP). In 2001, he was elected the MLA from Assam's Moran constituency. In 2004, he became a Lok Sabha member representing Dibrugarh constituency and continued to be so till 2009 before joining the Bharatiya Janata Party in 2011. Recently, the BJP selected him as its CM candidate for the upcoming Assam assembly elections.
Achievements and Controversies
Sonowal first came in the spotlight when he got the contentious Illegal Migration (Determination by Tribunal) Act, 1983 struck down by the Supreme Court of India in 2005. The Act was one of the biggest obstacles to deportation of Bangladeshi immigrants. The court held the view that the Act was unconstitutional and termed Bangladeshi infiltration an "external aggression". It further gave the directive that Bangladeshi nationals who have crossed the border illegally, have trespassed into Assam, or some other part of the country, have no legal right to do so and are liable to be deported.
Last Updated on Aug 29, 2020