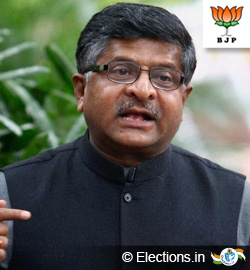 Ravi Shankar Prasad

Full Name
Ravi Shankar Prasad
DOB
30/08/1959
Place of Birth
Patna
Political Party
BJP
Education
M.A., LL.B
Marital Status
Married
Spouse Name
Maya Shankar
Children
Son 1, Daughter 1
Father's Name
Thakur Prasad
Mother's Name
Bimla Prasad
Position Held
Minister of Electronics and Information Technology (19 July 2016)
About Ravi Shankar Prasad
Ravi Shankar Prasad is the Union Minister of Communications and Information Technology. He also held the portfolio of Law and Justice, prior to the recent reshuffle in the Narendra Modi cabinet.
Ravi Shankar Prasad is a senior advocate in the Supreme Court of India and a politician too. In the first NDA government, during Atal Bihari Vajpayee's tenure too, he was in charge of three ministries – Ministry of Information and Broadcasting, Ministry of Law and Justice, and Ministry of Coal and Mines (MoS). Prasad is a member of the Bharatiya Janata Party (BJP) and represents the state of Bihar as a Member of Parliament in the Rajya Sabha.
Early Life of Ravi Shankar Prasad
Son of late Thakur Prasad and Bimla Prasad, Ravi was born in Patna on August 30, 1954. His association with politics was through his father who was not only a High Court lawyer at the Patna High Court but also one of the founders of Jan Sangh, the organisation that existed before the formation of Bharatiya Janata Party (BJP).
After post-graduation in Political Science, Ravi Shankar Prasad completed his bachelor in law (LL.B) degree from the Patna University. He got married to Dr Maya Shankar on February 3, 1982 and the couple is blessed with a daughter and a son.
Prasad is a senior lawyer at the apex court since 2000. However, he started his career in 1980 at the Patna High Court. He pleaded against the then CM of Bihar Lalu Prasad Yadav in the fodder scam, in favour of the deity in Ram Temple suit, and argued in many more high profile cases.  
Political Career of Ravi Shankar Prasad
Ravi Shankar Prasad shot to prominence in politics as an ABVP activist and also a devoted RSS worker. As a part of Jayprakash Narayan's Total Revolution movement, he went to jail for agitating against the former prime minister Indira Gandhi. Before becoming a member of the top policy-making body of BJP (National Executive) in 1995, he successfully handled many responsibilities in the student, youth wings and the main party organisation. In 2000, he first became MP and Coal Minister in the first NDA government in 2001. He was made minister for Law and Justice in July 2002 and Minister of Information and Broadcasting in 2003. In 2006, he not only became a Rajya Sabha member but also went on to become BJP's national spokesperson. In 2012 he became Deputy Leader of Opposition in Rajya Sabha. After the emphatic win of BJP in 2014, the Prime Minister provided him more than one portfolio to manage including Communications & Information Technology and Law and Justice. However, after the November reshuffle, he is left with the former portfolio.
Some of the decisions and initiatives taken by Ravi Shankar Prasad during his current tenure include special initiatives to promote e-commerce in India (per the mega plans of Narendra Modi government), decision to boost Business Process Outsourcing even in small towns as well as cities throughout India, implementation of $18 billion programme for bringing 'digital revolution' in India including expansion of broadband internet's reach to 250,000 villages by the end of the year 2016, important data access through mobiles, etc.
WBDB15.11.2014
Last Updated on Aug 28, 2020