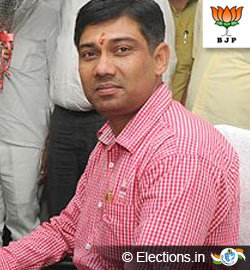 Nihalchand

Full Name
Nihalchand Chauhan
Elected from
Ganganagar, Rajasthan
DOB
04/02/1971
Place of Birth
Ganganagar, Rajasthan
Political Party
BJP
Education
Graduate
Merital Status
maried
Spouse Name
Jyoti Chauhan
Children
1 son and 1 daughter
Father's Name
Bega Ram
Mother's Name
Surji Devi
Position held
MP (9 November 2014 - 5 July 2015)
About Nihal Chand Chauhan
About Nihal Chand Chauhan
Nihal Chand Chauhan is a Member of Parliament from Rajasthan. He won the Ganganagar Lok Sabha seat, his present constituency, four times. Post-Lok Sabha elections 2014, he became the only MP from Rajasthan to get a berth in the Union Government as MoS for Chemicals and Fertilizers. However, after the recent cabinet reshuffle, Chauhan's portfolio has been changed to Minister of State for Panchayati Raj.
Snapshot of Early Life
Also called Nihal Chand Meghwal, he was born on 4 February 1971 in the Bajuwala village in Rajasthan's Ganganagar district. Son of Bega Ram and Surji Devi, Nihal Chand Chauhan is a graduate from the Ajmer University. By profession he is an agriculturist as well as social activist. He got married to Jyoti Chauhan and the couple is blessed with a son and a daughter.
Political Career of Nihalchand Chauhan
Nihal Chand Meghwal started his political career at an early age and went on to become 'Panchayat Director' of four places - Bagicha, Bika, Sardarpur, and Nanuwala - in 1995. Chauhan was also elected as Rai Singh Nagar Panchayat Samiti's Pradhan. It was in 1996 that he first got elected to the Parliament on a Bharatiya Janata Party (BJP) ticket, and got re-elected in 1999. He won the seat both during 2004 and 2014 parliamentary elections. However, he lost the 1998 Lok Sabha election to his INC rival Shankar Pannu. The phase (2008-2009) was not conducive for his career as he lost both the Assembly and parliamentary elections during the period. However, during the 2014 Parliamentary Elections, Chauhan won by defeating his closest rival from INC, Bhanwarlal Meghwal.
Till date he has been part of many committees such as Committee on Science & Technology, Environment & Forests (1999 to 2000), Consultative Committee, Ministry of Defence (2000 to 2004), Committee on Private Members`s Bills and Resolutions (2007), Committee on Agriculture (2014), and Committee on Health & Family Welfare (from May 27, 2014).
Controversy
He is one of the accused in a rape and blackmailing case, as per an FIR filed in the year 2011. A housewife from Rajasthan's Sirsa filed FIR against 17 persons, including Nihal Chand Chauhan. According to the allegation, she was drugged and raped by the associates of her husband in Jaipur and shockingly her own husband drugged her. However, the FIR was closed by the Rajasthan police by calling it fabricated and false. She then approached trial as well as district court but both the courts dismissed the protest petition and alleged charges respectively. However, after Nihal Chand was inducted in the Union Ministry in the current central government, the concerned woman approached the district court for revision and consequently it sent notices to the 17 accused for response. After this, the MoS came under fire from the opposition.
He didn't turn up and instead sent his lawyer, where the lawyer claimed that Nihal Chand had not received summon in the last half year. While the Union Minister remained elusive to court, he assumed charge of his new post as MoS for Panchayati Raj in the reshuffled Narendra Modi government. The BJP defended him by saying he was cleared of the trial during the Congress regime in Rajasthan itself.
WBDB19.11.2014
EBVD
Last Updated on July 08, 2020