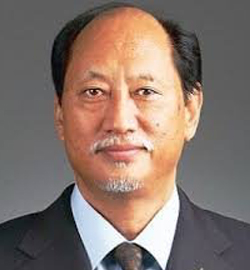 Neiphiu Rio

Full Name
Neiphiu Rio
Constituency
Northern Angami-II
D.O.B
11/11/1950
Place of Birth
Kohima
Political party
Nationalist Democratic Progressive Party
Education Qualification
BA
Father's Name
Shri Guolhouli Rio
Mother's Name
Smt. Kevilhou Rio
Marital Status
Married
Spouse
Kaisa Rio
Children
1 son and 5 daughters
Position held
9th Chief Minister of Nagaland (8 March 2018)
About Neiphiu Rio
Neiphiu Rio is an Indian politician and Nagaland's current Chief Minister. He served as the CM of the state for three consecutive terms during 2003-08, 2008-13 and 2013-14. He is also the Member of Parliament in Lok Sabha from Nagaland.
Personal Background
Rio was born on 11 November 1950 in Tuophema village in Kohima District. He received his school level education from Baptist English School in Kohima and Sainik School in Purulia, West Bengal. He received his college education from Joseph's College, Darjeeling. Later on, he also went to Kohima Arts College. He had a very active student life. He served as a head of many prestigious organisations. Currently, he is married to Kaisa Rio and has 5 daughters and 1 son.
Professional Career
He entered politics at an early age. In 1989, he got elected to Nagaland Assembly from Northern Angami-II constituency as a Congress candidate. He headed the portfolio of Sports and School Education and later on was made Minister of Higher & Technical Education and Art & Culture. In 1993, he again got elected to the Assembly from the same constituency and held the portfolio of Works & Housing. From 1998-2002, he was appointed the Home Minister of Nagaland under the Congress' camp. In 2002, he resigned from the post over a conflict over Naga issue with the then CM S. C. Jamir.
After the resignation, he joined Naga People's Front (NPF). The party also was in alliance with other regional parties and formed the coalition named Democratic Alliance of Nagaland (DAN). In 2003, the coalition came to power dethroning Congress, which had been ruling the state for 10 years. On March 6, 2003, Rio took the position of state's Chief Minister.
However, on January 3, 2008, the state came under the President's rule and Neiphiu was dismissed from the position. However, in the ensuing elections, NPF emerged as the largest party and Rio was invited to form the government on March 12, 2008. And again in 2013 Assembly elections, the NPF won with a clear majority and Rio served as the CM for the third time.
In 2018 elections, the BJP formed an alliance with NDPP and Neiphiu got elected as CM for the fourth time.
Last Updated on July 08, 2020