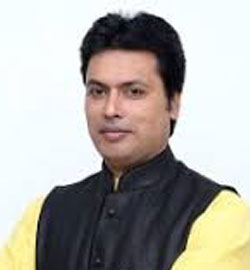 Biplab Kumar Deb

Constituency
Banamalipur
Born
Nov 25, 1971
Place of Birth
Udaipur, Tripura
Political party
Bharatiya Janata Party
Education Qualification
M.A.
Alma mater
Tripura University
Occupation
Politician
Nationality
Indian
Marital Status
Married
Spouse(s)
Niti Deb
Children
1 daughter and 1 son
Current Position
10th Chief Minister of Tripura
About Biplab Kumar Deb
Biplab Kumar Deb is the current and 10th CM of Tripura. He has been the state president of Tripura BJP since early 2016. He is also credited with the success of BJP in the 2018 Tripura Assembly polls, which ended the 25 years rule of Communist Party of India (Marxist).
Personal Background
Biplab was born on November 25, 1969, in Tripura's Gomati district. He did his schooling and graduation from Tripura. He went to New Delhi to pursue Masters. He again returned to Tripura after 15 years. He is married to Niti Deb and is blessed with 2 children - a daughter, and a son.
Professional Career
In August 2017, Biplab brought about the defection of MLAs from INC to BJP. He successfully led the Tripura's Election campaign and ended the decades-old Left's rule in the state by winning 43 seats out of the total 59 seats in the state, in alliance with the IPFT. He contested the Assembly polls from Banamalipur Constituency, held by Congress's Gopal Roy. He was also in the poll battle with CPM's Amol Chokroborty. Finally, he won the seat with a big margin of 9700 votes. He took his oath as CM on March 9, 2018.
Last Updated on June 11, 2020