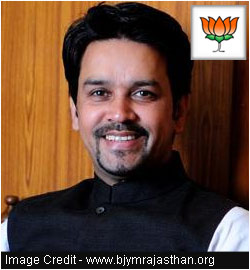 Full Name
Anurag Singh Thakur
DOB
24 Oct 1974 (Age 46)
Place Of Birth
Samirpur, District Hamirpur, Himachal Pradesh
Religion
Hindu
Profession Before Joining Politics
Cricketer, Industrialist, Agriculturist
Spouse Name 
Sheffali Thakur
Children
Jayaditya Thakur, Udayveer Thakur
Citizenship
Indian
Political Party
Bharatiya Janata Party
Alma Mater
Doaba College, Jalandhar.
Important Positions Held
2008, 2009, 2014, 2019 Lok sabha Member
2019, Thakur became Minister of State for Finance and Corporate Affairs.
Chief Whip in 16th Lok Sabha Lieutenant in the Territorial Army
Fmr. Member, Public Accounts Committee
7 July 2021, Minister of Youth Affairs and Sports and Minister of Information & Broadcasting
About Anurag Singh Thakur:
Anurag Singh Thakur (born 24 October 1974) is a member of the Lower House of Parliament in India (Lok Sabha) from Hamirpur in Himachal Pradesh, and the current Minister of Sports, Youth Affairs and Minister of Information and Broadcasting. Thakur also served as a Minister of State for Finance and Corporate Affairs. He is the son of Prem Kumar Dhumal, the former Chief Minister of Himachal Pradesh. He was first elected to the Lok Sabha in May 2008 in a by poll as a candidate of the Bharatiya Janata Party. He is a four time MP, being a member of 14th, 15th, 16th, and 17th Lok Sabha. He was awarded the Sansad Ratna Award in 2019, an award established in 2010 by private organisations for recognizing contributions by parliamentarians
Personal Background:
Thakur was born on 24 October 1974 at Hamirpur. He is the eldest son of Prem Kumar Dhumal and Sheela Devi. He studied B.A. at Doaba College, Jalandhar, Punjab. Thakur married Shefali Thakur, daughter of Gulab Singh Thakur, former Public Works Department minister in the government of Himachal Pradesh, on 27 November 2002.
Political Career:
In May 2008, Thakur succeeded his father when he was elected as Member of Parliament of India's 14th Lok Sabha from Hamirpur constituency. He followed that victory with a win in 3 upcoming elections i,e in 2009, 2014 and 2019.
He is the former National President of Bharatiya Janata Yuva Morcha (BJYM-Youth Wing of the Bharatiya Janata Party) and has been the only National President to be appointed for three consecutive terms in the BJP. He is also the first BJYM National President to have worked under three different BJP Presidents - Mr Amit Shah, Mr Rajnath Singh and Mr Nitin Gadkari.
He is a recipient of the Best Young Parliamentarian Award in 2011 and recognized as a "Young Global Leader" by the World Economic Forum. In a nationwide survey in the run-up to the 2014 General elections he was rated amongst India's Top 10 MPs based on his Parliamentary performance and commitments to society at large. Recently, he was awarded the Sansad Ratna Award in category of Jury Committee Special for his outstanding performance as a Parliamentarian, becoming the only Member of Parliament from BJP & North India to be covered with this honor.
On 7 July 2021, Thakur was appointed as the Minister of Youth Affairs and Sports and Minister of Information & Broadcasting.
Anurag Thakur and Controversies:
In December 2019, he was accused of being one of the political leaders who incited communal riots in Delhi using hate speech "traitors of the country", to which his audience replied "shoot the bastards", which were repeated by him in January 2020 at a BJP rally He was involved in a legal struggle between the Himachal Pradesh State Government and the Himachal Pradesh Cricket Association over the rights to the International Cricket Stadium at Dharamshala.
On 22 May 2016, Thakur became the president of BCCI, and in January 2017, he was removed from the post by the Supreme Court from the post of BCCI president for not complying with its orders and making false statements under oath before the Supreme Court. The Supreme Court gave its ruling on the Lodha Committee's third status report, submitted on 14 November 2016, asking for the disqualification of office-bearers of the BCCI and all state associations. Thakur issued an unconditional apology and stepped down as the President of BCCI.
Anurag Singh Thakur Election Results:
| Year | Constituency | State | Status |
| --- | --- | --- | --- |
| 2008 | Hamirpur | Himachal Pradesh | Won |
| 2009 | Hamirpur | Himachal Pradesh | Won |
| 2014 | Hamirpur | Himachal Pradesh | Won |
| 2019 | Hamirpur | Himachal Pradesh | Won |
Last Updated on: July 12, 2021