Elections to the first Legislative Assembly of Orissa in independent India were held in 1951. 522 candidates from various political parties were in fray, contesting for a total of 107 Assembly constituencies, out of which 91 seats were reserved for General-category candidates, and 16 were reserved for candidates from Scheduled Tribes. The Indian National Congress won with a thumping majority, winning 67 of the 107 Assembly constituencies, and hence formed the government in the state. The All India Ganatantra Parishad was second, winning 31 seats. Nanda Kishore Das was the Speaker of the Orissa Legislative Assembly in its first term post independence
SUCcessive changes in the post of the Governor were made during this first Assembly in Orissa. M. Asaf Ali remained the Governor from July 1951 to June 1952, before he was replaced by Saiyid Fazl Ali, who held the prestigious post till 1954. He was then replaced by P. S. Kumaraswamy Raja, who was finally substituted by Bhim Sen Sachar, the former Chief Minister of Punjab. Nabakrushna Chowdhury of the Congress remained in power as the Chief Minister of Orissa during this period, before Harekrushna Mahatab took over as Chief Minister for a brief period in the last one year of this first term.

With his previous experience as the Revenue Minister, Nabakrushna Chowdhury brought in some spectacular reforms in the state of Orissa during his tenure as the Chief Minister. He abolished the Zamindari system, which in turn resulted in the peasants to be free of exploitation at the hands of the landlords. He enacted the Anchal Shasan Bill as part of his welfare schemes for the people of Orissa, which generated employment for the youth. It was Nabakrushna Chowdhury who propounded the need for Oriya as an official language in Orissa, so that administrative and functions could be easily comprehensible to everyone. It was his concerted efforts that led to the recognition of the importance of regional languages in other states. Also, along with Vinoba Bhave, Nabakrushna was instrumental is propagating the Bhoodan and Gramdan Movement in different parts of Orissa by making personal visits to every village and spreading the message of Gramdan. He played a pivotal role in developing the infrastructural necessities in the state, such as constructing the Hirakud Dam.

Some of the most important legislations implemented during this period were the Maternity Benefit Act 1953, the Working Journalists & Other Newspapers Employees (Conditions of Service) and Miscellaneous Provisions Act of 1955, and the Orissa Shops & Commercial Establishments Act of 1956, among others.





List of Successful Candidates in Orissa Assembly Election in 1951
| A.C. No. | Constituency Name | Type A.C. | Winner Candidate | Gender | Party |
| --- | --- | --- | --- | --- | --- |
| 1 | Malkangiri | Gen | Laxman Gaudo | M | GP |
| 2 | Padua | Gen | Ganeswar Mahapatra | M | GP |
| 3 | Nowrangpur | Gen | Mudi Naiko | M | INC |
| Buy Poll | Nowrangpur | Gen | Sadasib Tripathy | M | INC |
| 4 | Jeypore | Gen | Laichhan Naiko | M | GP |
| Buy Poll | Jeypore | Gen | Harihar Misro | M | GP |
| 5 | Koraput | (ST) | Ganga Muduli | M | GP |
| 6 | Nandapur | Gen | Bhagaban Khemundu Naik | M | INC |
| 7 | Rayagada | (ST) | Mandangi Kamaya | M | INC |
| 8 | Bissam Cuttack | (ST) | Ulaka Shyamaghana | M | GP |
| 9 | Gunupur | (ST) | Soboro Dumba | M | GP |
| 10 | Baliguda | (ST) | Jadab Padra | M | INC |
| 11 | Phulbani Ugayagiri | Gen | Sadananda Sahu | M | IND |
| Buy Poll | Phulbani Ugayagiri | Gen | Balakrishna Mallick | M | IND |
| 12 | Baudh | Gen | Himansu Sekhar Padhi | M | IND |
| 13 | Athmallik | Gen | Dwitiya Raul | M | IND |
| 14 | Angul Hindol | Gen | Hrushikesh Tripathy | M | INC |
| Buy Poll | Angul Hindol | Gen | Arakhit Naik | M | INC |
| 15 | Talcher | Gen | Pabitra Mohan Pradhan | M | INC |
| 16 | Pallahara K Nagar | Gen | Mahesh Chandra Subahu Singh | M | INC |
| Buy Poll | Pallahara K Nagar | Gen | Baidhar Naik | M | INC |
| 17 | Dhenkanal | Gen | Baishnab Charan Patnaik | M | CPI |
| Buy Poll | Dhenkanal | Gen | Madan Dehuri | M | CPI |
| 18 | Bhawanipatna | Gen | J . C . Singh Deo | M | GP |
| Buy Poll | Bhawanipatna | Gen | Janardan Majhi | M | GP |
| 19 | Jaipatna Kasipur | (ST) | Jhajuru Jhodia | M | INC |
| 20 | Junagarh | Gen | P . K . Deo | M | GP |
| Buy Poll | Junagarh | Gen | Dayanidhi Naik | M | GP |
| 21 | Nawapara | Gen | Anup Singh Deo | M | INC |
| Buy Poll | Nawapara | Gen | Chaitan Majhi | M | INC |
| 22 | Titlagarh | Gen | Muralidhar Panda | M | GP |
| Buy Poll | Titlagarh | Gen | Ramesh Ch. Bhoi | M | GP |
| 23 | Patnagarh | Gen | Ganeshram Bariha | M | GP |
| Buy Poll | Patnagarh | Gen | Arjun Das | M | GP |
| 24 | Bolangir | Gen | Nandakishore Misra | M | GP |
| Buy Poll | Bolangir | Gen | Achut Mahananda | M | GP |
| 25 | Sonepur | Gen | Antaram Nanda | M | GP |
| 26 | Binka | Gen | Baikuntha Nepak | M | GP |
| 27 | Birmaharajpur | Gen | Achutananda Mahakur | M | GP |
| 28 | Padampur | Gen | Lal Ranjit Singh Bariha | M | INC |
| Buy Poll | Padampur | Gen | Anirudha Misra | M | IND |
| 29 | Baragarh | Gen | Tirthabasi Pradhan | M | INC |
| 30 | Attabira | Gen | Bipinbehari Das | M | INC |
| 31 | Simulia | Gen | Bisi Bibhar | M | INC |
| Buy Poll | Simulia | Gen | Bhikari Sahu | M | INC |
| 32 | Ambabhona Mura | Gen | Makardhwaja Pradhan | M | SP |
| 33 | Sambalpur Rairakhol | Gen | Sradhakar Supakar | M | GP |
| Buy Poll | Sambalpur Rairakhol | Gen | Bhikari Ghasi | M | GP |
| 34 | Harsuguda Rampelia | Gen | Bijoy Kumar Pani | M | INC |
| Buy Poll | Harsuguda Rampelia | Gen | Monohar Naik | M | GP |
| 35 | Bamra | Gen | Joydeb Thakur | M | GP |
| Buy Poll | Bamra | Gen | Hara Prasad Deb | M | GP |
| 36 | Sundargarh | Gen | Dwarikanath Kusum | M | GP |
| Buy Poll | Sundargarh | Gen | Krupanidhi Naik | M | INC |
| 37 | Rairangpur | (ST) | Agapit Lakra | M | INC |
| 38 | Bisra | (ST) | Madan Mohan Amat | M | INC |
| 39 | Bonai | (ST) | Nilamani Singh Dandapat | M | GP |
| 40 | Champua | (ST) | Guru Charan Naik | M | GP |
| 41 | Keonjhar | Gen | Laxminarayan Bhanj Deo | M | IND |
| Buy Poll | Keonjhar | Gen | Gobind Munda | M | GP |
| 42 | Anandapur | Gen | Janardan Bhanj Deo | M | IND |
| Buy Poll | Anandapur | Gen | Bhaiga Sethi | M | IND |
| 43 | Panchpir | Gen | Ghasiram Sandil | M | IND |
| Buy Poll | Anandapur | Gen | Biswanath Sahu | M | GP |
| 44 | Kaptipada | (ST) | Harachand Hasada | M | SP |
| 45 | Khunta | (ST) | Shakilla Sharen | M | SP |
| 46 | Baripada | Gen | Girish Chandra Roy | M | SP |
| Buy Poll | Baripada | Gen | Surendra Singh | M | INC |
| 47 | Bahalda | (ST) | Sonaram Soren | M | INC |
| 48 | Rairangpur | (ST) | Haradeb Triya | M | INC |
| 49 | Bangriposi | (ST) | Jadab Majhi | M | INC |
| 50 | Morada | Gen | Prasannakumar Das | M | SP |
| 51 | Jaleswar | Gen | Karunakar Panigrahi | M | INC |
| 52 | Bhograi | Gen | Sashikanta Bhanj | M | IND |
| 53 | Basta | Gen | Trilochan Senapati | M | INC |
| 54 | Soro | Gen | Nanda Kishore Das | M | INC |
| 55 | Balasore | Gen | Surendra Nath Das | M | INC |
| 56 | Nilgiri | Gen | Chaitanya Sethi | M | INC |
| Buy Poll | Nilgiri | Gen | Nilambar Das | M | INC |
| 57 | Bhadrak | Gen | Mahamad Hanif | M | INC |
| 58 | Banth | Gen | Gokulananda Mohanty | M | INC |
| 59 | Dhamnagar | Gen | Nilamoni Routra | M | INC |
| 60 | Chandbali | Gen | Brundaban Das | M | INC |
| Buy Poll | Chandbali | Gen | Chakradhar Behera | M | INC |
| 61 | Sukinda | Gen | Pitambar Bhupati Harichandan Mohapatra | M | IND |
| 62 | Jajpur | Gen | Gadahar Dutta | M | INC |
| Buy Poll | Jajpur | Gen | Santanu Kumar Das | M | INC |
| 63 | Dharamsala | Gen | Paramananda Mohanty | M | SP |
| 64 | Binjharpur | Gen | Padmanava Roy | M | INC |
| Buy Poll | Binjharpur | Gen | Nabakishore Mallick | M | INC |
| 65 | Barchana | Gen | Nabakrushna Chaudhury | M | INC |
| 66 | Aul | Gen | Raja Sailendra Narayan Bhanj Deo | M | IND |
| 67 | Pattamundei | Gen | Kumari Ramraj | M | IND |
| 68 | Rajanagar | Gen | Saraswati Dei | M | INC |
| 69 | Kendrapara | Gen | Dinabandhu Sahu | M | INC |
| 70 | Patkura | Gen | Lokanath Misra | M | INC |
| 71 | Tirtol | Gen | Nishamoni Khuntia | M | SP |
| 72 | Ersama | Gen | Gaurishyam Naik | M | INC |
| 73 | Balikuda | Gen | Pranakrushna Parija | M | IND |
| 74 | Jagatsinghpur | Gen | Nilmani Pradhan | M | INC |
| 75 | Kissannagar | Gen | Rajkrushna Bose | M | INC |
| Buy Poll | Kissannagar | Gen | Purnananda Samal | M | INC |
| 76 | Salepur | Gen | Surendranath Patnaik | M | INC |
| 77 | Mahanga | Gen | Mahammad Attahar | M | INC |
| 78 | Cuttack Town | Gen | Biren Mitra | M | INC |
| 79 | Cuttack Rural | Gen | Laxman Mallik | M | INC |
| Buy Poll | Cuttack Rural | Gen | Bhairab Chandra Mohanti | M | INC |
| 80 | Banki | Gen | Gokulananda Praharaj | M | SP |
| 81 | Narsingpur | Gen | Brundaban Sahu | M | GP |
| 82 | Athagarh | Gen | Radhanath Rath | M | INC |
| 83 | Kakatpur Nimapara | Gen | Govinda Chandra Sethi | M | INC |
| Buy Poll | Kakatpur Nimapara | Gen | Upendra Mahanti | M | INC |
| 84 | Satyabadi | Gen | Nilakantha Das | M | IND |
| 85 | Pipili | Gen | Jayakrushna Mahanti | M | INC |
| 86 | Puri | Gen | Fakir Charan Das | M | SP |
| 87 | Bramhagiri | Gen | Biswanath Parida | M | IND |
| 88 | Banpur | Gen | Godavaris Misra | M | IND |
| 89 | Bhubaneswar | Gen | Kanhu Mallik | M | INC |
| 90 | Khurda | Gen | Satyapriya Mohanty | M | INC |
| 91 | Bagunia | Gen | Madhab Chandra Rautra | M | INC |
| 92 | Ranpur | Gen | Gangadhar Paikera | M | CPI |
| 93 | Nayagarh | Gen | Basantamanjari Devi | M | INC |
| Buy Poll | Nayagarh | Gen | Rajasheb Krushna Chandra Singh Mandhata | M | IND |
| 94 | Khandapada | Gen | Rajasaheb Harihar Singh Mardaraj Bhramarabar Deo | M | IND |
| 95 | Daspalla | Gen | Rajabahadur Kishore Chandra Deo Bhanj | M | INC |
| Buy Poll | Daspalla | Gen | Bijoyananda Patnaik | M | INC |
| 96 | Jagannathprasad | Gen | Dinabhandhu Behera | M | INC |
| 97 | Ruselkonda | Gen | Mohan Nayok | M | CPI |
| 98 | Aska | Gen | Harihar Das | M | CPI |
| 99 | Khallikote | Gen | Ram Chandra Mardaraj Deo | M | IND |
| 100 | Kudula | Gen | Banamali Maharana | M | SP |
| 101 | Purusottampur | Gen | Harihar Das | M | INC |
| 102 | Chhatrapur | Gen | V . Sitaramaya | M | IND |
| 103 | Pattapur | Gen | Govind Pradhan | M | CPI |
| 104 | Berhampur | Gen | Dandapani Das | M | IND |
| Buy Poll | Berhampur | Gen | Ram Chandra Misra | M | IND |
| 105 | Partapur | Gen | Dibakar Patnaik | M | FBL(MG) |
| Buy Poll | Partapur | Gen | Appana Dora Biswasrai | M | IND |
| 106 | Parlakhemundi | Gen | Jagannath Misra | M | CPI |
| 107 | Udayagiri Mohana | (ST) | Maliko Pattu | M | INC |
List of Participating Political Parties in Orissa Assembly Election in 1951
Partytype Abbreviation
Party
National Parties
1
CPI
Communist Party of India
2
FBL(MG)
F.B. (Marxist Group)
3
FBL(RG)
Forward Bloc (Ruikar Group)
4
INC
Indian National Congress
5
KMPP
Kisan Mazdoor Praja Party
6
SP
Socialist Party
State Parties
7
GP
All India Gantantra Parishad
Registered (Unrecognised) Parties
8
PP
Pursharathi Panchayat
9
PIP
Peoples Independent Party
10
RAD
Radical Democrat Party
Independents
11
IND
Independent
Last Updated on April 29, 2020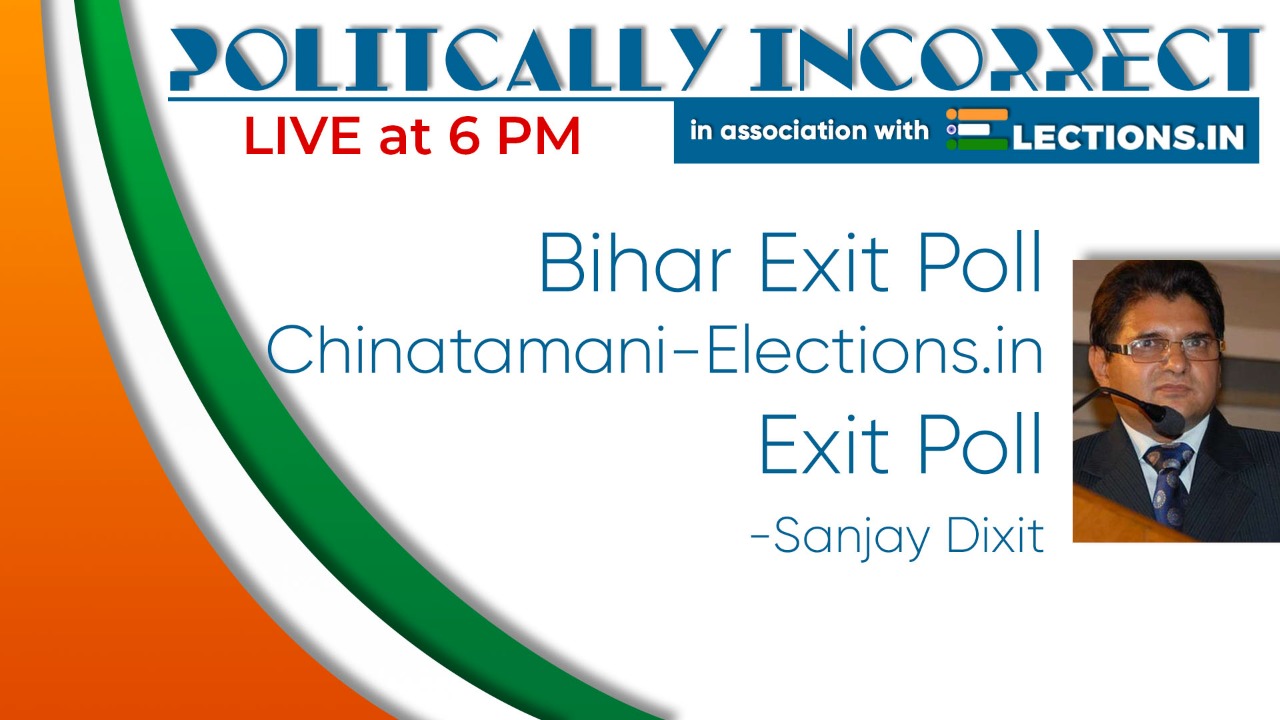 Live at 6 PM | Bihar Exit Poll | Chinatamani-Elections.in Exit Poll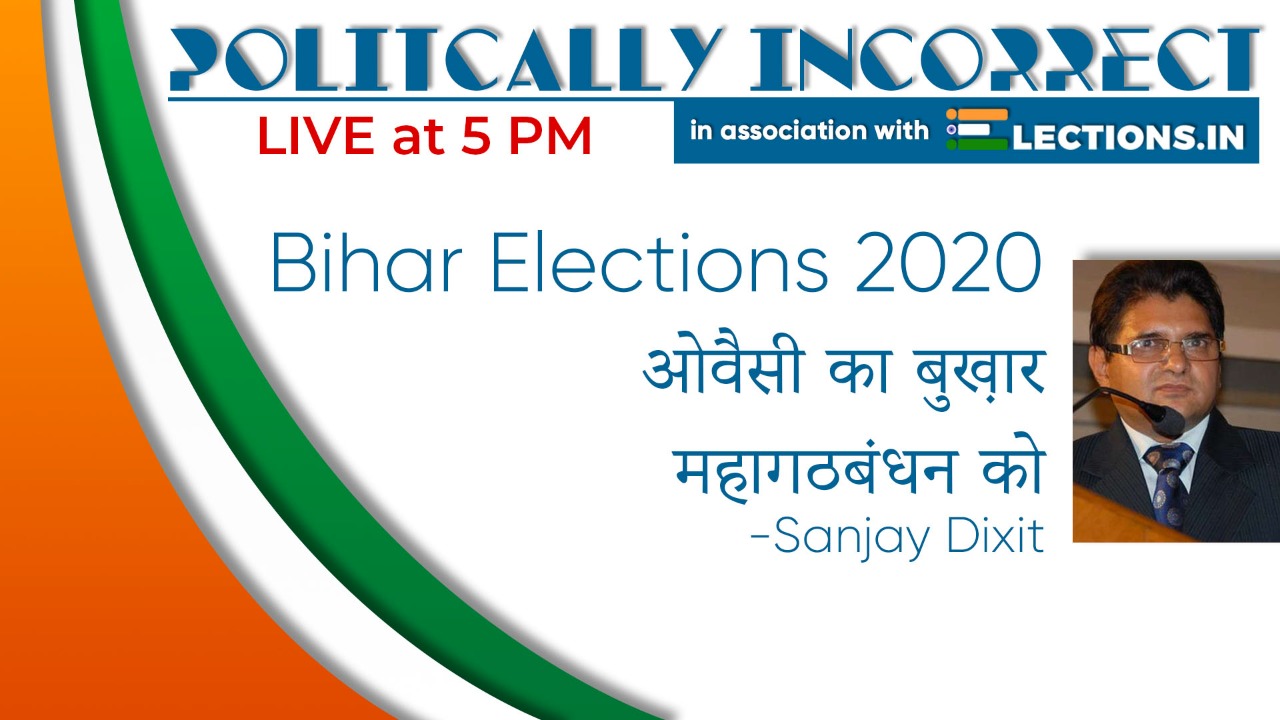 Live at 5PM | Bihar Elections - ओवैसी का बुख़ार महागठबंधन को | Sanjay Dixit