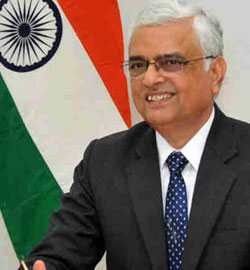 Om Prakash Rawat Biography

Preceded by
Achal Kumar Jyoti
Born
02/12/53
Education Qualification
BSc in Physics from BHU, Varanasi,MSc in Physics from BHU, Varanasi,MSc in Social Development Planning, UK
Occupation
Chief Election Commissioner of India
Residence
Not Knowns
Nationality
India
Religion
Hinduism
About Om Prakash Rawat
Om Prakash Rawat is the
Chief Election Commissioner of India
. He took charge of the position on 23 January 2018. He was appointed as the CEC after the premature retirement of Achal Kumar Jyoti. He is a 1977 batch IAS officer and has also served as India's Public Enterprise Secretary. Rawat had been earlier serving as one of the two Election Commissioners of India.
Personal Background
Om Prakash Rawat was born on December 2, 1953. He did his BSc and MSc both in Physics from Banaras Hindu University (BHU), Varanasi. Later on, he also obtained a Masters degree from the UK in Social Development Planning.
Professional Career
In his career, Rawat has occupied a number of honorary government positions. He served as a collector in Narsinghpur form 1983-86 and Indore from 1986 to 1988. In 1994, he held the position of United Nations election observer in South Africa. After his return from the country, he held numerous posts, such as Registrar (Co-operative Societies), Commissioner (Women & Child Development), Secretary (Agriculture) and Madhya Pradesh's State Excise Commissioner. He also served as the Principal Secretary in Madhya Pradesh.
During his term as the Principal Secretary (SC/ST Welfare Department), he received the Prime Minister's award for the initiative "Recognition of Forest Rights" in 2009.
He has also served as the Vice-Chairman for the Narmada Valley Development Authority. He retired from the post of Secretary at Department of Public Enterprises on December 31, 2013. He assumed charge as one of the two Election Commissioners of India on August 14, 2015. During his term, he oversaw elections in 14 states such as Kerala, Tamil Nadu, Bihar, Assam, Puducherry, West Bengal, to name a few.
After A K Jyoti had to demit the office, President announced him as the new Chief Election Commissioner of India.
Last Updated on April 13, 2020