Delhi Assembly (Vidhan Sabha) Election Summary 2020
The Election Commission has announced the
schedule
for Delhi Assembly Election 2020. As per the information, the Delhi Assembly election results 2020 will be announced on 11 February. The date of the polling is 8 February. The counting of votes will begin at 8 AM. Delhi Election results live updates will be provided since then. There are 70 assembly constituencies in Delhi.
AAP
had won 67 of 70 seats in the
2015 Delhi election results
. Wheres BJP gained the remaining three seats. The Delhi election results 2020 will be announced officially by the evening of 11 February. Till then, Delhi election results live updates will be provided. The three prominent parties in Delhi are AAP, BJP, and Congress. Stay Tuned with Elections.in for
Delhi Live Election Results 2020
Previous Election Results 2018-2019
The results for Jharkhand Assembly Election 2019 were announced on 23 December. A coalition comprising JMM-INC-RJD gained a landslide victory. The battle was mainly between the coalition and the incumbent BJP leadership. JMM led coalition has won 47 seats in the Jharkhand Assembly Election, of which JMM bagged 30 seats; INC-16; and RJD-1 seat. The BJP faced anti-incumbency as it won 25 seats. JVML and AJSU grabbed 3 and 2 seats respectively. There are 4 independent winners in the 81 member assembly of Jharkhand. The voting took place between 30th November to 20th December 2019.
Hemant Soren will be the next chief minister of the state, as decided by the coalition. The highest party wise vote share in the election i.e. 33.37% belonged to BJP. Whereas the coalition collectively had 35.35% vote share (JMM-18.72%, INC-13.88%, RJD-2.75%)
Owaisi's party AIMIM also tried its luck in the Jharkhand Assembly elections, however it failed to open an account in the state. BJP's incumbent chief minister Raghubar Das also lost in this election. Many Exit polls had also suggested a defeat for BJP and win for the coalition in Jharkhand Assembly Election 2019.
Jharkhand Assembly Election Results Map 2010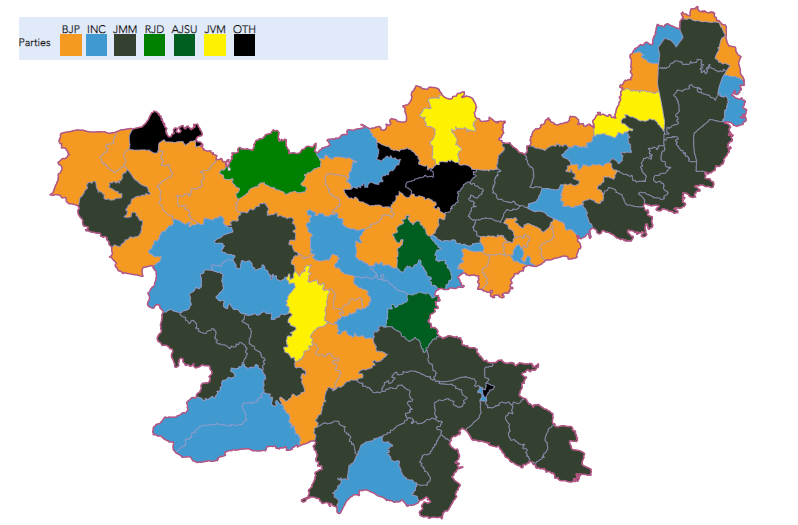 Jharkhand Assembly Election Results Live - Constituency Wise
| Constituency Name | Party Name | Candidate Name | Status | Votes |
| --- | --- | --- | --- | --- |
| Rajmahal | BJP | Anant Kumar Ojha | Won | 12372 |
| Borio | JMM | Lobin Hembrom | Won | 17924 |
| Barhait | JMM | Hemant Soren | Won | 25740 |
| Dumka | JMM | Hemant Soren | Won | 13188 |
| Littipara | JMM | Dinesh William Marandi | Won | 13903 |
| Pakur | INC | Alamgir Alam | Won | 65108 |
| Maheshpur | JMM | Stephen Marandi | Won | 34106 |
| Shikaripara | JMM | Nalin Soren | Won | 29471 |
| Nala | JMM | Rabindra Nath Mahato | Won | 3520 |
| Jamtara | INC | Irfan Ansari | Won | 38741 |
| Barhait | JMM | Hemant Soren | Won | 25740 |
| Dumka | JMM | Hemant Soren | Won | 13188 |
| Jama | JMM | Sita Murmu | Won | 2426 |
| Jarmundi | INC | Badal | Won | 3099 |
| Madhupur | JMM | Haji Hussain Ansari | Won | 23069 |
| Sarath | BJP | Randhir Kumar Singh | Won | 28720 |
| Deoghar | BJP | Narayan Das | Won | 2624 |
| Poreyahat | JVM | Pradeep Yadav | Won | 13597 |
| Godda | BJP | Amit Kumar Mandal | Won | 4512 |
| Mahagama | INC | Deepika Pandey Singh | Won | 12499 |
| Kodarma | BJP | Dr. Neera Yadav | Won | 1797 |
| Barkatha | Others | Amit Kumar Yadav | Won | 24812 |
| Barhi | INC | Umashankar Akela | Won | 11371 |
| Barkagaon | INC | Amba Prasad | Won | 31514 |
| Ramgarh | INC | Mamta Devi | Won | 28718 |
| Mandu | BJP | Jai Prakash Bhai Patel | Won | 2062 |
| Hazaribagh | BJP | Manish Jaiswal | Won | 51812 |
| Simaria | BJP | Kishun Kumar Das | Won | 10996 |
| Chatra | RJD | Satyanand Bhokta | Won | 24055 |
| Chatra | RJD | Satyanand Bhokta | Won | 24055 |
| Dhanwar | JVM | Babulal Marandi | Won | 17550 |
| Bagodar | Others | Vinod Kumar Singh | Won | 14545 |
| Jamua | BJP | Kedar Hazra | Won | 18175 |
| Gandey | JMM | Dr Sarfraz Ahmad | Won | 8855 |
| Giridih | JMM | Sudivya Kumar | Won | 15884 |
| Dumri | JMM | Jagarnath Mahto | Won | 34288 |
| Gomia | AJSU Party | Lambodar Mahto | Won | 10937 |
| Bermo | INC | Rajendra Pd. Singh | Won | 25172 |
| Bokaro | BJP | Biranchi Narayan | Won | 13313 |
| Chandankyari | BJP | Amar Kumar Bauri | Won | 9211 |
| Sindri | BJP | Indrajit Mahato | Won | 8253 |
| Nirsa | BJP | Aparna Sengupta | Won | 25458 |
| Dhanbad | BJP | Raj Sinha | Won | 30629 |
| Jharia | INC | Purnima Niraj Singh | Won | 12054 |
| Tundi | JMM | Mathura Prasad Mahato | Won | 25659 |
| Baghmara | BJP | Dulu Mahato | Won | 824 |
| Baharagora | JMM | Samir Kr. Mohanty | Won | 60565 |
| Ghatsila | JMM | Ramdas Soren | Won | 6724 |
| Potka | JMM | Sanjib Sardar | Won | 43110 |
| Jugsalai | JMM | Mangal Kalindi | Won | 21934 |
| Jamshedpur East | Others | Saryu Roy | Won | 15833 |
| Jamshedpur West | INC | Banna Gupta | Won | 22583 |
| Ichagarh | JMM | Sabita Mahato | Won | 18710 |
| Saraikella | JMM | Champai Soren | Won | 15667 |
| Chaibasa | JMM | Deepak Birua | Won | 26159 |
| Majhganon | JMM | Niral Purty | Won | 47192 |
| Jaganathpur | INC | Sona Ram Sinku | Won | 11606 |
| Manoharpur | JMM | Joba Majhi | Won | 16019 |
| Chakradharpur | JMM | Sukhram Oraon | Won | 12234 |
| Kharasawan | JMM | Dashrath Gagrai | Won | 22795 |
| Tamar | JMM | Vikas Kumar Munda | Won | 30971 |
| Torpa | BJP | Koche Munda | Won | 9630 |
| Khunti | BJP | Nilkanth Singh Munda | Won | 26327 |
| Silli | AJSU Party | Sudesh Kumar Mahto | Won | 20195 |
| Khijri | INC | Rajesh Kachhap | Won | 5469 |
| Ranchi | BJP | Chandreshwar Prasad Singh | Won | 5904 |
| Hatia | BJP | Navin Jaiswal | Won | 16264 |
| Kanke | BJP | Sammari Lal | Won | 22540 |
| Mandar | JVM | Bandhu Tirkey | Won | 23127 |
| Sisai | JMM | Jiga Susaran Horo | Won | 38418 |
| Gumla | JMM | Bhushan Tirkey | Won | 7667 |
| Bishunpur | JMM | Chamra Linda | Won | 17382 |
| Simdega | INC | Bhushan Bara | Won | 285 |
| Kolebira | INC | Naman Bixal Kongari | Won | 12338 |
| Lohardaga | INC | Rameshwar Oraon | Won | 30150 |
| Manika | INC | Ramchandra Singh | Won | 16240 |
| Latehar | JMM | Baidyanath Ram | Won | 16328 |
| Panki | BJP | Kushwaha Shashi Bhushan Mehta | Won | 37190 |
| Daltonganj | BJP | Alok Kumar Chaurasiya | Won | 21517 |
| Bishrampur | BJP | Ramchandra Chandravanshi | Won | 8513 |
| Chattarpur | BJP | Pushpa Devi | Won | 26792 |
| Hussainabad | Others | Kamlesh Kumar Singh | Won | 9849 |
| Garhwa | JMM | Mithilesh Kumar Thakur | Won | 23522 |
| Bhawanathpur | BJP | Bhanu Pratap Shahi | Won | 39904 |
Karnataka Assembly By-Elections 2019
| Constituency Name | Winner | Party | Votes | Runner up | Party | Votes |
| --- | --- | --- | --- | --- | --- | --- |
| Athani | MAHESH IRANAGOUDA KUMATHALLI | INC | 82094 | LAXMAN SANGAPPA SAVADI | BJP | 79763 |
| Kagwad | SHRIMANT BALASAHEB PATIL | INC | 83060 | BHARAMAGOUDA ALAGOUDA KAGE | BJP | 50118 |
| Gokak | JARKIHOLI RAMESH LAXMANRAO | INC | 90249 | ASHOK NINGAYYASWAMI PUJARI | BJP | 75969 |
| Yellapur | ARABAIL HEBBAR SHIVARAM | INC | 66290 | ANDALAGI VEERABHADRAGOUDA SHIVANAGOUDA PATIL | BJP | 64807 |
| Hirekerur | BASAVANAGOUDA PATIL | INC | 72461 | UJANESHWARA BANAKAR | BJP | 71906 |
| Ranibennur | R SHANKAR S/O M RAMACHANDRA | KPJP | 63910 | KRISHNAPPA KOLIWAD S/O BHEEMAPPA KOLIWAD | INC | 59572 |
| Vijayanagara | ANAND SINGH | INC | 83214 | H.R.GAVIYAPPA | BJP | 74986 |
| K.R.Pura | B.A.BASAVARAJA | INC | 135404 | N.S.NANDIESHA REDDY | BJP | 102675 |
| Yeshvanthapura | S.T SOMASHEKHAR | INC | 115273 | T N JAVARAYI GOWDA | JD(S) | 104562 |
| Mahalakshmi Layout | K. GOPALAIAH | JD(S) | 88218 | N.L. NARENDRA BABU | BJP | 47118 |
| Shivajinagar | R ROSHAN BAIG | INC | 59742 | KATTA SUBRAMANYA NAIDU | BJP | 44702 |
| Hosakote | N NAGARAJU (M.T.B) | INC | 98824 | SHARATH KUMAR BACHEGOWDA | BJP | 91227 |
| Krishnarajapete | NARAYANAGOWDA | JD(S) | 88016 | K B CHANDRASHEKAR | INC | 70897 |
| Hunasuru | ADAGURU H VISHWANATH | JD(S) | 91667 | H P MANJUNATH | INC | 83092 |
| Chikkaballapur | DR. K. SUDHAKAR | INC | 82006 | K.P.BACHEGOWDA | JD(S) | 51575 |
Last Updated on Jan 8, 2020