Hungund Location Map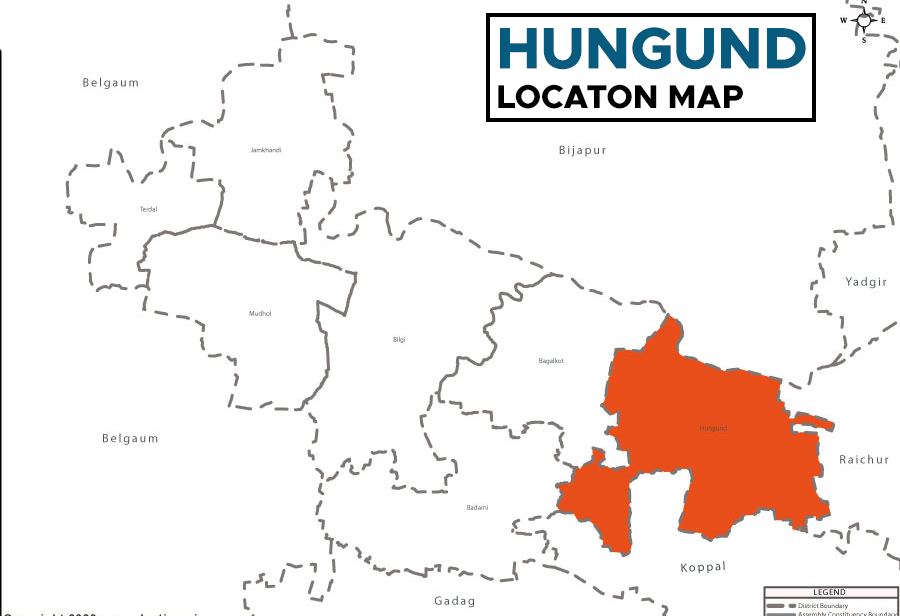 Hungund assembly constituency is a Town Panchayat city in the Bagalkot district of Karnataka. Hungund is divided into 16 wards, with elections held every five years. Hungund constituent election results will be known once the Election Commission shall announce the Karnataka election results of 2023. Hungund Vidhan Sabha 2023 results shall be awaited once the elections are held in the state of Karnataka. According to Census India 2011, the Hungund Town Panchayat has a population of 20,877 people, with 10,563 men and 10,314 women. Hindus make up 80.62% of the population, Muslims make up 19.07%, and Christians make up 0.05%. In 2018, Hungund Vidhan Sabha constituency had total 214,145 electors.
In the 2018 Vidhan Sabha elections Doddanagouda G Patil won the seat who belongs to BJP. The lists of candidates for the Hungund constituency have been declared by various political parties for the upcoming Karnataka elections 2023.
Hungund
Elections are Scheduled to be Held in May, 2023 and Election Result will be declared after counting.
Sitting and previous MLAs from Hungund Assembly Constituency
Below is the list of winners and runners-up in the Hungund assembly elections conducted so far.
| Year | A C No. | Constituency Name | Category | Winner | Gender | Party | Votes | Runner Up | Gender | Party | Votes |
| --- | --- | --- | --- | --- | --- | --- | --- | --- | --- | --- | --- |
| 2018 | 25 | Hungund | GEN | Doddanagouda G Patil | M | BJP | 65012 | Kashappanavar Vijayanand Shivashankrappa | M | INC(I) | 59785 |
| 2013 | 25 | Hungund | GEN | Kashappanavar Vijayanand Shivashankrappa | M | INC | 72720 | Doddanagouda G Patil | M | BJP | 56923 |
| 2008 | 25 | Hungund | GEN | Doddanagouda G Patil | M | BJP | 53644 | Kashappanavar Vijayanand Shivashankarappa | M | INC | 48575 |
| 2004 | 216 | Hungund | GEN | Doddanagouda Gundana Gowda Patil | M | BJP | 50617 | Kashappanavar Gouramma Shivashankarappa | F | INC | 32193 |
| 2003 | By Polls | Hungund | GEN | K.Gouramma Shivashankarappa | F | INC | 31014 | P.M.Sangangouda | M | BJP | 20717 |
| 1999 | 216 | Hungund | GEN | Kashappanavar Shivashankarappa Rachappa | M | INC | 29307 | Patil Gavishidhanagouda Paranagouda | M | JD(U) | 28371 |
| 1994 | 216 | Hungund | GEN | Kashappanawar Shivashankarappa Rachappa | M | INC | 25288 | Patil Gavisiddanagouda Parangouda | M | JD | 23108 |
| 1989 | 216 | Hungund | GEN | Kashappanavar Shivashankarappa Rachappa | M | INC | 44065 | Kadapatti Shivasangappa Shiddappa | M | JD | 24129 |
| 1985 | 216 | Hungund | GEN | Kadapatti Shivsangappa Siddappa | M | JNP | 30762 | Kashappanavar Shivshankrappa Rachappa | M | INC | 26745 |
| 1983 | 216 | Hungund | GEN | Kadapatti Shivasangappa Siddappa | M | JNP | 27254 | Patil Shivayya Mahabalayya | M | INC | 19286 |
| 1978 | 216 | Hungund | GEN | Kavashetti Shankarappa Sugurappa | M | IND | 19276 | Patil Shivayya Mahabalayya | M | INC(I) | 19174 |
| 1972 | 208 | Hungund | GEN | Nagaral Sangappa Balappa | M | INC | 25128 | N. T. Basaraddeppa | M | NCO | 12966 |
| 1967 | 208 | Hungund | GEN | K. S. Rudrappa | M | INC | 23364 | N. G. Parayya | M | IND | 9732 |
| 1962 | 22 | Hungund | GEN | Shivalingappa Rudrappa Kanthi | M | INC | 20010 | Gaigayya Padadappayya Nanjayanmath Alias Parayya | M | IND | 8427 |
| 1957 | 40 | Hungund | GEN | Kanthi Shivalingappa Rudrappa | M | INC | 17467 | Nanjayyanamath Gadigeyyaparayya | M | IND | 11081 |
Last Updated on: April 8, 2023